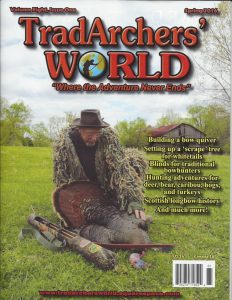 Just to let you all know I have not given up on my bucket list….to kill a deer with a recurve bow!  I'm still practicing whenever I can.  Yesterday I pulled the bow out twice.  I had to go dump some tree limbs into the hole, so I took my bow…that was about noon.  Still hot outside, but not unbearable.
I mixed up my shooting a little.  Started at 20 yards and shot two ends of 6 arrows per end.  Then moved back two to three yards and shot two more ends.  I did that back to the 30 yard mark and then moved up those same 2-3 yards etc. back to the 20 yard line.  Then I sat on the 20 yard marker and shot ALL my arrows at the spent shotgun shell I had put on the bale a few days ago.
Of course I'm not going to show you all my misses or wide groups, but here are some of my groups.
That was 28 yards (and of course that "one" arrow).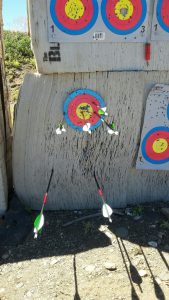 30 yards.  The two arrows that hit low are 8.3 grains per inch and a full 2 inches longer than the ones in the target above.  I know to aim them higher, but I just didn't aim high enough.  For hunting I'm sure the heavier arrows would be a better choice and perhaps I will cut them down to see if making them shorter would make them shoot better in my bow, but for now I'm leaning to the lighter arrows for this years hunt.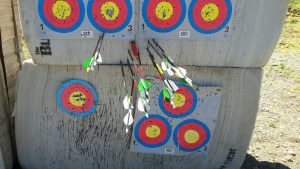 This was my sitting at 20 yard group.  I came close to hitting the shotgun shell, but not quite.  I surrounded it though.  I don't consider this a bad grouping, as this is a mixed bunch of arrows from lighter weight carbons to rather heavy old Easton aluminums.  And sitting to boot.  I figure while hunting there will be times I will be sitting on my butt waiting for that animal to come up the trail and of course they always come in behind you.  So, I sit with my back almost totally to the target.  Then I twist around and take the shot.
Later in the day, toward evening, Cody was saying he would like to go to the field and pet the horses.  But I talked him out of it and opted to fix his bike instead.  That way he could ride down and pet the horses any time he wanted.  Well, hit tube is hashed bad!  So, I couldn't get it patched.  It was too late to go to the field by the time we figured all of that out.  But, with a few more minutes of light left I pulled out the bow and shot into the garage.  I probably shot 100 arrows and never missed the bale once…my good!
This was my last end!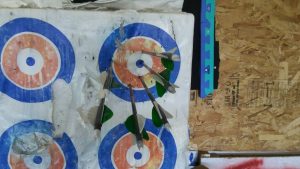 Shooting from the edge of the road, it measures 22 yards.  I felt great about this one!
June 27, 2016
Bears Butt