Today is the last day of the kids school vacation and the last real day to take them ice fishing.  Well, not really the last day to take them ice fishing, but it is the last day before 2013 to take them.
They have been going the rounds with the flu and Kenzie is the last (it appears) to have it.  She is on the wait and see list as to whether she gets to go today or not.  That will be up to her and her parents.
We are heading to Hyrum as we have gotten a hot tip from Shipley as to what and where the fish are biting.  The ice is around 4 inches thick and that should be plenty to be safe.  The weather over night was very cold with a 7 a.m. temp of 5 degrees…it should have made more ice during the night.
I'm really looking forward to the trip.
Brandon and I will be trying to keep up with four kids, so we probably won't be doing much if any fishing ourselves.
Pictures and more will be posted when we get back.
After coming home, the kids will go to their homes and have supper and then all will come to Grandma and Grandpas for a sleep over!  It will be a fun night.
Bears Butt
Dec. 31, 2012
Had a great time fishing.  The weather was perfect.  A very slight breeze some of the time, but most of the time just right.  The ice could have been thicker as we only found it to be about 3 inches with a little slush on top of that.  A bit scary for me.
But the fishing was excellent.  All of us caught fish with an estimated 25 trout caught, 2 bass and 2 perch.  Most of the trout were very small, like under 8 inches, but we did manage a couple pushing 16 inches.  All of them went back into the lake.
The 2 perch did not have such a lucky time.  We kept both of them.  Addie caught the biggest perch and it measured in at just over 10 inches, but what made it so big was its girth.  It had to be close to 10 inches around!!!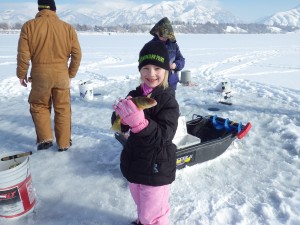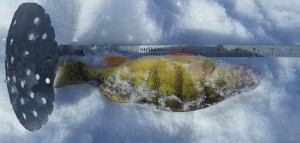 All of  us caught at least one fish and most caught more than one.  It was a great day to be on the ice.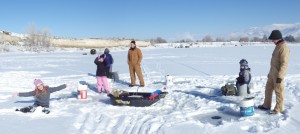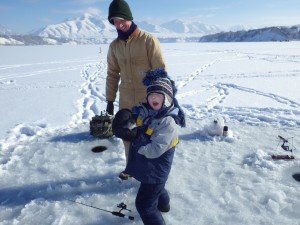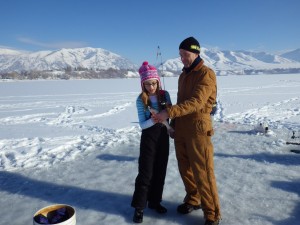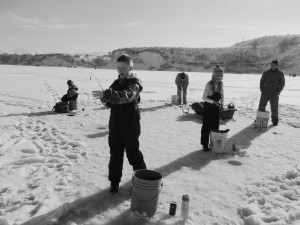 This last picture was just as Conners fish spit the hook!  Right at the ice hole!  Dang it!
What a great day to be outside.  Yes it was cold…like 15 degrees, but still a whole lot better than sitting inside watching a football game of something stupid like that!  I can hardly wait to do it again!
Bears Butt
PM report…only 6 hours left of 2012