Today was Memorial Day and after visiting some of the graves and having lunch with some relatives I took my bow down to the field for some practice.  This Fixed Crawl method really has be excited. Practice is what I need right now to get it down to hitting what I'm aiming at…..and I am aiming now and not shooting instinctively.  In my mind, the more ethical I am at shooting a game animal the more I will like taking the game I'm after.  Practice to hit where I'm pointing at is number one right now.
In anticipation of the hunt, I know I will be "rattled" when the opportunity presents itself.  I need to be within 30 yards of that animal and closer will be better.  So, before the hunt I will be practicing out to 30 and maybe 40 yards.  Not that I will be taking a 40 yard shot, but to make that 20 yard shot that much easier to make.
Tonight my first end of 11 arrows ended like this: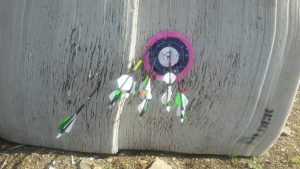 That one arrow off to the left was my fault…well…all the arrows were my fault, but the rest of them seemed to fly right about where I wanted them to fly.  A bit low and so I lowered the fixed crawl tab point.  Then continued to shoot the rest of the evening.  It was a beautiful evening for sure.  Toward the mid point of my practice I took this picture of one of my ends.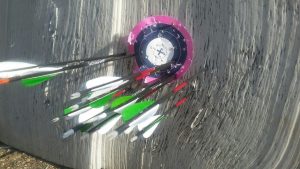 Oh Boy!  Things are beginning to come together!  Still a bit low.  And with a short discussion with Weasel, I decided I was dropping my bow.  What that means to me is that once I release the string, I am letting my bow hand relax and the bow drops down (gravity you know).  I told him…"Just one little thing and the arrows don't go where I want them"….he said…."There is NO ONE LITTLE THING in archery"…I believe that now.
So I spent the next few ends trying my best to keep the bow hand up after the shot and watching the arrow go down range.  It was quite the eye opening experience.  Pretty satisfying too.  My last end looked like this, and this is after shooting for almost two hours at 11 arrows per end: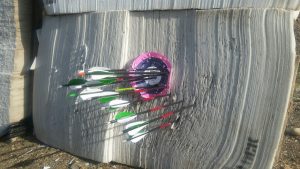 Only 4 of the 11 arrows didn't hit the target!  And those were arrows number 2, 3, 4 and 5 that I shot.  After that I really put the concentration effort into each shot.
Time for a new target!
May 20, 2016
Bears Butt