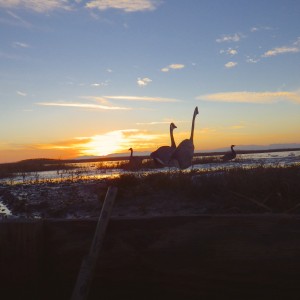 Weasel and I took a few hours yesterday and went duck hunting out at Colmer Island.  As it turned out it was a day in the swamp enjoying each others company.  We had a total of six ducks act like they might come into the set, but didn't.  We did have a flock of geese act like that as well and so we took a couple shots at them….sky busting for sure.  I don't understand where the ducks are.  Monday we kill 10 and ever since "nothing".
Well, I'm going out again today with Trevor.  Conner and Weasel have a family party to attend in the Provo area and so that just leaves Trevor and I to hit the swamp.  Trevor is 15 years old and has yet to bag his first duck.  He also has a swan tag, just in case.  But I have only seen a few swans fly over where we will be hunting.  We will have a better chance at seeing geese than we will swans.  But, you never know.
Yesterday there were a LOT of guys out hunting.  I think we counted 12 boat trailers in the parking lot and more came out after we were set up.  A lot of guys!  Today I expect the same and more with a bunch of "walkers" as well.
The weather?  Gusty to 20 mph expected and right now it looks like a pretty good 10 mph consistently out there.  The clouds will build during the day and there is a storm expected tonight and tomorrow.  Maybe that is what we need to get the ducks moving.  That is my hope for the hunt today.
Also, I'm going to do something very different with the decoys spread.  Usually, I make a "U" or "J" hook with the decoys right out from the blind and I have placed the spinning wing in the big opening landing zone.  Today I will make the "J" farther away from the blind, more into the direction the wind is coming from and about 30 yards away, with the spinning wing outside the bottom of the "J" and on the opposite side of the landing zone.
Why?  I want the landing zone clear of any decoys or spinners to keep the birds attention on where they want to place their feet.  The landing zone will be right in front of the blind and with the birds coming in at a parallel line to the front of the blind, they will not see us stand to shoot.
Wish us luck!
Bears Butt
November 29, 2014
POST HUNT:
Well, there were a ton of folks out hunting today but 99% of them were in boats and went WAYYYYYYY out.  We had the swamp to ourselves, which was good…and bad.  At least today there were some ducks flying around.  They kept our interest right up until closing time.
I shot 3 shells, Trevor shot 4.
We saw, Spoonbills, Mallards, Pins, Teal and Widgeon.  Our few shots were at Spoons, Mallards and Pins.
By days end Trevor had bagged his first ever Spoonbill!  He made a fantastic shot on one as 4 decoyed in.  I missed mine….what's new?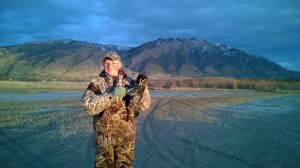 And at days end, God gave us a very nice view:
Bears Butt