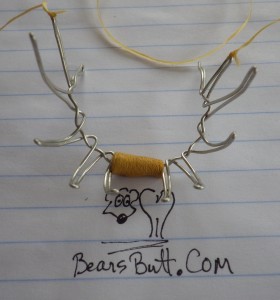 Monticello Weather:
A beautiful sunshiny day ahead!  High 44, low 27 with light winds beginning WNW (you know what that means) at 10 to 15 mph, shifting to NNW by this evening!
Now that sounds like a great day!
Yesterday, among all the other things that went on, I spent some time on "field judging bull elk" web sites and downloaded some very interesting stuff.  One of the websites is called "Bowsite.com", they have an interactive deal, where they show a picture of a bull elk and you guess what the Boone and Crockett score is of the antlers.  It was a fun thing to get into, although I think they messed up on a couple of them.  One is clearly a 6X6 bull, and they called it a 5X6…oh well.  Then I downloaded some pictures where they tell you the "average" sizes of various parts of the elks body are.  For instance the length of the bulls chest from the hump on the back to its belly measures 36 to 40 inches and the length of its face from nose to bottom of the antlers is 15 to 16 inches.  You can use these to guesstimate tine length etc.
It also tells you the "rules" of the book and how to get into it.  The antlers have to have at least 5 points on each side plus a bunch of other criteria to get into the book.
Not that any of that will mean anything to me once I'm on the hunt, but who knows.  I'm sure that when I see a big bull standing or walking around, I'll know if its a shooter or not.  The 4th point on a side is called "the sword" and if that is a big old long thing….BANG!!!!!
There was another web site that said to start with 200 points, which is pretty much an average young 6X6 bull's antler measurements.  Then start adding up points such as length of each of the tines, width beyond 30 inches between the antlers and guessing the circumference of the antlers between the "G" points up to G-4.  You would have to have a lot of time to study an animal to do this, but I suppose a bull could stick around long enough for you to do that.  Probably it would be better if you were glassing it from a long distance away.
As for now….7 days and counting!
Bears Butt
Oct. 31, 2013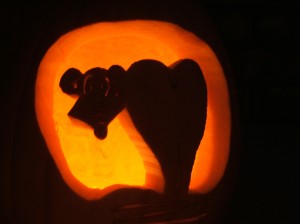 Happy Halloween!