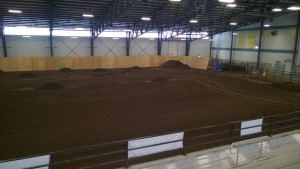 Yesterday I had the pleasure of working my butt off for something I've never done before.  In this picture please notice there is plywood all around the outside of this dirt field.  Well, that wasn't all that was put out yesterday.  We actually added more plywood than you see in this picture.  The object of the plywood is to stop arrows from hitting the building.  Hopefully arrows will stay within the dirt area, but I'm not really sure that will happen.
Here is what I understand is going to happen for the next two days.  First off you have to know there are 25 stations for each of the archers to "enjoy".  Each archer will shoot 2 shots from each of these stations and each arrow is to be shot at pre-determined targets and at ranges that vary from a few feet to many yards away.  Some target are large and some are very small.  None of the targets move, which is a good thing.  Well, by move I mean they don't run or jump, they might sway back and forth because of the way they are mounted.  So, put 50 archers out on the line (2 archers p/station), sound the "shoot" whistle and 50 archers are going to try to hit their particular target.  Some targets are kitty corner across the field from both directions.  Some are straight in front of the archer, some are at a diagonal from where they are standing, either right or left of them.  Close, far, in the middle.  Can you imagine 50 arrows flying through the air at the same time from all directions?  Well, that is the fun the people in the stands will enjoy!  Sort of like watching a car race and hoping for a crash.  There are people who like that sort of thing.
Well, let me tell you there is a whole lot of work that goes into setting up a tournament like this archery event.  I'd like to now post up some picture I took yesterday of this arena coming together to look like an archery event is going to take place.
So, start with an empty arena and add the plywood.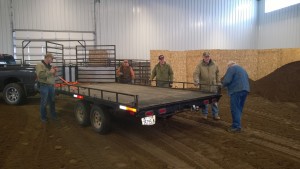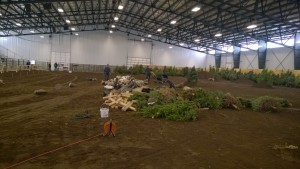 Stand up a bunch of old Christmas trees and unload the 3D targets.  What do you have right now?  A mess.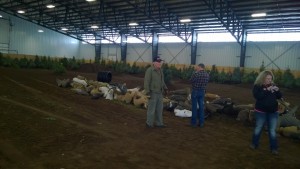 You know what?  It takes a lot of people to pull this sort of thing off in such a short amount of time.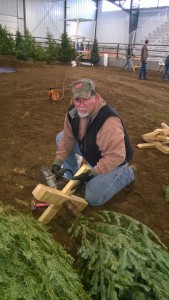 Someone has to put the stands on the trees if we are going to have them looking like a forest.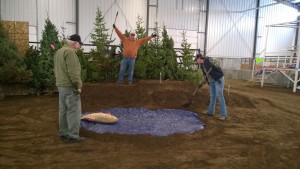 And what is an archery event like this without a lake?  Nothing!  HEY!  Quit showing off and get to work!  This looks like a typical government job…..One supervisor, one goof off and one worker.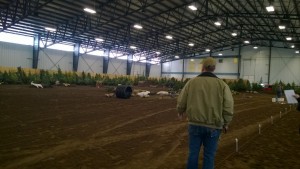 Hey!  This is starting to take shape.  Maybe it will be done before the starting time.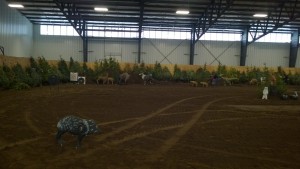 I think I could hit that close target.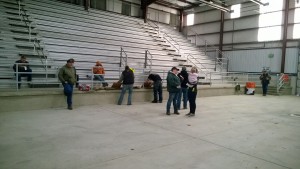 Let's have some lunch!  Pizza and water!  There were lots of choices too!  Thanks Chris and Brigham Bowmen for the lunch, it was great!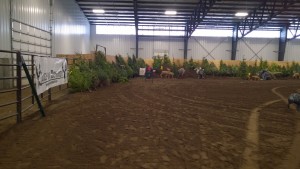 Now, you have to know, I was in the middle of helping out and only once in awhile was I afforded time to take any pictures.  I almost lost my camera in this maylay and fortunately someone picked it up, otherwise it would have been buried in one of the piles of dirt used as backstops for some of the targets.
When you need a mountain….bring in a digger machine!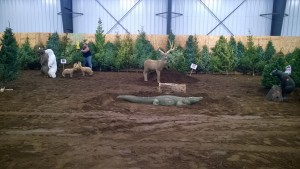 Targets are high and low!  Remember, don't shoot at the antlers!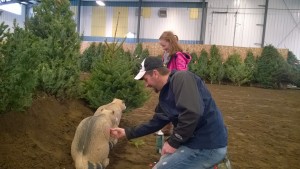 Now we are getting serious.  Placing red dots on the kill zones!
From an empty arena to this in just a few hours!  Now for the finishing touches.
Each of the 25 stations is placed along a line.  There is planned for two shooters at each station and each will be shooting at their respective target.  Most targets have two animals to be shot, but some only have one animal that needs to be hit twice.  One is a bear on a stump and the object is to hit the bear and the stump.  You will see that in a minute.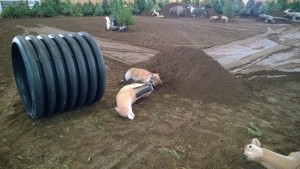 Well, it takes time to get them all trained to stand up.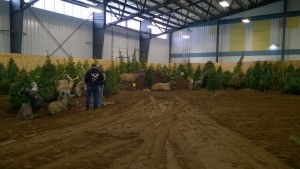 It appears it is easier to train elk than is is to train foxes.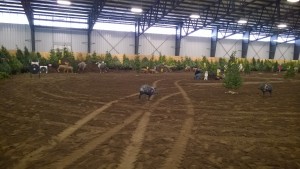 Now we are going to go down the line and let you see what the archers are looking at when they are at each of the stations.  Remember there are 25 stations!
I can't remember what the targets are for each of the stations, but you will get the idea when you see which target looks like it is the most "broadside" to you.  Each one has a sign near it that tells the shooter "Hey, I'm your guy"!  Binoculars and range finders are both welcome in this event!  Even one guy gets to use a cross bow!  I hope I get to see him today when I go up to play.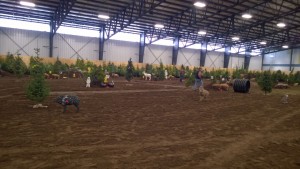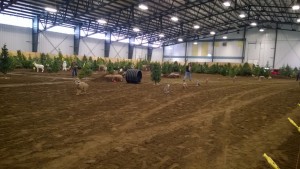 See that elk way down there?  That is your target from this station!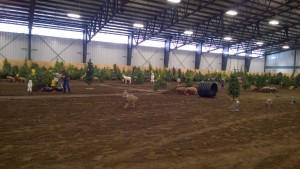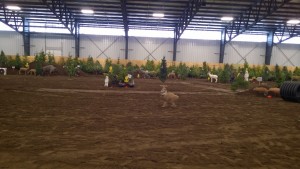 Don't shoot the close guys!  Those are for the kids!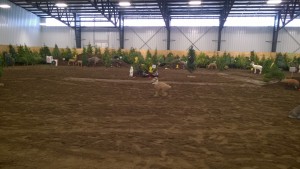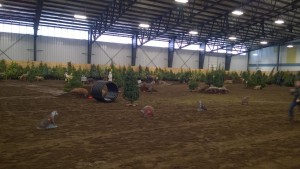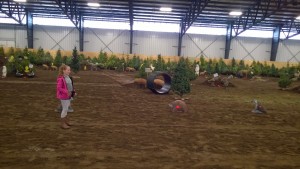 How about this tricky shot.  Two foxes and one is on the other side of the pipe!  Gotta shoot through the pipe!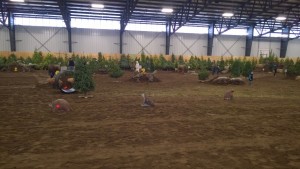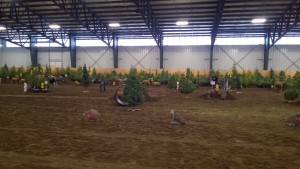 There are your targets folks, a deer and a cougar and try and miss the tree while you're at it!
This will be fun!  Sitting in a chair and shooting out of a blind!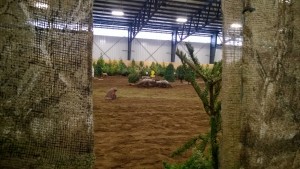 Ah Ha!  Kill the two wolverines!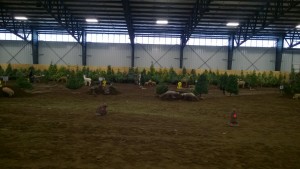 Two fighting Jackalopes!  Get em boys!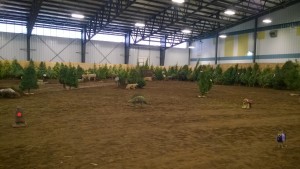 And then a laying down bull elk!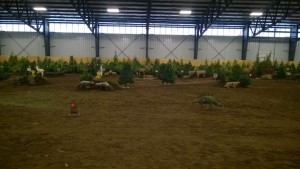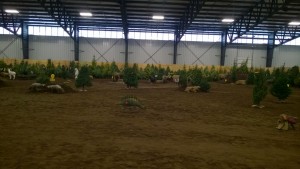 It's hard to see but there is a bear and the stump in there somewhere.  Let me see if I can make it bigger.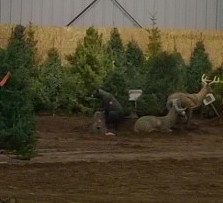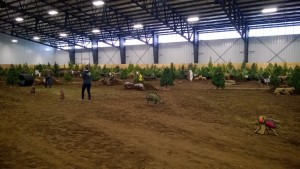 Here you go, shoot that Caribou down there.  And remember there is someone on the other end shooting at the standing bull elk at the same time!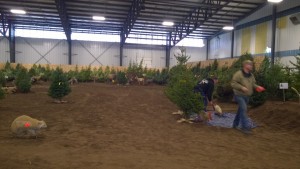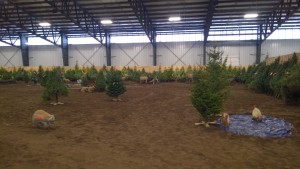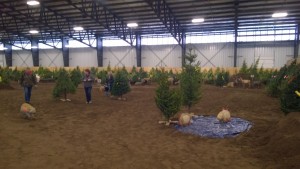 Well you shot at the Caribou, now shoot for the buffalo!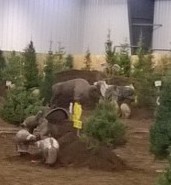 And you are almost done.  You have shot big targets!  Small targets!  Close targets and far away targets.  You have shot and barely missed.  You have shot and barely hit!  You have shot and didn't even make it to the target.  You have shot and lost your arrow in the forest.  You have shot and hit the sign that marked the target.  But wait!  You still have one more station!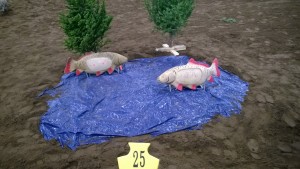 It's really close!  You should easily hit these guys!
Well, there you have it!  An event that will go down in history as one of the best!  Come on out and see what these guys have put together!  The event goes for today and tomorrow.  It's at the Box Elder County Fair grounds in the newest building there.  An indoor arena that is heated, has lots of seating and every seat is a good one.  Follow your favorite archer as they move down the line taking their best shots!  Eat at the concession stand and buy some raffle tickets!
The Brigham Bowmen have really outdone themselves this year!  COME ON OUT AND ENJOY!
Bears Butt
February 28, 2015