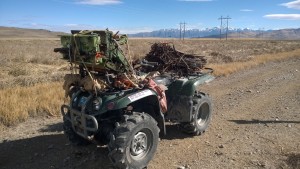 This was the picture yesterday of me moving my Trellis line.  It is not an easy task to pull a line of traps and try to get them out on the next line.  It takes hours and hours.  Pulling traps is one thing, setting them in another.
So, here you see the toy loaded down with iron.  The wood floats on the front make it look like a pack mule with a whole elk.  In actuality the floats are light but bulky and I only had to travel about 1/2 mile while balancing them.  Back at the truck they fit nicely in stacks of 3 high, 3 across.  The traps I left on the toy for the reset out on Big Spring.
I wish it were as easy to set traps as it is to pull them, but when I'm looking for "the set", I want to maximize my chances of a full trap the next day and so I pass up a LOT of good sets to find that perfect one.  Needless to say, I pulled over 40 traps and only managed to set another 22.  I have miles of trapping space to set traps but limited time to do it.  Some of you might remember my getting stuck last year and if you are so inclined you can go search for my story about getting stuck while trapping and having to be "saved" by Wapiti and Weasel.  Without their help my toy would still be out there.  Well, this is the same place where I'm trapping now.  I will be sure and stay away from that bog hole!
Let's look at what else is going on in my life right now.  Archery!  I finished my last lesson last night and it was a very fun evening with popping balloons and shooting to see which one of us could hit a popped balloon.  I think before the night was over we each won our rounds and tied.  Although none of us actually hit the small orange remnants of a balloon, we won by coming closer than the others.  Nuff said about that.  The Brigham Bowmen are hosting a 3D archery event this weekend out in Tremonton.  An indoor event where they have the entire brand new event center rented.  It is going to be a blast and I hope everyone reading this will at least come out and see archery shooters at their best…see their post on Facebook, under group, Brigham Bowmen.
Well, I've volunteered to help transport trees and 3D targets out to the event center, help set up, help during the event and help take it all down.  That will involve 3 or possibly 4 days, some full days, some partial days.  I won't know that until things begin….Tomorrow at 10!  SOOOOOO!  Trapping is going to be on hold while I do this archery stuff.
I do still have an obligation to my trapping and will make time to check them every other day.  Not only is that the law, it is only ethical as a trapper to conduct myself in a responsible manner.  What it also means is I will NOT be setting any more traps until this event is over.  Normally I would not be sitting here typing right now, I'd be out on the line setting steel as fast as I could to try and have ALL my traps out before dark today.  So, this is kind of like a day off.  I'll go out and check traps and be back in time to put up the rats and wait until tomorrows archery stuff begins.
What do I expect out on the line?  I set 22 traps yesterday and so my line is 44 traps in size.  The sign reminded me of a time a couple of years ago, where I set a whole "sh** pot" of traps and didn't catch one rat in two days.  The sign I saw at that time was so fresh it almost steamed in the cool sun, but the rats had moved out.  Yesterdays setting might end up with the same result.  I hope not, but who knows for sure.  I expect to catch 15 rats today.  AND a couple of raccoons!
Why raccoons?  I set 3 dog proof traps yesterday!  I explained what a dog proof trap is and roughly how they work in yesterdays post.  Well, this is what one looks like ready to fire: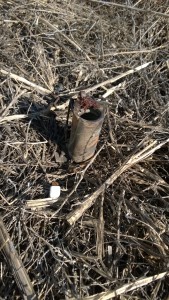 A simple and safe looking little devise.  In the tube is mini marshmallows, dry dog food bits and on the top edge a secret concoction of shellfish and assorted other smells that raccoons like.  I place each of the traps near likely raccoon trails and fully expect to have 3 raccoons this morning!
15 rats and 3 raccoons would clearly make my day!
Bears Butt
February 26, 2015
UPDATE:
The weather was sort of weird today…snowy, cold, sunny, warm, windy, calm…typical of Utah Spring time.  But more important was last nights weather and how the rats move in the wind….they don't.
Todays catch….9 rats…NO coons!  I can't believe the lack of coons!  All the bait was gone in each of the traps and I suspect mice.  I reloaded each of them and hope tomorrow nets some fur.
Bob took the day off from trapping to get his truck inspected and registered.
Butt