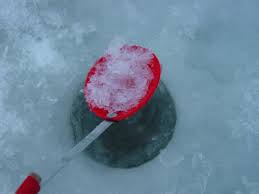 Headed for Evanston Wyoming in the morning…going with Weasel and Shipley to the Sulpher Creek fishing tourney.   Proceeds this year will go to the Primary Childrens Hospital.  We are looking forward to a great day on the ice!
The weather is expected to be partly cloudy with lows around ZERO!  It should be a great morning and then warming to about 20 during the day!  A great day for sure!
We have the magic fishing bait…gummy worms, orange marshmallows and of course Mac and Cheese!  All suggestions by the Ogden School district kids.
I was going to take the "spitter" and another can to try out the idea of keeping the holes clear of ice and I still might depending on space available.  We are traveling light tomorrow as we just don't have much room.  When you weigh out whether to take a spitter or a sandwich, it's pretty easy to figure out which one will win.
We have our visions of "The Big One" in our hog troughs and hope to catch one that can at least be measured for the contest…must be at least 16 inches long and a member of the trout family!
In years past we have not had much success, but who knows and we just might be the lucky ones this year….fishing is all about luck right?
Bears Butt
January 31, 2014…THE END OF JANUARY IF YOU DIDN'T KNOW IT!