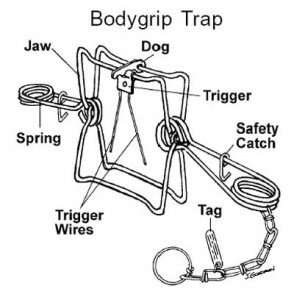 Today is Saturday and it marks the end of week number two of trapping for this season.  Yesterday was a record catch for me at 40 rats.  The weather was cold and windy (see yesterdays update) and will effect the rat movement for last night.  We are seeing more sign that the run is going to happen in earnest really quick and perhaps yesterdays catch was the run in full force.  You never know with these little critters.
Today we have a 50% chance of rain.  I don't mind the rain so much as the wind.  Keep the wind out of the equation and things are pretty good.
I'd like to get my trap line checked and then go off and do something different today.  We will see what happens.
Expected catch for today is half what yesterdays was.  I'm guessing at 20 rats and that would make for a pretty good days catch.  The skinning shed time will be all consuming today with over 40 rats to put up, but that is just the nature of the business.
An update will come later.
Bears Butt
February 21, 2015
UPDATE:
I headed out early to get the traps checked, knowing there were going to be several hours worth of fleshing to be done later on.  As it turned out, I caught 13 rats and was home by 12 p.m.  A quick call to Weasel and he was quick to arrive at the skinning shed where he went right to work combing the rats that were drying from yesterday.  Unfortunately most of them were too wet to put up and so they went back on the drying rack and will have to be processed tomorrow.
We managed to put about a dozen up on stretchers and skinned the rats I caught today.  We also pulled down 50 rats from stretchers that were dry and put them on hangers.  We now have plenty of room for our catches for the next day or two.  We also skinned the 13 rats and put them with the others to dry.
When you think about trapping fur bearers it's easy to think trapping is just going out in the field and catching animals….it is far from just that.  Catch, skin, flesh, stretch, take down, put up, comb and who knows what else.  It also involves more than just that with certain fur bearers like fox for instance.  Timing is everything with turning them.
Now I wait for Bob to get back from the line.  When I left the trapping area I ran into him just going out.  He was in for a very wet day.  The storm was blowing through just as I left and it was hailing like nothing else I've ever seen.  I hope he is safe out there and comes in with a large load of rats.
I'll update his success on here when I know what he caught.  Bob came in about 4 p.m. with 8 rats!  Two of them got put up!
Butt