As time clicks away my practice sessions are getting really heated up….I mean it was over 90 degrees last night…..
I received my two new strings in the mail yesterday and so I retired the one I made and put it in my bag as a backup.  It's still a very good string.  I put one of the new ones on the bow and set my nock point and fixed crawl.  Grabbed the next one to get it set up and it was 2 inches too short.  The package said it was 60 inches, but when I went to string it I could not get it over the tip of the bow.  I measured it and it was only 58 inches long.  So, back to 3 Rivers it went!
Well, with one new string on the bow I headed to the hot field to try it out.  NOISEY!  is the word here.  TWANGGGGG!  But it flinged the arrows pretty good.  I'll put on my green yarn silencers and some brush buttons and that should calm it down a little.  My first end at 25 yards looked like this: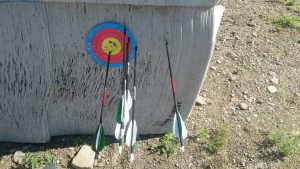 And even with the "ONE" arrow, that isn't too bad for an old guy shooting.  I continued to shoot at 25 yards and my groups were holding their own against that bale so I moved back 5 yards and shot this.
You can see my confidence level is going way up.  I shot a few more ends at 30 and then moved back to 35 yards just to see what would happen.  Of course my fixed crawl aim point was about a foot higher than at 25 yards.  And this was the result after a couple of ends.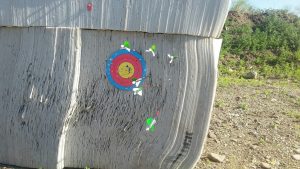 Still, all in all, that isn't too bad for me.
Well, I didn't want to leave that hot zone too quickly and I wanted to try out the new string with a broad head on the arrow.  I only have one right bevel broad head and so I had to put it on an arrow and shoot it, retrieve it and do it again.  For the sake of "fun" I decided to shoot from the 30 yard line.  I used one of my Carbon Express arrows first and almost every shot went right of the target about 8 inches, even with 4 fletched feathers.  It might fly different if I cut it down an inch or so.  Well, I have always favored my Gold Tip Warrior arrows.  For some reason they just like to fly pretty good from my bow.  So, I put the broad head on one of those and gave it a go.  My first shot looked like this with the Warrior.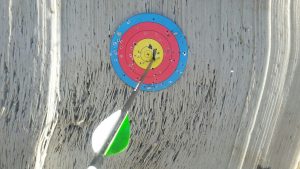 How about that boys and girls?!!!!  From 30 yards out!!!!
As I slowly pulled the arrows out you could see the shaft turning and feel the broad head turning as it was coming out.  A sure sign that the single bevel twists its way into the target!  And as much as I like the cutting effects of the DRT broad heads, I think these Badgers will be my go to for the upcoming hunt.
On another note:  Yesterday there was an estate sale on the east side of town that started at 2 p.m.  From pictures they posted on Facebook, I saw they had several bows in the sale.  4 or 5 longbows, a recurve and a couple of wheel varieties (compounds).  I went to see the longbows.  I got to the sale just as they opened the doors…2 p.m. sharp….ahead of me were about 15 people all interested in something in particular.  As I went into the door the tables in front were filled with guns of all sorts.  Most of the men were crowded around handling those and talking.  I moved through the crowd to the bows but was second in line to see them.  Of course the guy ahead of me took all but one of the long bows….dang!  But I looked over the one that was left and decided I needed to have it.  I bought it for $45 along with a bow fishing reel for another $5 and then left the place with my prizes.
Getting home I measured the bow and decided my old bow string (my original one from when I bought my Samick) might fit this new to me bow.  I gave it a go and sure enough it fit perfect and gave the bow a 7 1/4 inch brace height.  I guess that is a good brace height for this bow.  So, since I had this bow with me in the field I shot it a few times from the 20 yard line.  It flings a pretty good arrow and being a self-bow (one where you have to use the top of your hand to shoot the arrow off of) it didn't do too badly with the aluminum 1616 Eastons that Sherry shoots.  I have not measured the draw weight yet, but it can't be more than 30 pounds and is probably closer to 20.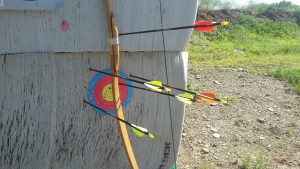 Not too bad a bow for $45….not a 5 dollar Frank deal, but I'll take it.
June 10, 2016
Bears Butt