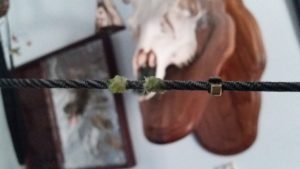 As hot as it has been lately I have not been discouraged at keeping up with shooting my bow.  My drive is the upcoming hunt and there was a statement made by one of the big time bow equipment makers that "NOW is the time to get practicing for the hunts coming up this fall"!  I'm with them.
So, I was down on the farm shooting and I set my bow down to go retrieve my arrows, when I got back the bow was laying on the ground and the string was about 3 feet away from it.  I thought WHAT THE HE…!!!  I picked up the string and took a look at it….
My favorite string.  The one that Lynn Hayes showed me how to make.  Well, that was the end of my shooting for that day.  I gathered up my stuff and headed for home.
After getting home I looked closer at the string and decided it was still long enough I should be able to fix it and use it.  What did I have to lose?  Now this was built as a flemish twist and with only one lesson under my belt (from Lynn), I tried to recall everything he had taught me.  Of course that was months ago and I couldn't recall most of it.  What I ended up with was a Bears Butt version of a flemish twist which is more of a braided rope looking thing.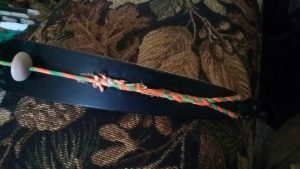 And it was rather short.  I struggled getting it restrung, all the while thinking I was going to snap my limbs (arms and bow).  I was very concerned about the brace height of the bow once it was strung but to my surprise it was still under the 8 1/2 inches the manufacture says is the max.  I don't think there is going to be any more stretch to this string.  Well as you can imagine, I was sweating quite badly the first time I pulled back on the string.  I started slowly and pulled a little, then a little more, and then a little more.  Pretty soon I was a full draw and the string didn't break.  I was relieved.
Even at that I went on line and ordered two more strings in flemish twist.  I know!  I know!  Lynn gave me a board so I can make my own strings, but I would have to buy the string material and then make my string.  That would take some time to get the string materials here and then make the string.  It would be fun, and WILL be fun once the pressure is off to keep practicing for the upcoming hunt.  I'll order string materials soon.
Well, with the bow strung up using the shorter string, I had to move the nocking point and my fixed crawl point.  In order to speed up the process of finding the fixed crawl point I measured my current setup and thought to myself, "why would that change"?  I'll set the nocking point like I had based on the arrow rest and then place the fixed crawl clamp just below it the same distance.  That will get me close if not right on the money.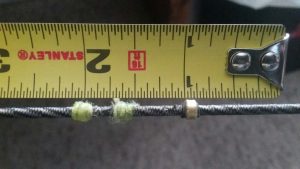 So, as you can see the spacing between the center of the nocking point and the top edge of the fixed crawl clamp is about 13/16ths of an inch (Bears Butt works in "abouts").
OK, with the new nocking point and fixed crawl on the "newly fixed string", I am ready to go try it out.  Still very leery about the string I drew my first arrow very slowly and away from my face.  I figured if the string was to break my hand would be far enough away from my face so as to miss smacking myself a good one.  I let go the first arrow.  Boy howdy was it ever loud.  I shot again and this time not so loud…maybe it was just my selective hearing not to hear the string being so loud.  Anyway, after several shots (11 to be exact), I settled into the fact that this string was going to stay together.
Well, after several 25 yard ends and thinking I have to get at least 5 out of 6 inside the target before I could move back to 30 yards, I finally put together a good grouping.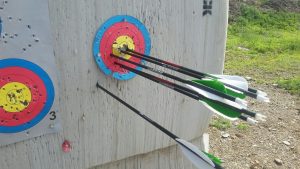 That "ONE" arrow just keeps haunting me.
And so I moved back 5 yards to the 30 yard mark and began shooting again.  It is funny how a simple 5 yards can make such a big difference.  My arrows drop a good 10 inches in that short distance and it makes me think twice about taking a shot at a deer at 30 yards.  I'm going to have to be right on top of the animal before I will shoot and even then I often think about the "what if"….What if my arrow does not go into the kill zone like I want it to?  What if, it ends up being the "one" arrow?  What if I wound it?  My practice is what is going to take some of the What If out of the equation but there is no guarantee.
My best 30 yard end was this one: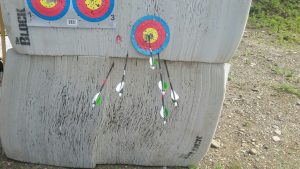 That kind of shooting does NOT allow me to shoot at a deer at this distance.  I often wonder about some of the archer stories I have heard where they say, "I just had to shoot, he was just too big not to".  You know all the while the deer was outside their normal shooting (practice) distance and you also know they have not put in the practice at that yardage to allow them to make the shot.  But we are all hunters and I can not tell you what is ethical or not, I just have to stay within MY boundaries.  I'll probably stretch my practice out to even 40 yards before the hunt starts, but my practice is to make sure that 20 yard (or closer) shot is easier to make.
June 8, 2016
Bears Butt