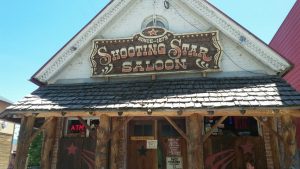 I'm as guilty as the next person to not visit some of the local spots around my home.  I hear this from people all over the nation so I'm not the only one.  How ironic it is that we live so close to some of the biggest attractions in the world and never get around to going and seeing what they are all about.  Well, Sherry and I had heard about the "Oldest Continually operated saloon West of the Mississippi River", located in Huntsville, Utah and how good their hamburgers are.  We decided yesterday to go for a short drive and have lunch.
The outside of the place is very quaint…rustic logs adorn the outside and hold up the overhead roof.  The doors into the place look like they could be right out of the old west, but they have put handles on them so they don't swing both ways, but they could be modified easily.  I don't think the owners want to do that however as they don't stay open all night.  Sitting on the front bench I felt like I could be watching a gunfight out in the street in front of the place, but what I saw was two LDS missionaries walking our way.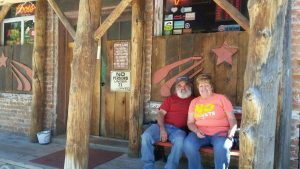 The owner was outside with us at the time and stopped the men as they were going by, went inside and brought them out a cold root beer!  They were very much appreciative!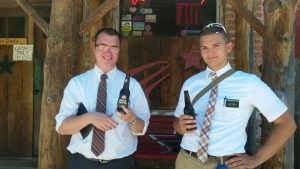 Nothing says missionaries than a couple of them standing outside a saloon drinking beer (root beer).  A couple of really nice guys.
Inside the place it was rather dark after coming in from a full sunlight world and it took a minute to adjust.  Once that had been accomplished, I could hardly believe what I was seeing!  My eye caught a very dear to me sight…..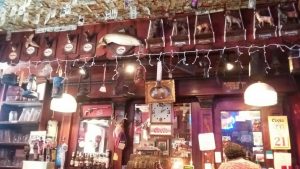 Above the bar is a huge collection of animal plaques from the olden days of Olympia Beer company.  When the owner came over to take our order, I said to her, "Now the answer to the question I'm about to ask is 'YES'….and then I asked her if they had Oly Beer for sale………unfortunately she said no….But then piped up with a cheery…"We do have Rainier….You know…Raineeeerrrrrrrr  Beeeeerrrrrrr!!!!  (To say that you have to sound like a motor cycle revving up, speeding off and shifting gears) I repeated it with her and then ordered one!
The place is amazing!  Look at these pictures of the inside: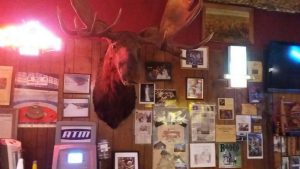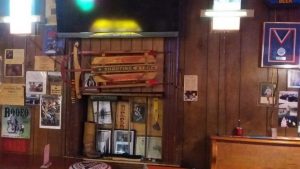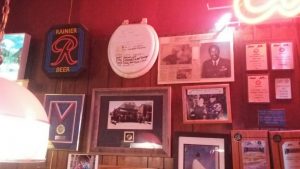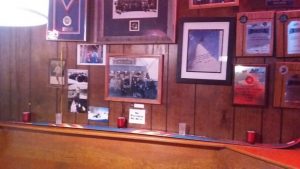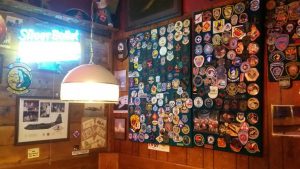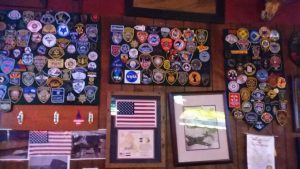 And that is just the walls!  I didn't take what was probably the most famous of all of the mounts on the wall, and that just gives me a reason to go back.  They had a mascot dog (I'm not into breeds of dogs, but I think it was one of those you see with a beer keg under its neck) and when it passed away, they had a shoulder mount made of it and it was hanging above our table.  Another very interesting thing is the ceiling!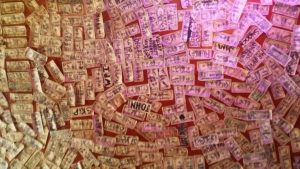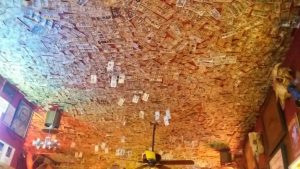 In this second picture are several dollar bills that read (one word per dollar bill)….Heather, I love you, will you marry me?…..I don't know if Heather has ever seen this but I suspect when she woke up from the night before party, she could read it clearly.  If they in fact did get married I hope they have been happy ever since!
What about the meals?  Well, the menu is rather simple and I couldn't help but think that the franchise "In N Out Burger", got their idea from these folks….Several styles of hamburgers and one hot dog.
Their is also a sign on the wall that says, they serve beer, hamburgers with chips, beer and don't have anything like yogurt or any other specialty items (another sign I wish I would have taken a picture of).
Sherry and I ordered the "Mini-Star Burger", on the suggestion of the owner Leslie and I'm glad we did because it was actually more than we should have eaten.  The Star Burger, as I understand it, is a double cheese burger with a polish knockwurst covered with sautéed unions and all the other fixins.  The mini that we ordered had all that but was only one burger.
If you go, be prepared to use a lot of napkins as Carl's Junior has nothing on these guys!  Our meal was to die for!  The combination of a perfectly cooked burger and polish sausage, smothered in sweet onions, tomato and pickles!  No ketchup needed Mr. Dry Dog!  Some chips and a very cold beer and there you have it!  A meal fit for a king…or in my case, a Bears Butt!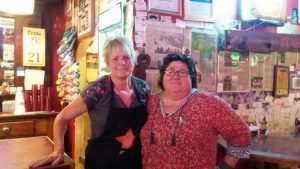 These ladies treated us really nice….Amy Barker on the left, our chef, and the owner Leslie Sutter on the right!
Head on up there the next time you get a chance!  They have a sign outside welcoming bikers.  I don't know why you have to welcome a group of bikers, but they do.  They welcome everyone, even skiers….just kiddin….You might even find a card that reads "Bears Butt dot Com"!
Thanks ladies!  We had a wonderful time and a SUPER meal!
June 22, 2016
Bears Butt