After a couple of weeks drying our mentor told us we could take off the bark from our staves.  Weasel did his the other day and today I was able to take mine off.  We both used draw knives to accomplish this task.  It went quite quickly for me but took Weasel about 4 hours to do his.  I think his looks cleaner than mine, but I have my own reason for not taking the extra time getting the bark and secondary layer of pithy covering off mine.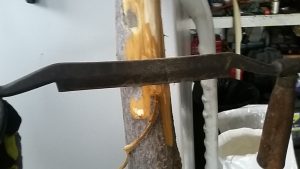 I purchased this draw knife many years ago to peel the bark off our tipi poles and have had it laying around ever since.  We have also been loaned another draw knife from our friend Magpie to assist us in getting our bows done.  Thanks Magpie!!!
Since, neither Weasel nor I know anything about what we are doing, we are just going along step by step according to what our mentor, Lynn Hayes is telling us.  By the way, he leant us a moisture meter to check the moisture content of our staves.  After peeling the bark off mine, I measured it and it was 18% at the limbs and 35% in the handle area.  Weasel's measured almost the same.  Our bows are beginning to take on some character shapes and what I consider flaws as well.  We will see what becomes of these flaws and maybe the entire process will yield to a nice fire outside, time will tell.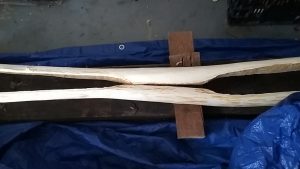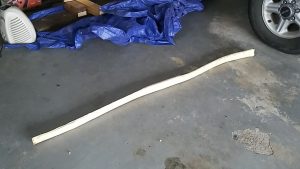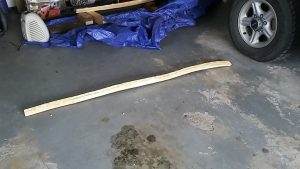 Bends and curves, humps and bumps and toss in a twist or two.  It's all good!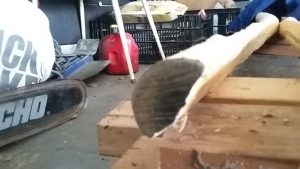 Cracks might be another issue all together.  We will know the next time Lynn comes around.
But with 35% moisture still in the wood it needs more drying time before we can go to the next step.  Our drying tent consists of a heater with regulated heat and fan.  The fan blows the air down toward the foot of the tent and then it comes back up and out the same end it began blowing from.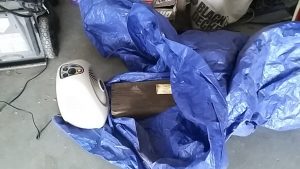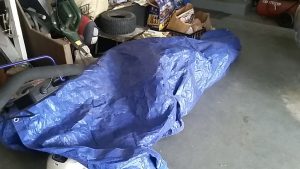 The heater is set for something around 80 degrees and for a cold wet day like today, it feels really warm.
On another note, Weasel and I have been noticing our look at trees is taking on a new perspective.  I find myself looking at long straight branches coming out of the bushes and trees growing alongside the roads.  Especially the Osage Orange ones growing wildly in peoples fields.  Someday they will be cutting those trees down and won't even know what they are cutting as they are just garbage trees with ugly thorns growing in the way of something else they want to do with their property.  All the while some bow making guy wishes he had that tree to work with.  And on an even crazier note, I have noticed I'm starting to pay more attention to the growth rings of even the food I'm preparing to eat.  Take this salmon steak for instance: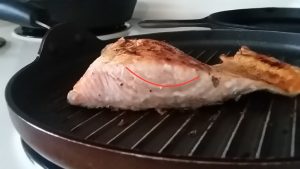 Is that crazy enough?????
March 27, 2017
Bears Butt