This week, Sherry and I made a little trip up along the trail that Brigham Young sent a small group of LDS missionaries to look into settling the Salmon River area of what is now called Idaho.  Back then it was called the Oregon Territory.  Brigham Young was actually scouting out another escape route from the US Government, should they decide to come after the Mormons again.  Among the small group, some 25 to 30 young men of LDS faith, was my Great Grandfather, Abraham Zundel.  This trail is followed pretty closely by the current road systems through this same area and so, our trip was especially interesting to me.  The country side has not changed much at all since 1855.   Abraham was designated the mail carrier for the mission and so he made several trips from the mission at Limhi to Salt Lake City and back again.  All alone, on horseback, with only a pistol and a rifle as his company.  The area was home to the Shoshone tribes with the Blackfeet tribes just over the mountains to the East.  The missionaries were met by the Shoshone as they arrived at what is now called "Tendoy", but they called their mission "Fort Limhi".  There is a book written that explains all about it, "Fort Limhi", by David L. Bigler.  You would enjoy reading it, trust me.
Now, back to why I'm writing this:  Along the path, is a stream named "Birch Creek" and in this desolate area any water found is an oasis and is where all the animals of the area come for food, drink etc.  The mountains to the East are vertical rocks with caves and washes carved out of them from millions of years of wind and rain erosion.  Very few trees and not much to look at except for the carved out caves.

Sorry about the picture being blurry, 
This area of Idaho, is called the Birch Creek Recreational area and there is a whole lot more to it than this small stream.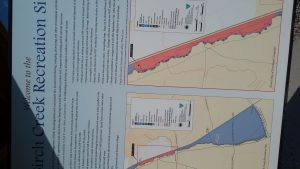 The red area is the camping areas alongside the stream while the blue areas on the map are other atv trails etc. in this area.  The camping is free, but they like to have people donate to the cause and there is a dropbox as you leave the campground.  We found a nice little spot about a third of the way up from the bottom of the red area on the map and made it our home for the night.  The stream flows pretty good considering the desert like area it flows through.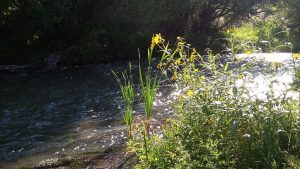 There are some trout in the stream as well and a lot of people fish it.  We chose not to get fishing licenses and so, I could only watch the fish swim in the water.  The water is very cold which makes swimming and/or wading uncomfortable, at least to old people like me.  But can you imagine riding your horse through a virtual desert and how welcoming this stream would have been?  I figure my Grandfather camped exactly in this spot and even peed against the same tree I peed against.  That's my story anyway.
So, after a very quiet evening and a great nights sleep, I was up drinking a cup of coffee and decided to take MaPa's out for his morning ritual and relief exercise.  He is a small dog, but can really put you to the test of holding him back while he is on his leash.   When he gets on the trail of a "critter" it is all you can do to hold him back, this walk was not exception.  We went down stream from our camp and when we were about 400 yards down, He had led us over to the stream edge and through another camp.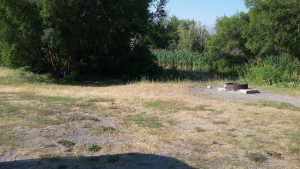 Looking down I saw some fresh tracks in the dust around a fire pit and held him back from his pulling long enough to study the prints left in the dirt.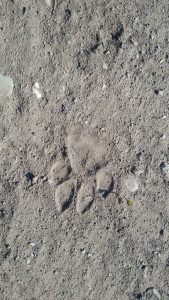 As I'm holding him back, he is trying is darndest to pull me over.  But I was studying these tracks and finally I decided it was a big coyote and so I stood back up and headed towards MaPas.  He was nose to the ground pulling like the dickens along the edge of the shadow in the above picture.  As he started to round the left edge of the bush, I pulled him very hard and said out loud, "Come on fella, let's get back to camp", reluctantly he turned to come my direction and as he did, a cougar ran out from the other side of the bush and went straight away from us.  MaPas just sat down on his butt and watched as the cat ran off.  I'm sure my mouth was wide open as I watched it too.  It didn't take it long to get down stream and run into some bushes at the next camp.  My heart was racing like crazy as we quickly walked back to our camp and I kept looking over my shoulder at where the cat was last seen.  Back at the camp, I couldn't wait to tell Sherry what we had just experienced and it took at least 15 minutes before my heart pounding subsided.  What would have happened had I let MaPa's continue around the end of that bush?  Was the cat laying in wait for a little puppy on a string?  Had it already decided to get out of there before I pulled him away from his pursuit?  We will never know, but he is now nicknamed Cougar Bait.  I'm very glad that the cat decided to run away.  Why MaPa's didn't try to chase after it, I'll never know, because he loves to chase cats back at home.  He just sat down on his butt and watched it run away.  Maybe because of it's size it intimidated him, I don't know.  This is my second encounter with a cougar this year (remember the one in the early morning darkness on my turkey hunt?).
August 4, 2017
Bears Butt