A short session in the field last night.  I think I shot about 60 arrows, give or take and then tried 3 at 50 yards.  The first of the 50 yarders hit the bale, the other two went into the dirt…I quickly gave up that shooting for fear of ruining arrows.
But the short game was much like it has been of late.  Muscle building.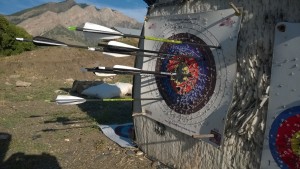 All ringie-dingie!  And only two of those outside the black rings!
Not bad for an old guy!
My biggest problem now is keeping them consistently grouping like these two ends.  Also, my upper target game needs to come together like the lower one has.
There probably won't be any more archery posts until after the hay is in the barn.  A big day of raking today, baling begins tomorrow as well as hauling the bales to the barn!
Bears Butt
July 15, 2015