Chris Barton, from the Brigham Bowmen came to the house this morning and presented me with an award for winning the Mens Senior Division 60-70 year olds, Traditional Bow competition.  My first award shooting the bow!  I know there are more hidden in that bow!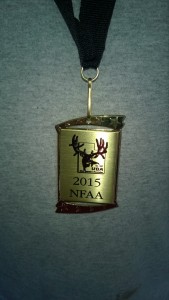 She was on her way down to present Weasel, Squirrel and McKenzie their awards as well!
A great way to start the day!
Thanks Chris and the Brigham Bowmen!
Bears Butt
April 26, 2015