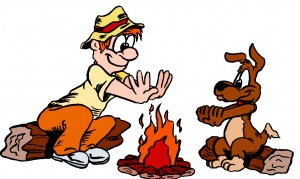 This weekend will be the shake down for our coach as we are heading up to the Hardware Ranch area for an archery 3D shoot.  The event sounds like a very fun thing.  Not only do they have 2 different 3D trail walk courses, but they also have an archery golf course set up.  I've not shot either one and so this will be a very fun event.  Most of it will happen for us tomorrow (Saturday) as we will most likely sleep in on Sunday, have a great breakfast and then come home.  All the grandkids are going!
So, today will be a busy day getting prepared to go and then waiting until the kids all get out of school.  BUT, Weasel and I are going to take their trailer up and secure a spot somewhere.  Then we will swing over to his trail camera area and hike in to retrieve the disc.  It will be a fun experience even though the hike will be a long and arduous one.  I plan on loading up my hydration pack and use this as a training time in preparation for the turkey hunt.
I'm beginning to feel that Spring is as exciting for me as Fall is with the hunting.  Turkey hunting really got into my blood and even though I have yet to tag one in Utah, I have had one shot and had a couple of gobblers fighting just behind where I was sitting one day.  To be SO close and yet so FAR away from getting a shot the excitement is there just the same.  The memories made are unbelievable.  If you are a hunter and have never gone turkey hunting you need to put it on your bucket list.  It is not easy by any stretch of the imagination.  Sure, some people luck out and get them by road hunting, but not very often.    We have found you need to get up very early in the morning, get to your spot and hike a long way to be set up long before the first hint of morning light comes around.  It is then that you sit and listen to the morning wake up of all the critters out there in the woods.  The deer, birds, mice and other animals all coming around after a long night of sleeping.  And then the Gobbling as the turkeys wake up and sound off in preparation for their fly down.  FUN!
So, I plan on posting up the events of the weekend when I get back.  If you are interested in this weekends fun, check out the Cache Archers on Facebook and see what they have written about it.
Bears Butt
April 17, 2015