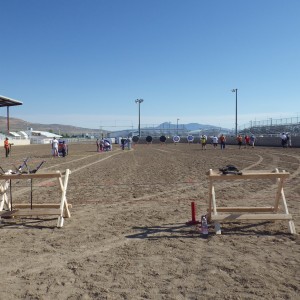 Last year the Brigham Bowmen set up their formal invitational event outside at the Box Elder Fairgrounds and this picture showed my view of the targets.  Those big targets down range are 60 yards from the line.  A very intimidating distance for a guy shooting a bow.  At least from my prospective at that time.  Who would have known that one year later I would be trying to shoot an arrow that distance?
Yesterday I had the privilege of helping set up the Formal, actually help with the range enforcement and then get to shoot it.  What a fun day!
As you have read on here, there are three different lines to be shot from.  60 yards, 50 yards and 40 yards for the adults.  The kids have three different distances they shoot from, but still very far for kids.  The older kids get to shoot out to 50 yards and believe me, that is a pretty good poke!
We picked up the pieces of the setup at 6 a.m. yesterday morning and there were a lot of folks that came to help.  The trucks were loaded up and off we went to the fairgrounds to get things ready for the 9 a.m. line.  I was a bit skeptical that we would have everything ready for the 9 a.m. line, but we still had a half hour before anyone came to sign in.  From the bleachers, the line looks like this: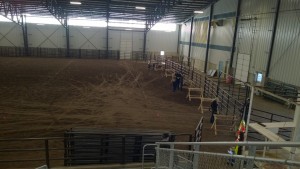 And down range the targets are spaced just right to allow for everyone to have plenty of room to shoot and score.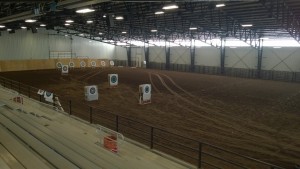 Those targets are a LOOONNNGGGGG way down there!
Well, the shooting started promptly at 9 a.m. and it's a good thing too.  There were 90 arrows to be shot by each shooter and that takes time!  Yesterday was especially tough as the arrow stops (bunks as I call them) didn't want to let the arrows go once the arrow was stuck in them.  Arrow pullers were used throughout the day.  Most of the shooters shoot fast, flat shooting bows and arrows that are tuned perfectly to fly straight and true.  When that combination is put to use, the arrow hits the target and the backing and drives on into it creating a lot of friction and heat.  The make up of the bunk melts onto the arrow shaft and that is what causes the arrow to be sooooo very hard to pull out.
As could be expected the 9 a.m. line didn't have a whole lot of shooters.  Heck, who wants to get up early on a Saturday anyway?  I didn't get any pictures of that line, but I counted about 17 shooters including some very young ones.  I have to say, the young shooters are pretty dang serious when it comes to flinging arrows at targets!  Congratulations kids!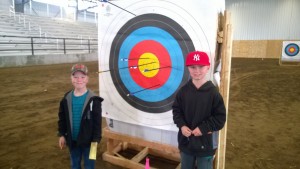 You can see them beaming!  And actually that is a pretty good target from the far distance they had to shoot!  Good job fellas!  Keep practicing!  You are definitely on the right track!
At the other end of the line and age bracket the targets were taking quite a beating in the yellow 10 and X rings!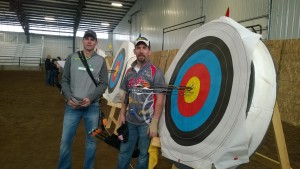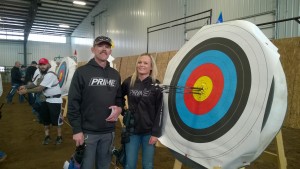 Look closely folks, those are two separate targets with clusters of arrows all in the 10 rings and X rings!  Absolutely impressive shooting!  With me, I like to use up the whole target and not discriminate between the different colors.  I even like to hit around the target, like in the ground and into the arrow stopping wood.  I'm a nice guy that way.
Aside from what I do with my shooting, the targets "printed" all day long were impressive and only the bottom line will tell who out-did who for the money.  Most people played for the fun of it and believe me it IS fun!  To challenge your ability to hit that yellow ring from 60 yards away is a great way to spend the day.  It makes you tired as well.  Those back muscles pulling that bow back 90 times lets you know it by the end.  My neck muscles even got into the act.
Back to the game!
The noon line was the largest of the day.  I didn't count the number of shooters, but the line was full for sure.  To have more would have meant shooting double lines.  We didn't have to do that.  What I did notice was the sounds and I hope to set up a camera to show you how it was for me.  Shooting outdoors doesn't have the same effect as shooting indoors.  When the shooters step up to the line and get the signal to go ahead and fling arrows, there is a silence that comes across the area.  Then the sounds of the bow strings being released, followed by the sounds of the arrows hitting the targets….whop, whop, whop, whop.  There is little to no person noises and if you could monitor "concentration" the chart would be off the graph.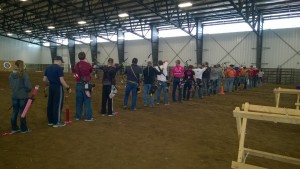 The way they had things set up, they put the adults on the right side (facing the line from behind) and the kids were on the left end.  To finish each distance the shooters walked forward when the ends were finished.  It was very organized and safe.  I wish more would come and be entertained in the arena seating.  You would not be disappointed!  Bring your binoculars.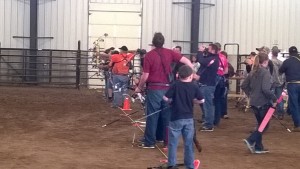 As shooters finish shooting the required number of arrow, they are instructed to step back away from the line so the line judges will know when everyone is finished and then call for shooters to go down range and score their hits (misses in my case).  It was very apparent that everyone was having a great time and what a way for people to get to meet new acquaintances?  Come on out folks!  You too could be doing something like these kids did!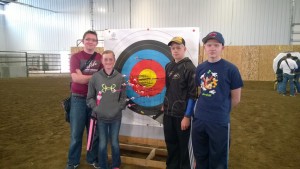 I only know Conner in this picture, he is the young man on the left in blue, but take a look at that grouping of arrows!  These four young adults are going to be shooting like those 10 and X ring shooters VERY SOON!  I was impressed with these four and their abilities to place their arrows in and around the 10 ring!  Good going guys (and gal)!  Guys is my way of including both sexes!
By the way, when 6 X 4 number of arrows are all sticking out of the target like this, it makes for scoring a little bit more difficult!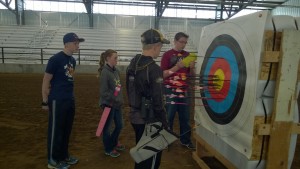 So who does this arrow belong to?
So, 3 p.m. came along and yours truly got to play!  One thing about this sport, it does not discriminate.  Even 65 year olds with antiquated methods can play.  And play I did.  My partner was a young Sophomore in high school who also was shooting a recurve bow.  His was set up with stabilizers and a sight, but a recurve bow none the less.  His arrows were a lot skinnier than mine and he said they cost around $300 per dozen….I think I'll stay with my $6 arrows.  I can break or lose them without having an ulcer each time I pull one back and chance it down range.  Of course his score was a whole lot closer to perfect than mine, but you will see in a minute how mine faired out.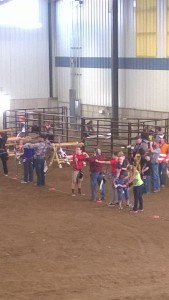 I'm 4th from the end in the purple shirt, hat on backward, not only to look like a "cool old guy", but to get the bill of the hat out of the way.  Functional and cool!  Thanks Winemaker for the grand stand picture!
So, how did the Old Bears Butt fair in his shooting?  Remember there are 30 arrows shot at each distance!
60 yards (my practice did in fact pay off)…300 points possible and I got a 96!  And best of all, I only missed the target (bunk) 9 times!  Is that good or what?
50 yards!  Let's talk about this for a minute.  We are going to move up 10 yards.  From 60 yards to 50 the target gets larger, right?  Well, it does in reality, but behind my bow 50 yards is still a LOOONNNGGG way down there.  My strategy was not to raise the bow too high and shoot over it, but still, too low and the arrow will hit the dirt.  The score please!
142!  And 4 zeros!  Damn!  If I had to say it for myself, I'm getting gooder!  My best end was a 44 out of a possible 60.  I need more practice I know, but I'm improving!  Now let's get down to the 40 yard mark!  20 yards closer than that hail mary distance of 60 yards.
40 yards!  Score 147 and the best part!  1 (one) count them!  1 zero!
My final score was 385 out of a possible 900 with 14 zeros!  My personal best…..well, heck it was my first ever time shooting an event like this…of course it's my personal best!
I can tell you from experience, PRACTICE pays dividends!  I can only imagine how this shooting event would have played out should I not have PRACTICED!
I've looked at a whole bunch of videos, read a book on the subject and every one of them come down to the same thing:  If you are going to get good at shooting a bow and hitting what you want to hit you need a few things behind your belt:  A good and consistent anchor point (points in my case), good and consistent form, a good and consistent follow through and tons of practice!  Do you notice anything here?  Good and Consistent!  Anchor point, form, follow through and practice!
More to come from todays (Sundays) shooting!
Bears Butt
April 12, 2015