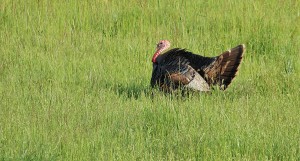 The opening day of the 2014 turkey season has finally arrived.  It is sort of crazy how it makes you feel and even at 3:30 a.m. I don't feel one bit tired.  Sure a very short nights sleep, but the excitement is there, just like when I was a kid for the opening of the fishing season.  It's crazy.
Walt Gabbard has written many songs about it and he has hit the nail on the head.  To bed at 3, up at 4 with the alarm clock set for 5, turkey drummin in the holler, gotta git on the caller, aint no time fer wastin, he'll be off the roost an struttin. (Those aint the words to the song, but they could be).
Weasel and I have our plan and it begins where we left off last year.  Sitting on our butts like good little turkey hunters are supposed to do and hopefully we can put a couple in the bag first thing.  I know for sure, my butt is setting just like last year when I missed my only opportunity of the season.  That big old bird came in quiet and was only 10 feet to my left when he suddenly appeared.  I'm not sure if it was more surprised than me when we made eye contact, but he sure got out of Dodge fast and right behind him was a blast from my Hevy Metal 20, only he turned left as my shot string went right.  He should be sporting a full 10 inch beard this year.  Wish us luck!
It's been a long wait!
Bears Butt
April 28, 2014