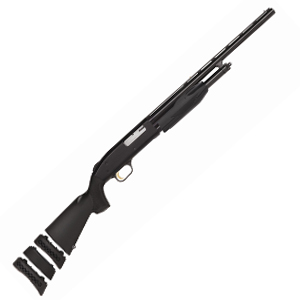 I picked up a shotgun like this one, a Mossberg Model 500 that is flexible enough to be made shorter for younger shooters or short guys like me.  I picked it up the year that Conner got to go on the youth turkey hunt with the United Wildlife Cooperative folks.  Now he is taller than his dad and I get to set up the shotgun for me.  With that and the upcoming turkey hunt (tomorrow), I attempted to put camo wrap tape on it to cover up all the black coloring.  But beings how (not really appropriate wording) it is a pump shotgun the tape around the pump handle, ejection port and shell chamber just wouldn't cut it.  So what does a guy do in a situation like this?  I thought about just leaving it like it was and making sure I was hidden into the shadows while on the hunt, but then I told myself, NAH!  And headed to the store for some paint.
With a little bit of testing and braving the whole idea, knowing full well a little paint would not hurt the functioning of the gun, I attacked the project with vigor.  The result?  A fully camouflaged shotgun, ready for tomorrows hunt!

My first ever camo job on a gun.  Shall we look closer?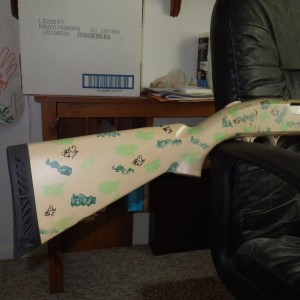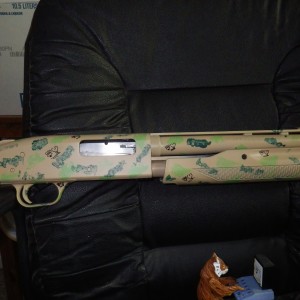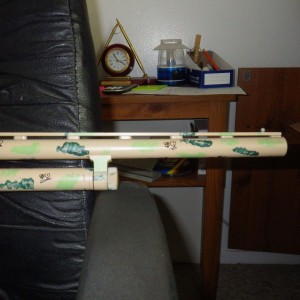 I made an attempt to stitch together a view of the other side of the gun, but you will quickly see the errors of my abilities to do that:

And there you have it!  Another masterpiece by none other than Bears Butt!!!!!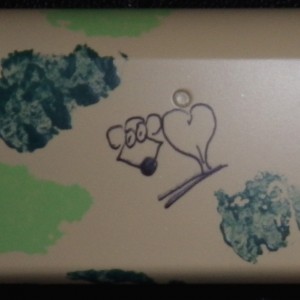 Bears Butt
April 27, 2014