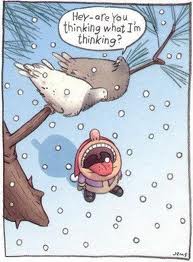 While Sherry and I have had a pretty rough go the past few days, I think my fever broke this morning.  At least the bed was sure damp where I sleep…could it be that my age is catching up with me and that is wasn't a fever at all?  I still had to go to the bathroom once I got out of bed.  I think it was the fever.
Anyway, this little picture is what both of our throats feel like right now…A Collard Dove shit in our mouths!
Anyway, we are alive and that is something to be very thankful of.
Everyone out there, MERRY CHRISTMAS from us to you!  Make the best of it and let's try and get some fishing in before the kids have to go back to school!
Bears Butt
December 25, 2013