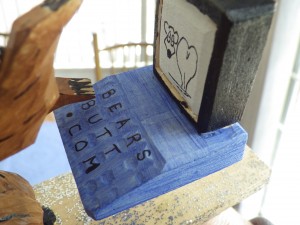 The rendezvous spot is filling up fast with trailers and tents!  A good sign that the 30 year rendezvous is going to be a big one!  I'm excited and I hope all of you are too.  We have some people coming from Florida this year to play and we have not seen them in quite awhile!  I'm hoping we see a lot of the old time people coming to this event!
Bones has put a lot of effort into making this a good rendezvous and it will be a whole lot of fun!  We still have a bunch of setup to do, but that should not stop people from coming in and setting up their camps and staying!  Last weekend was a good "precursor" to the camping as there were about 25 people who camped over the weekend.  Good times for sure!
This week I have to get the POS down to the site and get the hawk blocks set up, the flag pole and other items up near the council fire area and of course the range.  Then there is the big canopy to put up so the "fat ass booshway" has a staging area!  Just kidding Bones!  It's also a staging area for the "fat ass segundo" too!
It's only Monday and the things start to happen in seriousness (if rendezvous is every serious) on Thursday morning!  I'll be there!
The beer bets have already begun to be placed and this year will mark the year that Bears Butt kicks Dry Dogs butt at the shoot!  And probably in the flint and steel contest, and my team will win the Mountain Man Limpics event and of course I'll win the knife throw (real mountain men throw knives you know)…what else is there?
So, there will be more to come on this site about the 30th year rendezvous of the Willow Creekers!  RRROOOONNNNNDDDDEEEEEVVVVOOOOOOOOOOOO!!!!
Bears Butt
August 26, 2013