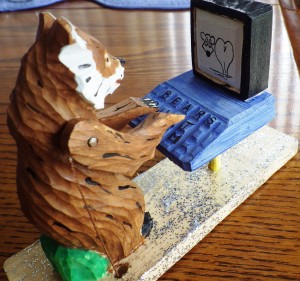 Looking at pictures on Facebook, hearing stories from different hunters and reading and seeing pictures on the outdoors forums, it appears the Utah bowhunters are having quite a successful year bagging bucks and bulls!  I think it's great!  Will they leave a couple for us Muzzy hunters?
With today's modern compound bows, special shaft arrows and deploying broadheads, todays bow hunter has a remarkable edge on how it was in my day.
Back in the day, we too had the best equipment of the time.  Recurve bows, cedar shaft arrows and fixed broadheads that were so sharp they could cut you sitting in the box.  We thought (and did) have the world by the tail.  Did the bucks stand a chance?  Yes!  In the few years I bow hunted I only came close to one once and left probably a dozen arrows on the mountain.  One broadhead is still stuck in the tree where my closest call at bagging a deer went just low and when the deer bolted it broke the arrow off right at the blade.
For sure those bow hunting days were very fun.  All the bucks seemed to be in groups of 2 to 10, all in velvet and all out in the open where you cold see them.  I did get to be quite good at the spot and stock thing, at least in my mind and only wind shifts busted me most of the time.
I think my greatest memory was a hunt with No Grimace; we had left camp before light and hiked up a very steep open hill to get on top.  Up there, we split up, he stayed high and I went about half way down the hill on the other side.  There was only one bush in the middle of the hill I was on and I hid behind it on the uphill side.
We had set up a hand signal system to warn each other of approaching bucks.  I could see all around him and he was about 300 yards above me.  The curvature of the hill prevented the hunter from seeing any animals approaching from above until they were about 30 yards away.  Thus prompting the signals.
During the early morning hours, he began to wave frantically and I began to get nervous as I thought I could see everything around me for hundreds of yards.  I was looking intently and expected a cougar or something big like that to pounce on me at any time.  As it turned out, 3 bucks, all 4X4's were feeding on the other side of the bush, not 10 yards from me.  My first clue was a snapping twig, as one of them bit it off.  Next was a single eyeball looking through the bush at me.  Busted!
We stared at each other for a minute and then I decided I'd make sure my bow and arrow were ready to fly and then jump up from my sitting position and plug the buck looking at me.  At this time I only knew of the one buck.  When I was ready, I made sure the buck was still "eyeing" me, got everything in shooting readiness and double checked, then stood for the shot, drawing to full draw as I stood up, this buck is mine!
Upon standing I suddenly was faced with shooting one of 3 bucks, the smallest was the one looking at me and the other two were monsters, I spun to aim at the biggest, but by the time my mind was made up all 3 were headed for the next county.  I never did release the arrow, just watched as they all bounded off and over the ridge.
That's bow hunting at its finest.  Everyone has a good fun time and nobody gets hurt, not even the deer.  However, if one of those bucks would have hesitated just two more seconds, I think I would have made my first buck kill with a bow.  As it turned out, that was my last bow hunting season as I  opted to go into the service.
When I got out of the service 4 years later, that old bow still hung on the rack in the attic, begging me to take it out one more time.  Instead I lent it to a Brother in Law, who broke it…Say…La…Veee.
I think if I was to ever pick up a bow and try again, I would get a long bow and do it right.  No, I wouldn't go to the extent to use hand chipped broadheads, that would not be fair to the deer.  I'd look into the Epek deployable heads however.
So, to all you bow hunters out there still looking to fill your tag!  Good luck and if you get a chance to leave a buck or two for the next group that wants to go hunting, please do.
Bears Butt
August 23, 2013