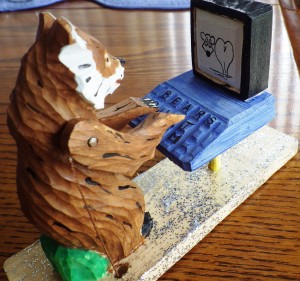 OUCH!
Weasel and I hit the Lee Kaye Center this morning to qualify for our Deseret Land and Livestock cow elk hunt coming up in Nov/Dec.
We were both very nervous about it and the DWR guy didn't make us feel any better.  First off we had never been to the center before, so we had no clue as to what to expect.  The very first thing I noticed was all the volunteers.  They seemed to be in every corner of everywhere.
The second thing was the strict nature of their business and the fact that nothing is free except the conversation, but then to hear or get involved with the conversation you had to have paid your $5 entry fee, so I guess it wasn't free afterall.
So, after signing in, I asked the guy behind the counter about meeting with our guy, and I named him.  Without a word he disappeared and came out with a DWR guy.  He introduced himself and then turned us over to his partner who actually told us the scoop on this qualification stuff.
With specific instructions to drive down to the 100 yard range we moved in that direction.  Arriving, Our Guy was there waiting for us (he drove faster than the speed limit).
A person had his stuff spread out and was occupying our area and so we had to wait about 10 seconds to put our stuff down.  Then Our Guy handed us each a paper that only had lines down in one corner for our names, gun, serial number and date.  Other than that it was blank.  Instructions were then given to drive down the first lane to the left, go to the tunnel, walk to target stand number one and set out targets up.
All confused, we were both wondering how on earth we were going to put our targets up while people were shooting.  We found out quickly.
They have "tunnels" down there and you are actually quite protected against getting a bullet.  For sure people were shooting over our heads the whole time, but we were safe.  The targets are on metal pipes and you pivot them down and put your target up and then rotate it up into view and lock the pivot down.  There stands your target.  Pretty cool system.  While we were at it there were round dots on our board that we peeled off and put in the middle of our paper so we would have something to aim at besides just a big old piece of paper.
Then back to the firing line we went.
Arriving, Our Guy said, well you shouldn't have put those red dots on your paper.  You need to go back down there and take them off.
A bit frustrated, we went back and did as we were told.
Now back to do our shooting.  Our Guy says he recommended that we shoot in the prone position, it's best.  And so, Weasel laid down and prepared to shoot.
First off, he wanted to make sure he was steady and so he took some time getting adjusted.  When you are not used to doing this sort of shooting it does require some re-thinking on how to get it done.  When he was ready, he loaded up and took his first shot.  It did not feel good to him and so he got up and tried aiming in a sitting position.  Our Guy had to hold up a small red fence that would have been right in his line of sight.  Weasel tried and tried to get the rifle to steady itself, but it just wouldn't do it.  So, he gave the court to me.
I laid down and got ready, it felt a bit uncomfortable and I noticed a cramp right away in my lower back, left side.  But it soon relaxed a bit and I felt somewhat ok to take a shot.  My scope cross hairs were not even on the paper when the first shot went off and I was not a really happy guy.  I put the rifle down and stood up to let the cramp subside a bit.  Then grabbed up my other 3 rounds and laid back down.
Loading them slowly and taking my time at aiming, I knew that if I was going to qualify I needed these 3 shots to hit the paper, anywhere!  But, in order to do that, I had to be as careful about making sure the cross hairs were on the paper when the gun finally did go off.  When I was done with the last shot, I peered through the scope to try and see holes, but could not see any.  I wasn't too pleased, but got up and put my rifle on the table with the breech open.
Now it was Weasels time in the bag again.
Both Our Guy and I noticed the barrel of Weasels gun was wavering all over the place as he aimed and Our Guy made a comment to that effect.  Weasel said something and continued to aim.  Then fired the shot.  Not knowing the whereabouts of the bullet, he continued and shot his remaining two shots.
Then, as instructed by Our Guy, we made the trip down range to get our targets.  We wished each other luck as we made the trip down the tunnel to our target.  Weasel lowered the target and the evidence was printed right on the papers in front of our faces.
Mine had 3 holes in it and Weasels had one.  BUMMER!  Even though I had a qualifying paper, Weasel did not and we both knew what that meant….another trip to the sighting in range and another trip to the Lee Kaye Center to try and qualify again.
Back at the firing line, I filled out my blank lines with the information they needed and Our Guy took it away.
Driving home, Weasel said, there is a reason for everything and maybe the reason for this is I need to shoot my elk with my muzz.
And maybe that is the case.  In the meantime, he is going to practice holding the scoped rifle and practice his aiming, trying to learn how to hold it steady and not weave all over the place.  There are techniques of all sorts out there that can be learned and help you steady that aim.
Bears Butt
August 21, 2013