Today I thought I would let you in on a little secret I learned while on the youth turkey hunt a few weeks ago.  Wapiti and I were assigned to assist the cooks, Chef Dave and One Lisa.  We were pleased to be a part of that team.  I learned a whole lot that weekend and so I wish to share one of my learned lessons with you on this site.
This is a recipe for "Breakfast Burritos", I had never had a breakfast burrito in my life until that weekend and to be a part of putting them together for the hunters, guides and other guests was a real thrill.
I don't claim to be the quickest of learners, but there were subtle things happening around the cook shack that I did pick up on and now I will share them with you.  Some of you reading this will say "DUH"!  And that's ok.  Others will say "I never thought about that!  That is a good idea"!  (so there DUH people)
To begin with, you are the master of this creation.  So get creative.  Just because I chose to use bacon and sausage in mine today, you can use whatever you like.  For instance, bologna, vienna sausages, tuna fish, steak, Limburger cheese…it's all your choice.
If you choose to use bacon, I strongly suggest you fry (cook) it until it's crispy.  Otherwise your guest (and you) will be pulling out strings of bacon as you eat it.  First off Emily Post would not approve in her eating etiquette book and secondly, it just is not appealing even to a mountain man to see such a grotesque scene so early in the day.  Ok, cripsy bacon!
So here goes:  You will need eggs, meat, cheese and flour tortilla shells (12 inch) and aluminum foil.  Of course you will need a bowl and a couple of pans to cook in.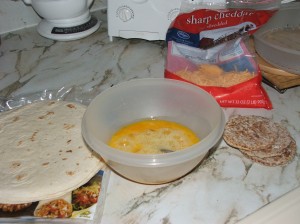 Plop those eggs in the bowl and give them a good whippin!  Make sure all the yolks are broken, on the hunt, Wapiti missed one.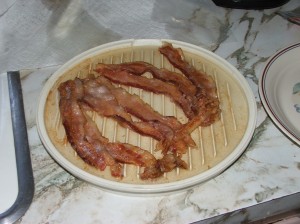 Did I say CRISPY bacon?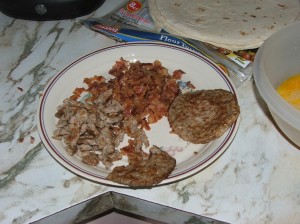 Here I have crumbled up the bacon and am in the process of breaking up the sausage.  The sausage is cooked, but not crispy, just done.  These two meats were my choice for today and they will be put in with the eggs and mixed well.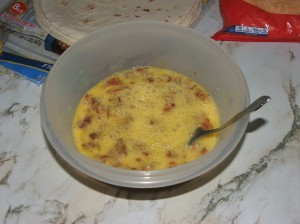 I'm a lazy guy at times and I chose to use pre-shredded sharp cheddar cheese this morning.  You can shred your own or leave the cheese out if you wish.  Here is an idea, slice the cheese and have it ready to put into the wrap at a later time…good idea Bears Butt!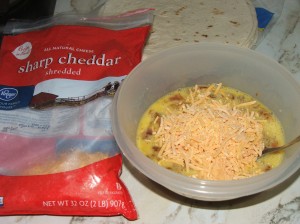 I plopped in cheese until I felt it was enough.  Who measures?  Go with your gut feeling and then mix it all up.  Next it will be poured into a frying pan and scrambled until done.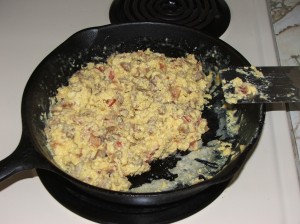 MMMM.  Looks good don't it?  Depending on how hungry you are at this point you might just grab a fork and start eating.  To heck with the tortilla shells.  But I did not do this and so, we will continue with the recipe.
For my meal today, I needed two wraps for breakfast, but with the upcoming weekend camping trip I needed four more since we will be enjoying two breakfasts while at the rendezvous.  I did mention we were going to the Cache Valley Mountain Man rendezvous this weekend didn't I?
And so, I pulled out 4 sheets of aluminum foil, each about 15 inches long.  Trivia:  When did "tin foil" change to "aluminum foil"?  Answer:  For a very short period of time in the mid 1950's tin foil was available to the general public, but most of us were very poor and did not ever use it.  About 1955, Renolds Metals Company started producing sheets of aluminum foil, which was a lot cheaper to make and therefore we could afford to buy it.  A lot of folks today call aluminum foil tin foil out of habit.  Most of us who lived with tin foil will be long gone and folks will have to read something like this to even know it existed.  Let's get back on track.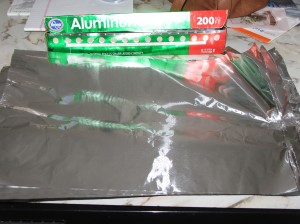 These sheets of  "luminum foil" will be used to wrap up my breakfast burritos so that while camping I can just lay them on the grill and heat them up.  Coffee at that point will mean more than eating and after the coffee I'll be hungry.
So now it's time to heat up the tortilla shells.  You do this because when they are hot you can fold and roll them and they won't break apart.  You aren't actually cooking them, just heating them.  Flip them over and make sure they are good and hot and pliable.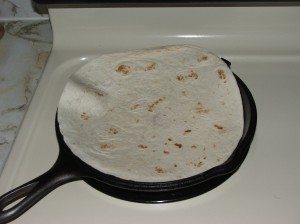 Place the heated tortilla shell on the aluminum foil sheet.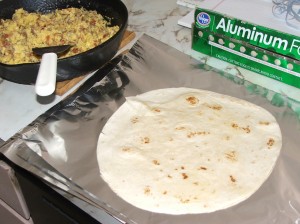 Add a portion of the egg scramble.  Notice how I have put it on the shell toward one edge and made sort of a long line of the egg.  Long line of egg?  Well in relative terms it's sort of a long line of egg, at least it's toward one edge.
I might add while being instructed by Chef Dave, he never said to put the egg toward one edge, he just instructed us to put egg on the shell.  Perhaps Chef Dave thought we knew about such things.  He gave us a lot of credit, but we had no clue.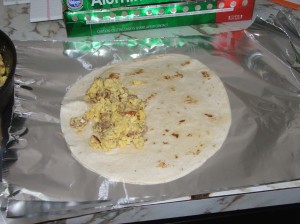 Next is the wrapping of the shell.  One Lisa was there to assist us with the proper way to wrap these bad boys up and she taught us well.  I think she could see in our unguided ways we did not have an inkling of a clue as to what we were doing.  And so, what you are about to see is One Lisa's method.  It holds a lot of credibility and lends itself well to the eating of this meal.
You start by folding the edge closest to the egg over and around the egg.  Next you fold the bottom of the shell up and over the egg and begin to roll the whole thing up until it's completely wrapped. (Thank you One Lisa for this lesson).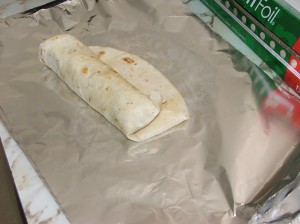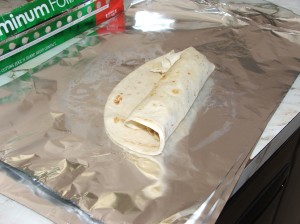 This is the "open end" of the wrap.  And One Lisa went on to say we are going to "guide our guests into eating the open end".  I did not understand what this meant until we wrapped the whole thing up in aluminum foil.  You will see shortly.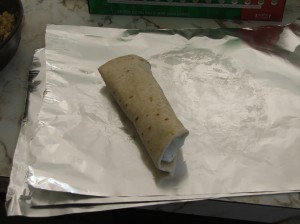 It's a wrap!
You could pick this up and eat it right now and life would be good.  The folded end keeps the contents all captured up in a nice tortilla roll and off your new shirt or out of your lap.  Pretty cool huh?  (DUH!)
Now let's save this one for camping.  We will wrap it up in aluminum foil.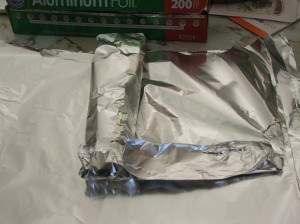 One Lisa said to follow the same guidelines to wrap them in the aluminum foil as we did to wrap the tortilla shell around the egg.  So, fold the close edge over the wrap, roll one time, fold up the edge (same edge as is folded on the wrap) and roll the whole thing up.  Simple!  (for you others DUH!)
And to finish off what One Lisa said, "we are going to guide our guests into eating the open end"…..simply fold over the open end of the foil!  How cleaver!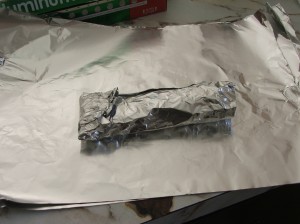 One Lisa, you are amazing!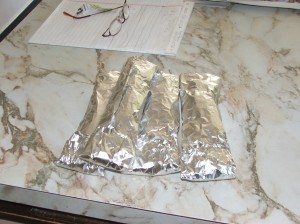 And we continue doing this until all the tortilla shells are wrapped around all the egg.  These four breakfast burritos are going to rendezvous while these other two are going to be todays breakfast.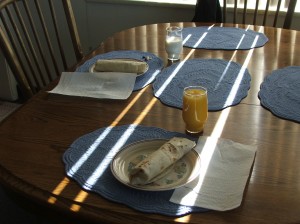 As for how to heat the camping ones up well it's quite simple (DUH), just place them on the grill and heat them up.  Don't forget to turn them a couple of times and remember THEY WILL BE HOT!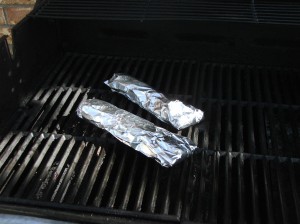 A word of caution….DO NOT PLACE THE ALUMINUM WRAPS IN A MICROWAVE….to heat them.  All heck will occur inside and it will fry the unit up, probably causing a fire, certainly would not be good for the food and your butt would be in very serious trouble.
This recipe is a "Thank you to Chef Dave and One Lisa"!  Both are members of the United Wildlife Cooperative organization, check them out, membership is free and you can join today!  http://www.unitedwildlifecooperative.org
Bears Butt
May 24, 2012