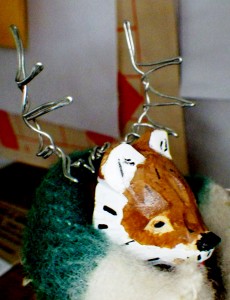 With the vision of a dream hunt for elk on the horizon, Bears Butt and the gang are ready to head out on the great adventure.  It's Thursday, November 7th, 2013 (No Grimace's Birthday).  Tracker arrives about 6:30 a.m. and the plan is to pull out at 7.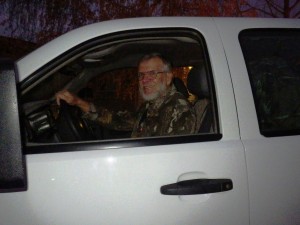 He backed up to the trailer and hooked up.  He is as excited as old Bears Butt himself and has been anticipating this hunt just as much.  His emphasis is on the video opportunities that will be provided on this hunt.  The animals, the country side, the red rock country in general.
One of the first things we realize are the poles for the dining fly are too long to be able to ride in the back of the truck while pulling the trailer and so we made room inside the trailer for them.  To say the least, the trailer is full and if we discover we didn't bring everything we need for this hunt, we missed a good chance.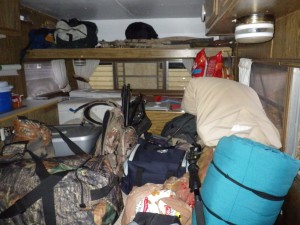 Where is the beer?
It's a good thing this is a 1970's vintage camp trailer as I don't think the axle strength of a modern one would have handled the weight we put in this one for this trip!
Packed and ready, I gave MaPa's one last scratch and Winemaker a big old kiss and we were outa there!
With a 7 a.m. start there wasn't any time for breakfast and so I had prepared a breakfast burrito for each of the eight of us to eat on the way.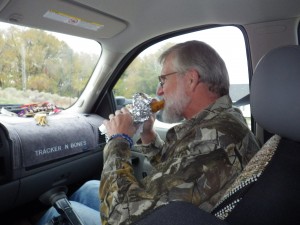 That should keep us going until we stop somewhere for lunch.  Well, that and a handful of home made venison jerky and a Halloween type Snickers bars.
After leaving Willard, we had to make one stop to pick up Edjukateer and as we arrived at his place in Layton, the stack of things he was bringing made it look as if Sara had kicked him out of the house!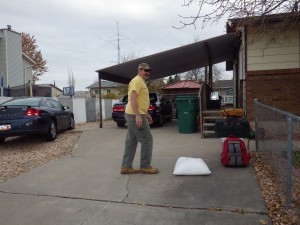 It is becoming quite obvious to me at this point that everyone is excited and probably packed more than they really needed.  But like someone said, it's better to pack it and not need it, than to leave it home and need it.  I agree!  But please leave the TV home!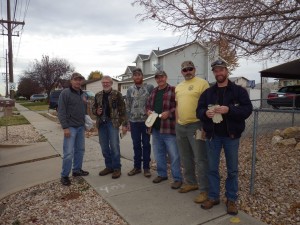 Let me introduce you to the hunting gang (from left to right)!
Jay "Softball" Zundel (Support), Clyde "Tracker" Westley (Videographer), Brennen "Night Fisher" Gerhart (Elk Expert and Support), John "Wapiti Dung" Zundel (Support), Tracy "Edjukateer" Zundel (Support), Brandon "Weasel" Zundel (Support).
It's sort of a tradition on our special hunts to make sure everyone is given a special gift of some sort and this hunt was no different.  Sometimes the special gift is just a special saying or even a prayer.  I had already given everyone and their spouses a set of wire elk antlers that can be hung from their beaver sharns or rear view mirrors and now it is Softballs turn.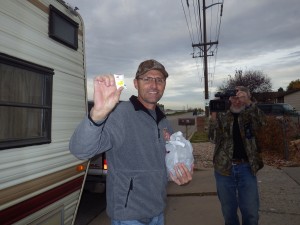 Softball is always thinking about our comfort and so he gave each of us a set of ear plugs to assist us in getting good nights sleep!  AND he gave us each a good pair of work gloves to combat the thorny plants found only in the San Juan area!  Thank you Softball, they both came in handy!
Once on the freeway heading South, my thoughts turned to the fact that we were about to drive through the Salt Lake and Utah valleys during rush hour traffic on a Thursday morning…YUK!  I hate driving through that traffic anyway, yet alone pulling a trailer.  Well, like all things that have to be done, you just grit your teeth and try to stay out of the trouble that others have gotten themselves into.  We made it!
Turning off and heading up toward Spanish Fork Canyon we met up with Cousin Dennis.  He had seen us traveling through the Salt Lake area and got ahead of us.  We didn't know what he was driving and when we made the turn he was quick to get on the phone and have us meet up before heading up the canyon.
Dennis drives a Volkswagon Golf with a diesel engine and when he puts the pedal to the metal, he is GONE!  He said he would meet us in Green River as he had to visit with a cousin in that area and then we would have lunch.
Well, as Dennis traveled at near 100 mph, we were pushing it to go 50 mph up the canyon and down the other side.  We gassed up in the little town of Wellington, just South of Price.  Dennis was on the phone about then asking us where we were.  He had already made it to Green River.  We still had an hours drive ahead of us to get to where he was!  Lunch would be late for him!
When we finally got to Green River we went to the only eating place in town, "Rays Tavern"!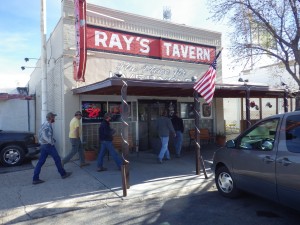 A very quaint looking place that was packed with people eating and having a beer or two.  The burgers we each had were very large and an over the top portion of freshly fried French Fries with the spud skins still on them.  For under $9 it was a very worthwhile meal!  I recommend that place as a stopping place if you are ever in the Green River, Utah area and have a minute.  You can't miss the place, it's just off the main street about the center of town.  OH YA!  And if you sit near the middle of the dining area, watch out that you don't accidentally get the chair leg stuck in the hole in the floor!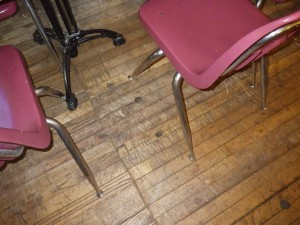 Well, it was now time to leave Green River and head toward Monticello via the town of Moab.  Moab is a destination town for millions of visitors each year and right now (November) is a great time of year to visit this great place.  The air is cool and crisp and the bugs, snakes, lizards and assorted other hot climate critters are tucked away waiting for the heat of summer.  And so this is what we saw in Moab.  Lots of bike riders (pedal type), cars, vans etc. filled with joyful folks wishing to see all the sights.  But our goal was to get through town and off down the road to Monticello.
Not far South, there is a place called "Hole In The Rock", a smallish tourist attraction which was actually established by our cousin Dennis' relatives on his fathers side.  We met with Dennis there and I turned the driving of Trackers truck and my trailer over to Weasel and I climbed in with Dennis to get ahead enough to pick a camping spot somewhere high in the Abajo Mountains.  We felt this was necessary to speed up our camping  process as it was getting late in the day. Dennis thought a good starting point would be Foy Lake.
So, off we went at about 8o mph!  On the way to Foy Lake, we had to go past a large rock that sits along side the mountain.  Dennis bought the rock and property around it and is in the process of cutting holes in it to make a motel.  A very unique idea.  The rock is called "George Rock" and is situated across the highway from another large rock called "Church Rock".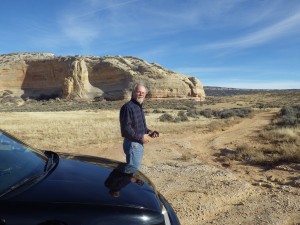 We hung around George Rock (Dennis Rock) and waited until the convoy of two caught up with us just to make sure they didn't miss the turn off from the main highway.  When we saw them coming we went on our way with radio contact for awhile.  Our last contact with them was to tell them about the turn off toward Foy Lake.
Dennis likes to drive sort of fast and so up over hill and dale we went and suddenly we were standing next to Foy Lake.  A wonderful little out of the way lake high up on the highway leading from and to Monticello and Newspaper Rock road.
I assessed the situation and the camp spots.  There were several, but for this trip I wanted to make sure it was "the camp spot of all camp spots"….this hunt is special and I want it to be special for everyone.
By the way, we saw several large flocks of wild turkeys strutting around alongside this highway.  I didn't get any pictures as while I was sitting in Dennis' car, I wasn't fast enough to get my camera on the turkeys before we blew past them.
Well it took about a half hour for the convoy of two to make it to Foy Lake.  Dennis and I left them to look over the camp sites there while we went on down the road toward Monticello to look at the other potential sites.
I have to admit the view of the valley we had just driven up was spectacular and a vista worth stopping to see.
Again, there were several nice camp sites to choose from but I finally chose one quite a distance from Foy Lake and off the side of the road enough that people driving by would not even see our camp.
With that done we had to go back to Foy Lake and let the others know.  And then the drive to the camp spot I picked out.
By this time it was after 4 p.m. and it gets dark around 5:30.  We had to do some humping to get camp set up before it got dark.  We hustled and just like a good team will do, we had things set up and orderly soon.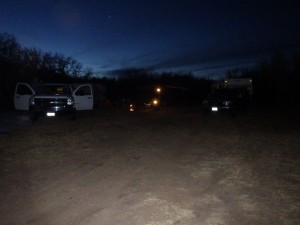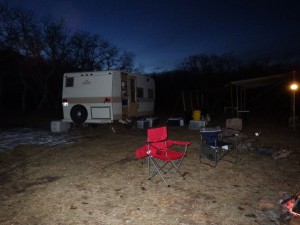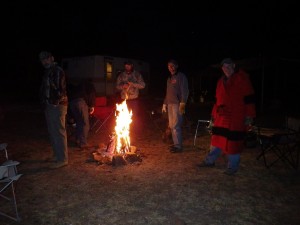 Dennis hung around awhile and then had to leave.  He lives across the valley from Monticello and into Colorado a ways, he says about an hour away.  I suppose as fast as he drives it is an hour, but I also suspect that if I was driving it would be more like an hour and a half…just guessing.  As he was leaving he said to us…"I'll be here early in the morning and will take you around to see Uncle Bob's property"!  We said our goodbys and off he went.
After a few comforting drinks and some good laughs we set into making our supper meal…Stew and Hard Rolls…does it get any better than that?  I think not!
Well it was a long day of driving and looking and we certainly are not disappointed in any of it.  But tomorrow, Friday, is our day to look around and maybe even spot some elk.  The hunt actually begins Saturday and I would love to tag an elk that day.  Remember Dennis said he would be here early in the morning and so we decided we had had enough fun for one day.  It was time to retire.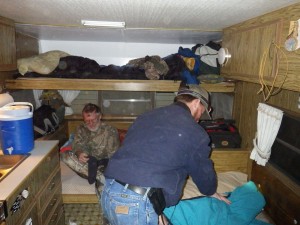 Alarm clock set for 5:30 a.m.?  Check!
Bears Butt
Nov. 18, 2013