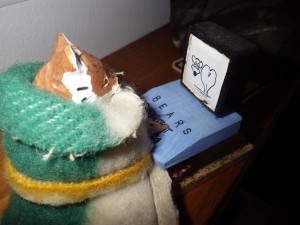 BRRRRRRR!  34 degrees outside right here, but what is it like in Monticello?
26 degrees! with 62% humidity!
Today will see a mix of clouds and sun followed by mostly cloudy this afternoon and a few showers possible.  High expected to be mid 40's and winds SSE at 5 to 10 mph…It always seem to have winds 5 to 10 mph….and a chance of rain at 40%  Lows tonight around 30!
Looking down the road at their long range forecast I see a warming trend with highs above normal, around 50 with lows around 30.  I think us hunters are in for a very nice hunt!  With this mild of temperatures we may even see ourselves a bear or two!  Wouldn't that be fun!!!?!!!  I have never seen a bear outside of Yellowstone!  And as long as any bear we saw was far away from the downed elk, I would be just fine with that!
Who is excited is ME!!!
3 days!
Bears Butt
Nov. 4, 2013