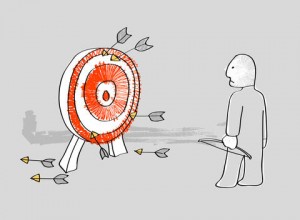 What a great day yesterday was!  I had a visit by the UPS guy who delivered my new bow!  YEAAA!  I have been mentored by a man named Lynn Heyes from Brigham and he is the go to guy for traditional archery information in the Brigham City Utah area.  A great and knowledgeable guy.  Anyway, he told me to come to his home when I got the bow and he would set it up for shooting.  I could hardly wait to head to his home.
Here is a look at the bow.  You have to understand first off the bow is 64 inches long and so to get all of it in a photo I would have to be too far away from it for you to see the beautiful wood that makes up the handle (riser in bow terms).

This baby is made by Samick, a company out of Korea.  It is their Journey model in 30 pound weight.  It is also a take down model, in which you can remove the limbs for storage and to make it even more unique, I can purchase new limbs in different weights if I want.  Say to increase the weight to meet Utahs bow hunting laws (40 pounds).  So why a Korean bow?  Lynn tells me that the Koreans are the world class act in bow making and shooting in the world.  They take their kids from the womb and put a bow in their hands…..well, not quite, but they teach them from a very young age.
So, Lynn recommended this bow for me.  One, for the quality and two for the price.  This bow was only $140!  Limbs cost $75 if I choose to buy some later on.  Ok, so it came with a string and that is it.  I rushed up to Lynns place and he quickly put the string on the bow.  Then he put a leather patch on the side where the arrow rests.  See the dark half moon looking patch right behind the red mark on the bow.  That patch is to protect the bow from the arrow shaft sliding along it.  He also added an arrow rest, and that is what looks like a red mark.  It is actually red feathers glued down to a plate that form an arc about 1/4 inch wide.  The arrow shaft rests on top of that.
Well, that was not all Lynn wanted to do, he made me a sling to be able to safely put the string on the bow.  By standing on the stringer, you can pull up on the bow and place the bow string around its end groove.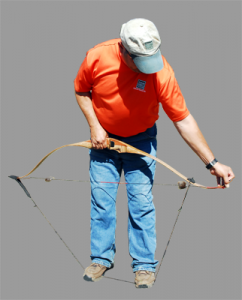 I have to say, Lynn is a remarkable guy and I'm sure glad he took me under his thumb to show me about this archery stuff.
Well, with the bow ready for action, Weasel called and wanted to hit the range.  He is scoring his targets for the upcoming archery contest and Squirrel and I need to shoot our new bows.
Squirrel was not up to a duel with Grandpa as yet and so it was a night to get the feel of my new bow.  Going from a weight of 10 pounds to 30 pounds is quite a change and it was very noticeable down range.  However, I never once missed the back stop and mostly hit the paper the target is printed on.  I really like the feel of this new bow.  Later in the evening, we moved a "bunk" up to the 10 yard mark and had ourselves a little contest.  Weasel spotted Squirrel and I 100 points and told us he would still kick our butts.  We took the challenge and in the end both of us beat his butt BAD!  He will never spot us 100 points again.  During this contest, I got to see exactly what my new bow is capable of: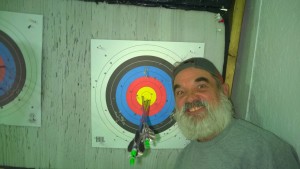 All 3 arrows in the 10 ring!
Of course that was the only time that happened all night, but that doesn't matter, I now know the bow is capable of doing some great stuff!
Bears Butt
January 31, 2015