Last night Weasel, Squirrel and I hit the Brigham Bowmens archery range for a little practice.  With Squirrel and I it was more than just practice, a double or nothing event was in store.  You see, I promised him a re-match in the quest to see who could out shoot the other and I offered to shoot my 10 pound bow out to the 20 yard line.  After all isn't it just plain fair that a 9 year old get a 65 year old to succumb to the old vs new mentality?  He with his youth and high powered compound bow and carbon arrows, and me with my age, 10 pound plastic bow and aluminum arrows with self made fletchings.
Well, we shot our six arrow practice and then went to work on the long range shooting for score.
As you can imagine, my butt was getting a bit sore as the contest began and his ego was getting the best of him around the mid shoot mark.  We shoot 10 sets of 3 arrows p/set and score at the end of each of the sets.  By set 5 he had me big time.  I don't remember the score at that point but I needed something very big in order to stay in the game.  I thought about deflating the football and letting it all out, when at the end of set 6, I scored a huge 17 points!  All 3 of my arrows found the rings on the target!  At the same time Squirrel pulled a zero.  I was leading after that and I told him the lead was mine through the rest of the game!
As fate and my inability to control my arrows took over, I shot the next one with a zero end result.  In the meantime he pulled ahead by one point.
And then my game completely fell apart with arrows going like this picture: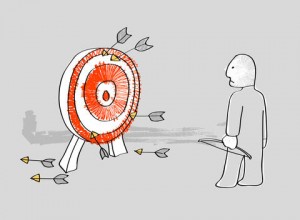 Only none of them were inside any of the rings.  I shot all the rest of the sets netting zero points.
After the 30th shot, Squirrel had me by 5 points.
So, congratulations Squirrel, you won your soda back.  But, remember this, when I get my new bow and fancy arrows and get things all tuned up, you are going down!
Bears Butt
January 27, 2015