As some of you know, several years ago, I went on a crusade to convince the Utah DWR to allow hunting antelope in the Randolph, Woodruff area during the same time as the muzzleloader deer hunt was going on.  My reasoning was two fold.  One, we didn't have a Limited Entry muzz antelope hunt in Northern Utah and Two, I had seen several nice buck antelope during previous muzz deer hunts and thought it would be nice to be able to take one home, should the occasion arise.  I spent the best part of 3 years gathering information, preparing speeches and going to RAC meetings etc.  And finally ending up at a Wildlife Board meeting where I presented one last time, my arguments for having such a hunt.  Eventually the Wildlife Board had the DWR create a Limited Entry Antelope hunt in this area.  In fact they made the area such a large expanse that it would be hard to cover it all in one day.
Sadly, the total number of tags for this area is only about 17 or so.  Last year, 2017, the success rate for the hunt was only 80%.
At any rate, I drew a tag this year!  2018 and my friend, Johnny "Crock" Riley had a shirt made for me to wear during the hunt.  The shirt is a take off from when a group of us drew the coveted Crawford Mountain Limited Entry Mule deer tag several years ago.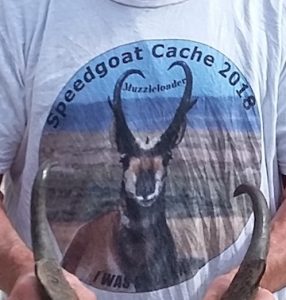 It's hard to read, but at the bottom of the picture of the antelope it reads, "I was chosen"!  Thank you Crock!  I love it!
So my goal this year and for this hunt was to tag a buck antelope that looked at or near to the same as the one printed on the shirt!
As you can guess, I trained hard for this hunt.  I studied the internet, watched Youtube videos on how to field judge antelope horns and such.  I learned that they were not easy to bag at close distances and of course all my study gave me new appreciation for those bow hunters who actually bag and tag an antelope with their bows.  I'm not sure I want to attempt that and think I would be a total failure in trying to accomplish a task of that magnitude.
Well, the  hunt began as usual, mostly being one for hunting muley bucks and not necessarily antelope.  I knew going into it, I would be on my own for a good portion of the hunt and I was OK with that.  After  all, the other guys and gals had deer tags.  I was the only one with an antelope tag.  And so, when the hunt began, I would choose to drive the guys around who wanted to go with me and I would split my time in areas known to hold antelope, but mostly deer.  Again, it was alright with me.  At least I was with others having a good time and trying to fill tags.
We camped in our normal area where it would be very much possible to see a buck deer right out of camp at any time of the day.  Not so with antelope, however.  But a short drive down the canyon would put me into antelope country and still give the muley deer hunters a chance to see their buck.  After all, sometimes, you will find that BIG OLD BUCK where nobody else is looking and what better place than in antelope country?   We were up early every morning, hitting the spots we thought the critters would be holding.  We saw tons of deer, even a few antelope, but I couldn't get close enough for a shot on the antelope.  Most of the deer we were seeing were does and fawns as well, but occasionally we would see a small buck.  Enough times that it kept the interest up for the hunters with deer tags.
We did keep seeing one antelope buck in a specific area, just off of private ground and I told more than one in the group I'd shoot that one if I had the chance.  He wasn't a "Booner", but he wasn't that bad.
I think it was on day 3, I decided I would go off on my own looking for just antelope.  Of course none of the deer hunters wanted to waste their evening hunt going with me, which was just fine.  This way I could go where I wanted and not worry about them.  I found myself miles from anything that remotely looked like mule deer country.  I even found a buck antelope that looked like a good one.  Again, not a Booner, but still nice.  I put my best "in the vehicle" sneak on him and when I crested the hill where I knew he would be standing, he was no where to be found.  I looked and looked to no avail!  OK, maybe tomorrow I said and off I went to make a circle in my route back to camp.
As I came down a well know road to another well known road, a split in my route back to camp, I saw a side by side vehicle blocking the road ahead.  I was up hill from it and so I stopped and began to glass.  Soon I saw a young man with a muzz in his hand, followed by another guy.  I assumed it was his father.  They were sneaking over a small hill from where they had stopped their side by side.  I glassed and soon picked up a small buck in my binoculars.  That was the buck they were after.  It didn't take the young man long to finally see the buck and pull up the rifle.  I watched intently as the young man carefully aimed his rifle and soon, I saw and heard the distinctive "bark" of a muzz rifle going off.  The smoke rose in the calm evening air and then I heard the "Whack" of the bullet striking the buck.  All of this was in my view through my binoculars and I saw the buck jump and head down the hill away from the young man and his father.  I continued to watch the buck as it went down hill and finally where it laid down.
I stayed in my spot until I was sure the buck was not going to get back up and run off and then I moseyed down the road to the side by side.  The father (Dan), came over to move the rig out of the road.  I told him it was just fine, I was not in any hurry and he had a deer to deal with, but he moved it anyway.  While we were together we talked about the shot his boy had made and neither of us were sure it was a killing shot or not.  We decided I would drive down below the buck and get ready to shoot it should it jump up and run.  And he and his son would slowly go to where it was laying, hopefully to find it deceased.  So, that is what we did.  I drove down about 50 yards beyond where the deer was laying and go my gun ready to shoot the deer should it try to escape.  They made the slow decent down to  where they thought the deer was laying.  After awhile, it was way too dark for me to see my sights and so, I put my rifle back into the truck and drove back up the road to a spot closer to where the buck was supposed to be laying.
Dad and son had not found the buck by this time and so, using my flashlight, I helped direct them to where it was laying.  The young hunter had to put a killing shot into the buck at close range, but still, it ended happily for the young hunter and his father!  To say I was anything but elated would have been an understatement.  I was beside myself to witness such a wonderful site as a first time hunter, with his father, tagging out on a fine buck deer.  The young man introduced himself as "Hunter", to me as his father went back to move the side by side closer.  I took a "not so good picture" of him with his buck and then we dragged it down toward the road.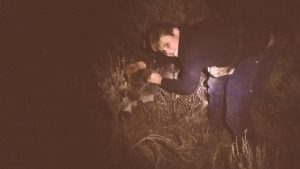 Down at the road, his Dad, Dan, insisted that Hunter, gut the animal.  Again, I was very pleased to be a witness to this and watch his dad walk the boy through the process.  They even gave me the liver!  Thank you guys!  I can't believe people don't consume deer liver, to me it's almost the best part of the animal.  But what tickled me the most was how great-full this young man was to think I would stick around and help them get it ready to transport back to their camp.  Dan, you have a true sportsman on your hands!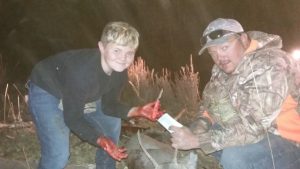 Thank you for letting me be a part of all of it and again THANK YOU FOR THE DEER LIVER!!!
I arrived back at my camp rather late, actually later than I wanted to be, and I thought they might be worried about me.  I even travelled the "long way" back in case they were looking…but…they knew I'd be ok and were enjoying themselves in normal fashion around the camp.
Of course this picture was taken before dark, so you can surmise it wasn't taken after I got back to camp.  Actually, it was past bedtime when I got back, so it was nighty-night for me once I arrived.  (I guess I'm getting too old, I used to stay up till after midnight at deer camp and still get up at 5 a.m. and be ready to hit it again…day after day after day.  Now it's a late night if I see 10 pm).
Well, April and the Kids came up on Thursday evening and joined in the festivities.  I even fried up some Chicken Skins….WHAT?  You have never heard of fried chicken skins????  Do you like Chick-er-ones?  I don't know how to spell it…Mexican fried pig skin.  Well, these are Chicken-rones.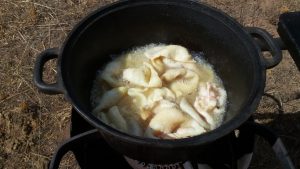 Cut the chicken skin up in 1 inch wide strips, and deep fry in oil.  Nothing special, just fry until they are crispy and brown.  Then salt them, put them on a paper towel to drain a bit and enjoy them.  Once you try them, I think you might give up on Pork Rinds.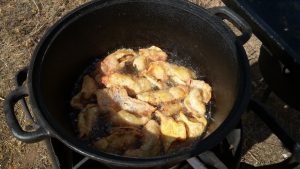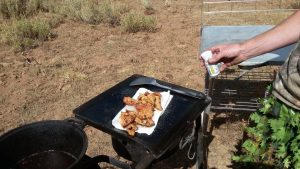 They are quite tastey!
Well, with April and the kids in camp, things changed quite a bit.  Some had to settled down a bit, but not so much they couldn't still have a very good time, but not quite like they were before women and children came into camp.  It's all good folks!  Right Gattlin?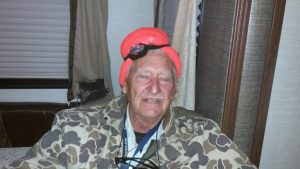 And of course it wouldn't be the muzz hunt if Dry Dog didn't send up some "Apple Pie".  Well, at least one in the camp enjoyed it.  Thanks Dog!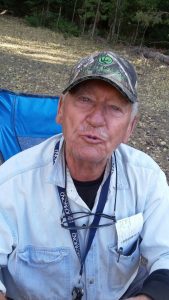 The sequence of pictures if for you Dry Dog!  Salute, Swig, Kiss!  OH MY!
Well, as the hunt progressed, we did have an official naming.  You see, Gattlin and Shawn went off hunting in Shawns rig one evening.  Gattlin started calling Shawn his Chauffeur and of course a chauffeur is usually of English descent.  Over the course of the evening (and a few imbidements) Gattlin started calling Shawn, James.  You know…"Home James!"  Which interprets as "Take me home, James"..when James, the driver would take his "master" home.  Before long, he was calling him "Sir James".  A good Englishman must have a proper sir name, we all know this and by the time the evening was done, we had to have an official re-naming of Shawn…From now on, wherever mountain men shall meet, you shall be named, "Sir James"!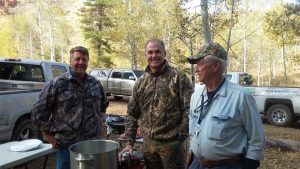 AND, not to make light of the fact that Gattlin shot a buck this evening, his first in probably 15 years, I present you with Gattlin and his buck!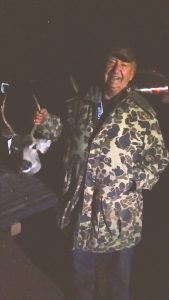 The camp was very happy to see this and the story that went with it!  To say Frank "Gattlin" was a happy boy is an understatement!  Congratulations Frank!  Nice buck!
Frank even gutted it…as you can see by his watch!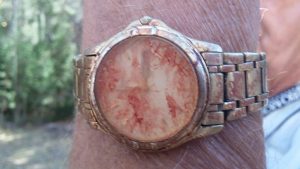 What time is it Frank?
The kids had a pretty good time as well, and I regret not being with them more and taking more pictures, but my head was on antelope by the time they got to camp.  We did manage to pass by Kenzie Tree.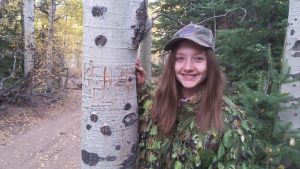 And our game plan was to make another tree carving dedicated to  Squirrel and Flash Pan (Conner), but neither of them happened this year….let's do this next year folks!
Our last full day of hunting was decided to head on over to "Big Creek", an area between Randolph and Woodruff.  There is a whole lot of "nothing" between the beginning of the trip and the end of the trip, but to me there is a whole lot of promise.  Both for deer and antelope.  So, Robert, Conner, Kenzie, Addie and I headed that direction.  It would be a long drive with not a whole lot of action… however, we did see a couple of bucks and it was a great time.  Here is what happened in part of the trip.  I spotted a couple of deer down in a draw as we proceeded up the road.  We stopped and glassed.  I thought I saw antlers on one of them.  So we drove a bit farther to a point we could be closer to them.  Sure enough a buck was in the group.  But they ran over the hill.  We continued up the road and got out to check.  Some went left, some went right.  We  hadn't gone far, when we heard a shot farther up the road.  I thought that maybe Conner or Robert had shot.  So back to the truck we went.  Well, neither of them had shot.  So we continued up the road.  Just over the rise, we came to a truck plugging up the road with his truck and 4 wheeler trailer.  To our left was a father and son next to the buck his son had just harvested!
The young man had just taken his first ever buck deer!  YES!  Again, I was excited!  We pulled over as far as we could even though I knew nobody could get past us and parked the rig.  Let's go help them, I said!  And the truck emptied out.  Everyone was excited to go help them gut and drag the deer to the rig.  Well, maybe not Addie.  She nearly lost "it" as they pulled the internal organs from the animal.  They father and son were happy we were willing to help them as it was a pretty good climb up out of the draw the animal was in.  Actually, Ricochet was helping with the front quarters, along side the young man who shot the animal, while Dad and I dealt with the rear quarters.  It didn't take long to get it to the truck and loaded up on the trailer with the 4 wheelers.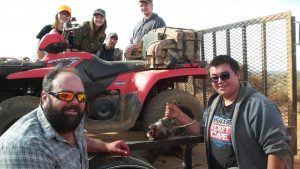 This was Tony's first deer and his father Theron was very happy!  What a great day!  Heading home from a great, but unsuccessful hunt and suddenly…God presented Tony with a great buck!  Congratulations Tony!  Nice buck!
You know, it doesn't get much better than that!  Seeing successful hunters and getting to help them with their harvest!  Thanks to Addie, Kenzie, Robert and Conner for the help getting this buck to its home!
SO!  That was pretty much the end of the "regular muzz hunt".  We did see more bucks, but only April got a shot and missed.  DANG!  Another dollar donated to the biggest buck contest.  Why Conner and Kenzie didn't shoot is beyond me.  I wasn't there, so I can't say, but that pretty much ended the hunt.  We packed up the camp and came on home after Sunday morning hunt.  Everyone in a great mood.
---
The next day, Monday, I was on Facebook, thanking one of my facebook friends for telling me where to look for a great antelope buck.  I looked during the hunt but didn't find it.  He wrote back immediately and said, If I could get back up there, he was watching a nice buck laying out in his meadow.  It would be easy to tag him, as he had never been hunted before and that today was the only day he could give me permission to hunt.  His future father in law owns the land and as long as he was there, he could grant permission, but that he had to leave later that day and could not give me permission to hunt after this day.  I quickly called Weasel to see if he would like to go back to maybe bag this antelope.  Of course he wanted to go!  We were back in the area within 2 hours!  There is something about hunting that drives a hunter to do what he has to do to get things done!
Well, at the ranch, we made a plan, none of us had a clue as to how to approach this buck.  He was laying out in an open meadow, with 6 does just a few yards from him.  If we were to get to a hiding spot to the south, and my facebook friend could move the animals with the 4 wheeler, they might just come close enough for a shot.  Well, that was the plan.  As soon as Weasel and I were in position we messaged my friend and he started the 4 wheeler and made a big circle to the other side of the buck.  All the antelope got up and moved toward us.  BUT…as antelope will do, they knew something was amiss, because we had spooked some cows off the hill we were hiding on when we arrived.  They would not have anything to do with the hill we were hiding on.  They came a ways and then turned and high tailed it straight away and jumped the fence to the other land owners property.  Meanwhile the buck came as if he would be right in our lap, suddenly he too turned and went straight away to our right, and circled us…his route took him far beyond the ranch and then down among the cattle and back to where he was laying when we jumped him.  I quickly ran to the end of a fence and found a nice hiding spot, but the buck suspected foul play and ran straight away and over onto BLM land, never to be seen again!  DANG!  (I'm saying that alot).
By  now it was about 3 pm, only a couple or 3 hours until dark.  We decided to take a long route back to where we had been seeing the "smallish" antelope buck during the muzz deer hunt.  Weasel saw some country he had not seen before, but it was all antelope country and not anywhere any respectable muley buck would visit.  Upon arrival at "the place", we immediately spotted a sizable muley buck on the ridge.  The buck went into some brush and layed down.  But what was that just below there?  Sure enough that same antelope buck and two does we had seen several times before during the muzz hunt.  We decided to put a sneak on them.  My plan was to go straight at them and see what they would do.  Sure enough, I was about 300 yards from them when they ran up over the top of the hill and out of sight.
Back at the truck, Weasel suggested we go up a 2 track road up toward where we last saw the antelope.  Good plan.  Up we went.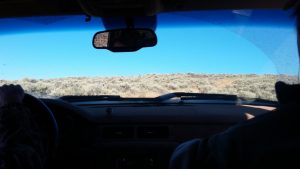 As we approached the top, we spotted the buck and two doe.  He was busy trying to keep the two does close but they had other plans and ran over the top.  We continued up to the top and then decided I should grab my gun and walk over to the edge and look down the hill.  Maybe, just maybe they would be within range just down the hill.  So, with that plan, I slowly walked forward, constantly looking down for any sign of an antelope.  When I was in a position to see almost to the bottom of the hill, I spotted one of the does.  Then the other.  Where was the buck?    They were about 250 yards down hill from me and I scanned the valley looking for the buck.  Just like spotting the does, suddenly, there he was standing looking toward the does.  I don't know for sure, why the does had not spotted me, but I suspect because I had my full "leafy suit, with head gear and mask" on, that maybe they just didn't see my outline, maybe it was the sun at my back, and perhaps a combination of both of those, but they didn't even know I was there.
I ranged the buck…194 yards!  Dang!  Thats almost twice the distance I like to shoot.  I thought seriously about the whole hunt…the distances I had been to this same buck several times before.  This was the closest I had been.  I thought, my friend Dry Dog shoots this distance all the time at deer and he brings them back to camp a lot of times.  Yes a few wounded ones as well, but am I better than him at these ranges?  I just don't know.  I've never taken this long a shot before.  After battling it out in my own head for a few minutes, I decided, If I could get to this "one spot" and sit down, with a good rest, I would take the shot.  I inched forward to a point where I could sit, and rest my rifle on my knee.  Neither the buck nor the does moved as I sat down and readied for the shot.  I pulled my binoculars up one more time to verify it was the buck.  And then the range finder to verify the distance.  194 yards on a 19 degree slope.  My mind raced, should I aim right where I want to hit?  Do I aim high?  Do I aim low?  I've not been in this situation before.  The distance had me really thinking.  Well, I finally decided the angle would compensate for the distance and I should just aim where I wanted to hit and let it fly.  So, with the most careful shots I've ever taken with a muzzleloader, I put my open sights on his front shoulder and squeezed the trigger carefully.  The hammer falling actually surprised me and the gun going off was a smooth transition.  I heard the bullet strike the buck, but it wasn't where I wanted it to hit him.  Quite a bad shot actually, and I hit him in the right hip, breaking his leg.
He ran about 100 yards, his leg flopping side to side…I was sick and stood there watching him through the binoculars and praying to God he would drop.  He stopped and laid down.  I stood there with binoculars to my face, not believing what was happening.  He should have gone right down with that shot.  But the shot was not where it should have been.  Then thinking back to when I went to the range and tried the Powerbelt bullets.  I was left about 3 inches at 100 yards with all 3 shots.  Sure, 200 yards would put the bullet at least  6 inches left at 200 yards and that is about where it hit.  Damn!!!
Weasel came down to where I was at and asked if I had hit him.  I said yes, but it was not a good shot and that the animal was laying "right over there"…he looked with his binos and saw it laying there.  I began to reload at that time.  Something I would  have done immediately on any other shot.  I was in shock.  And my mind was in unbelief  that I didn't just plain out and out kill him with that shot.
We made a plan that Weasel would go back to the truck and work down toward the buck, while I inched, quietly down the hill toward where it laid and should it get up, I'd shoot it again.  That was the plan and as Weasel came down the hill with the truck the buck did eventually stand back up and I placed a finishing round between its eyes.  Again, I thank God for giving me this opportunity and providing me with this fine animal.  Thank you to  All those who helped me harvest this animal and the DWR for allowing this hunt to take place.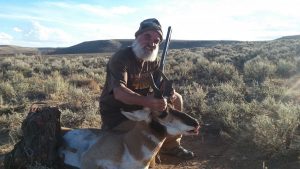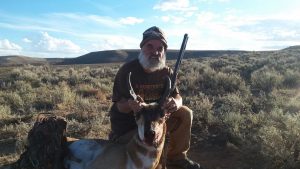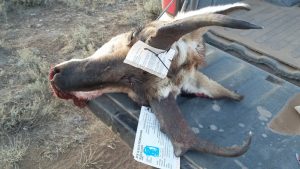 Almost like the picture on my shirt!  I'll take it!  Thank you EVERYONE, who supported my hunt!  I love you guys!
Bears Butt
October 18, 2018