It's May 2nd, 2016 and the opening day for the general turkey season here in Utah.  Since it's a Monday, most everyone I know that hunts is either working or too wrapped up in yesterdays wind damage to go out and enjoy a day of hunting turkeys….So….Off I go by myself.  There are advantages and disadvantages to going alone, but one thing for sure, I'll be out there.
I have a plan to hit an area I have never been before.  Sort of a scouting, hunting adventure.  I know there are birds there because we heard them Saturday and I have studied Google Earth enough to know the lay of the land.  Now it's time to put the boots to the ground and go check it out first hand.
I'm hoping to take a few selfies to show you how it looks as well and maybe even with a bearded bad boy.  Wish me luck!
More to come once I'm back.
May 2, 2016
Bears Butt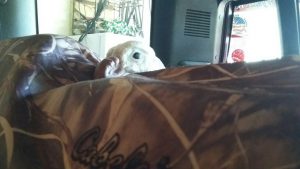 I had considered using my hen decoy today but chose not to….This is the look she gave me.
I got back home right at 1 p.m.  And what a beautiful day it was to be out in the hills.  Cool this morning and quite warm by noon.  Let me tell you about being out of shape….I'm out of shape!  My trek took me to places I have only visited on Google Earth and it was everything I imagined.  A trail that follows a steep hill and there was turkey goo everywhere!  I was very excited when I got there and set up.  My timing was perfect, as I placed my butt on my cushion seat I heard the first gobble of the morning.  He was behind me slightly and up pretty high.  His home was near this little basin.
And probably very close to those tallest trees you can see.  I positioned myself behind where the camera was to take this picture and I was just around the bend from a nice little corner in the hill.  A perfect ambush spot should a turkey come along that trail.  As my luck would have it, the bird flew down to the left of this picture and he went beyond the public land and onto private.  I saw him at one point and at 100 yards I could clearly see a long beard!  He'll make a mistake one of these days.
I sat there from just before light until the sun had me almost to go to sleep from the warmth and then I got up to go explorer around.  I sat with my newly made ghillie hat on to help hide me from the turkeys.
As I wandered around I found this really nice little trail that screamed turkeys!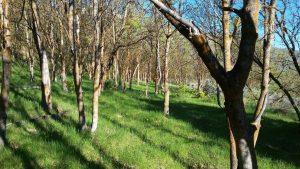 As I went along I would set up at pinch points and corners and would call.  Every once in awhile I thought I could hear faint gobbles in the distance.  I knew they were not answering my calling, but as I snuck along I kept thinking those bad boys would walk right into me.  I was ready.  The trail got extremely narrow and tight against the uphill side, downhill was brushy delux and I couldn't see down into it very well.  Suddenly I heard the yelping of a hen!  It was very deep sounding and at first I thought it was another hunter, but as it walked along it continued to sound off.  I followed the sounds and then saw two hens working their way below me.  They hadn't seen me and I was glad for that.  With them moving off, I found a nice sitting spot and waited for a tom to come walking along behind them.  A half hour later I moved on.
Changing the subject a little; about a month ago I bought myself some "hearing aids".  These are made for hunters and they enhance the sounds of the woods for most people, but for me, they allow me to hear what the heck is going on.  I had both of them in my ears today.  I was walking in some crunchy oak leaves along the trail and it was nearly impossible to remain quiet, but even with the hearing devises I was going slow enough to be pretty quiet.  About 100 yards past where the two hens were I entered into somewhat of a grassy clearing in the oak trees.  It screamed turkeys to me and so I stood on the edge of it and peered into the openings looking for movement and listening with all the listening attention I could get.  10 minutes of looking and listening and I would move forward a few feet and stop and look and listen some more.
I had gone about 30 yards into this semi-clearing when up ahead a few yards, maybe 20, a hen sounded off with some very loud putts!  She putted and putted but stayed in one spot as she did it which is not like any putting I've heard before.  Usually they are moving away or up hill or somewhere getting away from danger (me).  But this one was different!  Then I heard wings beating the air and suddenly the gobbling of three distinct toms just off to my left and up hill a bit.  The putting continued ahead of me.  With all the commotion I wasn't sure what I should be doing, so I went carefully up the hill toward where the gobbling took place.  Then I heard a hen clucking below me and I froze!  Two hens were moving up the hill from below me and would cross somewhere near the hen that was putting.  I froze as I was in a place where I could be easily seen by the two birds below.  She continued to putt and then I saw a coyote run across the opening and down toward the valley below!  The coyote had been gone a good minute before the putting stopped.
The two birds moved up and joined with the putting bird but I could not see them.  I moved up the hill carefully and as quietly as I could.  The gobblers had to be very close but I didn't know where exactly.  I positioned myself with a small clearing about 10 yards in front of me and let out a "Darin Gardner" series of very quiet putts and yelps…..The woods came alive with Gobblers sounding off and they were very close, I just didn't know where!  And then I saw some movement ahead about 20 yards…it was the back of a gobbler and he was strutting his stuff.  I sat still and raised the gun ready to fire when he came over a slight rise between me and him.  My arms soon became very sore and I could hardly hold the gun up.  The gobbler would strut and turn but did not come any closer. I held the gun up for about 20 minutes and then I couldn't take it any longer.  I slowly lowered it and kept my eye on the bird ahead.
I was not in a very good spot for an ambush and if he came over the rise and happened to look down the trail he would see me for sure.  I had to make a move to the side of the trail.  At one point I thought I could just stand up and blast him, but I didn't know if he was alone or with a hen or the other gobblers.  The sounds told me there were for sure 3 different gobblers and they were all pretty close to one another.  It just wasn't worth shooting and hitting more than one bird.  I'll wait for a better chance.  I moved slightly up hill off the trail but the brush blocked me from seeing the bird.  Again, very carefully, I pulled out the call and striker and sounded off a very soft yelp.  All three gobblers burst into cadence!  My heart was racing and my mouth began to dry up noticeably.  Then the worst thing that could happen began to swell up in my throat….a cough….NO!  I thought to myself and I fought it off.
I kept thinking about some of the things I've been told about turkeys….you make a turkey sound and if they gobble back, they know exactly where you are and they will come, just have patience.  I waited and waited and waited.  Two hours I waited expecting them to pop up within 10 yards at any moment, but nothing came.  I tried my soft call again, this time nothing.  I let out a series of yelps just a wee bit louder….nothing.  It became obvious by this time that the hen they were parading around had lead them off and up the trail somewhere.
It was getting late in the morning and was very warm so I decided not to try and cut them off and just leave them alone for another day.  I carefully stood up, stretched my legs and made my way quietly down the mountain and back to the truck.
A fine day indeed!  4 gobblers, 5 hens, several deer and lots of other wildlife viewed.
Bears Butt