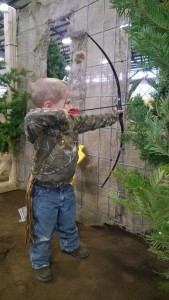 The second day of the Golden Spike 3D shoot was just as much, if not more, fun than the first day.   I was not sure what to expect on that first day but was totally ready for day number 2.  I wanted to get there to help where I could, but also wanted to shoot for the fun of it.
Weasel and I got a little practice in down at the fun shoot area.  We tossed in a few bucks and took a few shots at the clay pigeons.  I even managed to hit a few at that 30 yard range.  I wasn't about to try and thread one through that big old hole in the "Iron Maiden" however.  But a few guys gave it a go and there were a lot of "BOINGS" to be heard.  Each boing cost the archer an arrow.  Weasel managed to thread one down through it for a perfect shot.
Well, I was a little more "on my game" during the shooting.  I'd have to say more relaxed than the day before is more like it.  And with Weasel and our shooting partner Mr. Brimberry shooting for serious money, I tried not to get in their way.  My arrows were always far and away from any money shots.  Not by choice mind you, more like, lucky I hit the foam.
There was this "one time" however: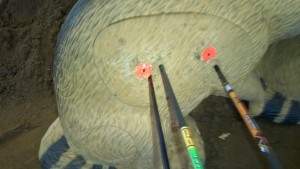 That's Bears Butt's arrow closest to the red dot.  Not quite enough for a 12, but a good solid 10!  And I'll take that any day!
There were others having a great time hitting the reds and scoring 12's.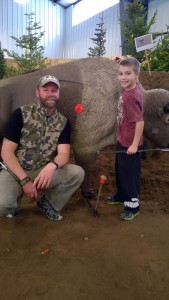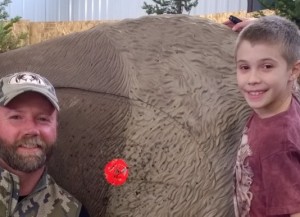 You have to admit it doesn't get any better than that at 60 yards!  Nearly a perfectly placed shot!
And then of course the dreaded Alligator.  One of my shots at that critter, hit the dirt just in front of it, bounced up and hit the log in behind it and ended up outside the shooting area.  Luckily my arrow didn't have enough force to poke a hole in the arena siding and ended up resting nicely in a safe place to be picked up during cleanup.  But, some shooters tagged out with 12's in the scoring, like this young lady!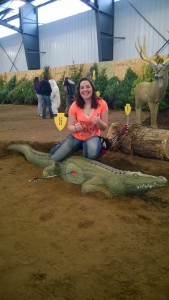 It doesn't get much better!
I noticed today there were fewer hunters in the woods than on day one.  I suppose more people had figured out how to shoot and keep the arrows out of the trees.  Whatever the case the house was just as full on day two as it was on day one.
The signup ended at 3 p.m., but the shooting continued until everyone had their shots done.  As the last group of shooters worked their way down to the final station, the clean up crew were moving targets and taking down trees and signs.  I was very impressed with the organization of this group of bowmen.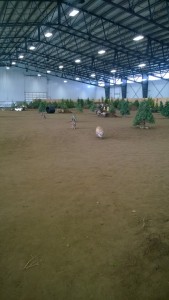 And when it was all over the arena looked better than it did when the setup first began!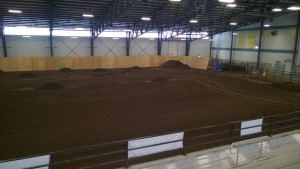 (This picture is of the arena when we first started to set up, Weasel was supposed to send me a copy of a picture after cleanup, but I haven't gotten it yet).
A very fun time!  Thank you Brigham Bowmen for pulling off this great shoot.  Well over 400 archers came to this fun time!  Next year the goal is over 500 shooters!  Let's make it happen!
Oh, my first day of shooting netted me a fun score of 230 and with some limited knowledge about the targets and less of them jumping the string, I came through with a whopping 260 on day two!  I'll take that score and the fact that on day one I had 22 "zeros"…..Day two was an improvement of only 19 "zeros"!  WAHOOO for me!
Bears Butt
March 2, 2015