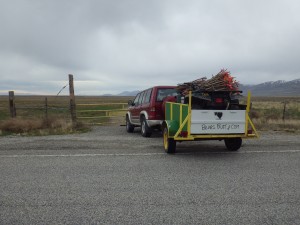 Today is "Pull the traps on Club 41″ day.  To most of you it probably seems that I'm wasting my time setting and pulling traps, but trust me when I tell you when you have trapped an area out it is time to move and in this case there were not many rats in there to begin with and now there are even fewer.  It would be a major waste of time to keep going in there trying to catch more rats, than it is to pull out and set somewhere else.
Yesterday I managed to find places for 25 traps on the West line of Big Spring and today I'll finish setting that line with probably 5 or maybe 10 more sets and then that line will be completed and I can move over to the East line of Big Spring.  From experience, the West line will be caught out and completed before the weekend and I'll pull out of there and only have the East line to trap.  This will be the last line for the season unless something comes up that puts us into a new area and I doubt that will happen.
We still have not seen any sign of fur slippage and so perhaps what will happen to us and our season, we will just plain and simply have caught all the rats we can catch on the areas available to us and have to quit because we have no where else to go to trap.  An unusual thing for us to face.
What to expect today:
It snowed late last night and is currently snowing here in town and hopefully it isn't snowing out "there", even if it is, I'll brave through it and pull the traps on Club 41.  That will take me some time as I  have two lines containing 45 traps, plus the 5 floats which are big and bulky and now heavily soaked with water.  But what about rats caught in those traps?
The channel line should produce 3 rat.  The seep line and its 16 traps really surprised me with only 3 rats yesterday, and so I can only expect 1 or 2 rats there….I'll go out on a limb and say 2 (my positive attitude prevailing).  The 5 floats will produce one rat…..so 6 rats from Club 41.  To anyone trapping and expecting about $10 p/rat, would say, "What's wrong with catching $60 worth of rats in an area, isn't it worth it to continue to trap there"?  My answer, yes, if it was the only area I had to trap, I'd continue to trap it and hope to catch the 3 rats I need to pay for the fuel, but when you look at it from a business point of view, I "might" catch 6 rats and put $30 in my pocket, but then what if I don't catch 6 rats and only catch 3…I've wasted my time and barely paid for the fuel, all the while that same amount of time could have been spent in an area where I could catch 10 or more rats almost guaranteed. There comes that point in trapping where you just have to move and Club 41 is at that point right now.
What about the West line of Big Spring?  Well, yesterday I managed to set 25 traps in there.  Those traps are in and around the 20 traps that Bob has had in there since Friday and Saturday of last week.  He caught two rats in his 20 traps yesterday and asked me to take over the checking of them as long as I'm out there, which is what needed to happen.  He was working his butt off way too hard checking those 20 traps as he has to walk and walking in those toolie conditions works your muscles too hard.  It's time he considered buying a toy and learning how to operate it on the trap line.
That would give him more maneuverability and allow him to cover some of the same territory as I do, we could even team up on areas like the East line of Big Spring, he on one side and me on the other, we would catch a hell-slew of rats then!
So, the West line should produce 8 rats today.  Add those to the 6 from Club 41 and I expect to catch 14 rats today.
Bears Butt
March 11, 2014