The last day of the year 2013!  And Weasel, Windy and I are taking all the grandkids out on the ice for a day (or whatever) of ice fishing!
It looks like we will be heading to Hyrum Dam, mostly because of the closeness of the bathrooms for the girls.
Whether we catch fish or not, it's just getting them out and into another environment than they are used to.  The weather is supposed to be relatively warm today with little or no breeze.  You could not ask for a better day to be on the ice.
If the fish will cooperate just a little bit and give each one of them a bite or two the day will be perfect!
Later on this evening, Mom (Grandma) and I are having the entire group of Grandkids to our place for a sleepover!  This might be the last one, as the two oldest are now 12 and entering into that age where it just isn't cool to be seen with your parents or any adult for that matter!
More on the day's activity will be posted here.
Bears Butt
A.M. Dec. 31, 2013
EDIT!
I promised an update to this, but didn't get around to it until right now!
I have to say, the fish Gods were very kind to us on this day!  Every drop of the line produced a hit and that was just what the doctor ordered to keep a bunch of 5 to 12 year olds on the ice!  Little Chase (5) stuck with it for over 4 hours before he started to complain about being cold.  That was 3 hours more than I had expected!  And even though we put most of the fish back the kids still insisted on keeping quite a few.  After all, how can you throw the very first fish you have ever caught back into the hole?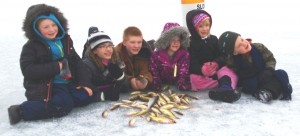 P.M. Report, 2 days late!