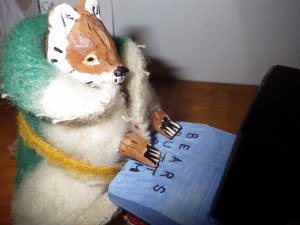 Woke up to snow on the ground and more flying around!  BRRRRRR!  Bundle up in that there capote!
Monticello woke up to a mix of clouds and sun, with a high expected in the low 50's and lows in the upper 20's!  Winds today will begin out of the SW and shift during the day to out of the NNW!  That will mean a change is coming their way in the form of colder temps and maybe even that snow that was talked about yesterday.  The storm watch has been lifted!
I'm glad I got done what I got done yesterday as far as packing some of my personal stuff in the camp trailer.  Today I would be tracking in wet snow and that would have meant another cleaning of the floor before heading out.
This afternoon Tracker is coming down and we will make sure the trailer will hook up to his truck properly…level and lights….His truck sits a little higher than Weasels.
Do you know about Weasels truck?  We were going to use it to go hunting with, but suddenly what turned out to be a bad fuel injector that cost him over $900 to get fixed, another problem caused his radiator fluid to dump into the crank case.  Then after fixing that problem and changing out the fluids in the crank case and having the engine purring like a kitten, his transmission went out!  What a streak of bad luck!
What all of us are glad about with that situation is that it broke down before we left town.  It could have been much worse to have been part way to the hunting area or worse, up on the mountain hunting.  That is something everyone needs to think about even with new vehicles.  Be prepared!
4 days!
Bears Butt
Nov. 3, 2013