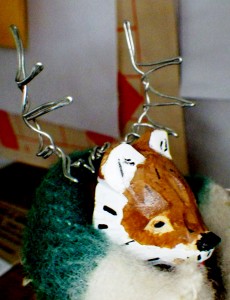 You can all guess by this picture what is on my mind…yes a 6X6 bull elk…whether that happens or not will depend on a lot of good luck falling my way.  No matter what, we are leaving today, November 7, 2013, and coming back sometime before or after November 17.  Everyone is hoping and wishing sooner than the 17th, including me.  BUT….
When you get a chance like this, you really have to plan on the extent of the time allotted.  It does not make sense to drive 400 miles, hunt a few days and call it over, at least not in my mind it doesn't.
I sent an email to the local conservation officer down there and he replied today with a very good note, basically it said: The weather has been good and it looks like you will have the entire mountain to play on!
I suppose in years past that has not been the case, thus 60 – 70% success on less than quality animals.  This is my year!  Total access to the mountain and animals begging to be taken to Willard and put in a freezer!  Sounds good to me!
Mr. Shumway also said some other things I can not divulge here right now…someone might be skulking around looking for information.
And with what he said, I did a very thorough look at the very imagery I have poured over for the last 3 months…To tell you the truth, I'm sort of sick of looking at the Abajo Mountains from straight above them!  I need to see this ground I've been pounding from right on top of it!  With my feet firmly planted in the red clay or whatever dirt it is made of!
I have peered over the edges of some of the deepest canyons in the world!  I have hiked up trails not even a mountain goat could climb!  I have soared like an eagle over and down and around some incredible looking country and have I seen so much as a ground squirrel or a deer?….NO!….It's past time for me to be down there looking across, or up instead of  straight down!  (Today I did see some cows in the imagery, red ones and black ones ;-)).
Yes folks!  Today is the day we are heading off toward the Moab/Monticello/Blanding area.  I've been to Moab, I've been South of Moab to where my mother was raised, Big Indian Valley…But I've never been further South than that!  A first for me in that regard and a first for me to be able to hunt a wiley bull elk!  Firsts around!  I'll drink to that!
My camera battery is fully charged and you can bet I'll be taking a ton of pictures!  Hopefully one or two will contain a bull elk with me holding up the antlers!  We will see!
Until next time!  Take care…wish me luck…and get busy thinking of Christmas gifts….Not for me, but for others!  I'm blessed with this tag!  Santa could not have been more thoughtful!
No more days, we are GONE!
Bears Butt
November 7, 2013