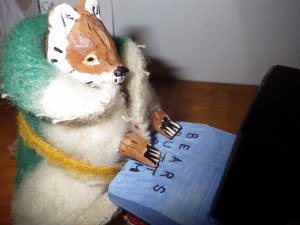 Monticello weather:  Partly cloudy skies.  COLD!  High near 35 F.!!!!  BRRRRRRRR, with winds NW at 10 to 15 mph.  That is what is expected today and with a low tonight of 19 F,  there will be frost on the pumpkin!
Right now it is 25 F, with 54% humidity and a 12 mph wind, so it feels like it is 15 F.!!!!
I'm for sure taking my capote on this hunt!
Yesterday, like many days before, I was scouring the digital images of the hunting area  looking for water holes and I found quite a few around where I think Dennis is going to want us to camp.  One in particular is a water hole I saw in a You Tube video of a guy that frequents (or used to) a forum I like to look at…the Utah Wildlife Net…His name is Elk22 something and in his video he shows a water hole that he was watching and then the bull elk he finally put down.  I noticed some features about that water hole and when I found what I did yesterday, I had this feeling come over me that it was the same one I saw in his video!  Game on as far as I'm concerned.  But whether the elk are visiting that hole or not at this time of year is another thing.  He was bow hunting and it was August or September when they were all over that water hole.
There might be a time during the hunt that I'll take a hike into that hole and see for myself if there are any fresh tracks around it.
Speaking of tracks, I will have my plaster of paris stuff with me to make casts of any good bear tracks we may come across!  I got a good one of a cougar track on a past hunt up near Kamas once, so since there are supposed to be so many bears down in this neck of the woods there is bound to be an old track left in a hardened mud place to be found.  Time will tell and speaking of time……………
2 days!
Don't forget to vote today!
Bears Butt
Nov. 5, 2013