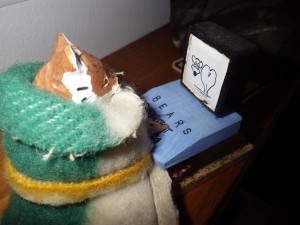 Hold everything!  Monticello weather has a change coming that wasn't in the forecast yesterday!  Remember when I reported yesterday about it going to be mid 40's through the rest of this week and all of next?  Well, it ain't so now!  Listen to this!
Special Weather Statement for Monticello and surrounding areas:
Potentially significant winter storm to bring colder temperatures and snowfall to the region Sunday night through Wednesday morning!
A strong cold front ahead of a trough of low pressure will move through Northeast Utah and Northwest Colorado Sunday afternoon and night with snow starting in the mountains of NE Utah and NW Colorado!  This cold front will stall just north of the Book Cliffs Monday morning, with the trough of low pressure deepening over the Great basin Monday afternoon.  Precipitation will increase across the area in the SW flow with snow levels initially around 8,000 feet.  The cold front will push across the remainder of eastern Utah and western Colorado Monday night into Tuesday morning with snow levels lowering to all valley floors!  Snowfall will continue through Wednesday morning as the low lifts out of the region!  Snowfall amounts are uncertain at this time, but the potential exists for significant snowfall in most mountains as well as some valleys and temperatures turn much colder!!!!!!
YIKES!  That is a major change!  So, folks bring your capotes to the hunt!
With a change in our local weather coming tonight through tomorrow, my day is going to be filled with Fall activities, especially picking up leaves, but also getting some of my things packed into the trailer for the hunt!
Another thing that has occurred recently is the addition of Night Fisher to our gang of hunters!  I called him yesterday and talked to him about joining us!  He said he would love to!  He brings with him the expertise we need in finding an elk.  He has killed many in his young age and knows their habits and such and although he has never been down in the Abajo Mountains, I don't think it will take him long to figure out where the elk like to hide.  He is also bringing a couple of back packs used to haul out elk on ones back!  So, with his two and Trackers one, there will be three of us available to haul out boned meat, while the others will be free to carry the head, antlers and cape.  I figure the meat alone will weigh about 600 pounds, while the head, antlers and cape will be close to 300!
Additionally, the antlers alone will be about 80 inches long, which are too long for someone to put on their back and carry out, so I picture a man on each side carrying them, still attached to the head of course, and a third man carrying the bundled up cape.
It really doesn't get much better than this!  IT DON'T!!!
5 days!
Bears Butt
Nov. 2, 2013