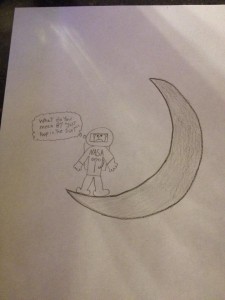 Kids are wonderful!  This drawing is one that Sophia Wayment drew instead of doing her homework.  A pretty picture of an astronaut on the moon.  What a pretty picture Sophia and what a great imagination she has.  Let's look closer at the picture.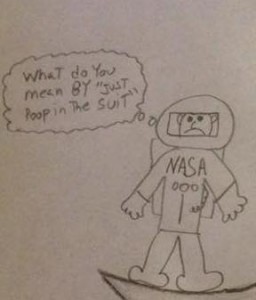 WOHAAAAA!  What is that question that is being asked?  I would have a frown on my face as well if that was me!
And so who better than Bears Butt to investigate the obvious?  I have often wondered but until now did not want to take the time to find out the answer.  We all know that if we are healthy, we have to "go" at least once each day and let me say number one and number two.  We should all know what number one and number two mean.  In my aging body, number one happens very often, day and night.  Ok, so here you find yourself an astronaut and in your suit you "have to go"!  Now what…."Houston we have a problem"!!!!
In my research I found that early in the U.S. days of space exploration the first manned space craft was scheduled to take off, reach outer space and then come back to earth and splash into the Atlantic ocean.  The total time for the whole ordeal was to last 15 minutes.  Alan Shepard was the chosen man for the job.  Perhaps they tested his abilities to "hold it" and that is what got him the job over the second choice person.  I don't know for sure, but if I was making the choice it would have been in my testing.
Well, there he was, and it took a whole lot longer than 15 minutes as was projected.  Delay after delay.  You know those NASA guys, if the readings don't come back correctly, they are going to check and re-check until everything reads "go".  I would trust them with that one.  So, poor old Alan laid there and suddenly he had to tell the guys, "Hey Houston, I have to go to the bathroom, number one".  (Those are my words not his).  There was panic in the streets and in the control room!  Oh My!  Now what?  Boss, you make the decision!  We don't have time for a meeting.
And so, the boss does what a good boss does well.  Without much thought at all, he orders the electronics inside Alan's suit to be shut off and then he tells Alan in a very gentle voice.  Just go ahead and "number one" in your suit.  We'll take care of things when you get back.
Well, Alan held it a bit longer and then just had to let it go.  I feel bad for him and for the rest of his time in delays and then throughout the launch and recovery, was wearing his urine.  Poor guy!  But what the heck, that's part of the reason he got paid the big bucks right?  Someone should have thought about that before hand.
Well, a lot has happened in the line of space travel since those early days.  I wonder what the Russians did….after all they were the first in space.
Just like everything else that is new, time has seen it all and in space they now have it pretty good.  From my reading there is still a lot that needs to be addressed but over all it seems like they have a pretty good system.
The rocket ships of today allow for the travelers (astronauts) to get out of their seats and move around.  At least they can once in orbit.  But, just like flying down here on earth, they have to be buckled into their seats during take off and landing.  They have another time to be seated and strapped in and that is during "docking"….docking is when one space craft hooks up with another space craft.  In a docking situation the incoming ship actually fits inside a space designed for that purpose on the "receiving or mother" ship.  Then the incoming ship is locked on and becomes "one" with the mother ship.
So, the travelers can walk around.  He Joe, I gotta go!
They have a special room designed for the astronaut to go into and they have an option of standing to go, or to sit down.  How nice.  Should they choose to stand, they have to attach straps to their thighs to keep them in place.  For guys there is a tube like thing that has a suction of air pulling the "number one" fluid away from the guys body and into a tank.  The girls have something similar but it is more of a funnel that does the same thing.
As for number two business they don't have a standing option.  They must sit and with that, they have a bar mounted to the floor where they place their toes, also a waste bar, much like one used to keep you in the seat of a carnival ride.  Again the vaccuum comes one and sucks the waste down and away from the person.  This stuff goes into a tank other than where the urine goes.  Why?  Well, actually, when the nearest fresh water is over 200 miles away, you just might have to have a drink of something other than fresh water….that is where that separate tank comes in mighty handy.
Quit "yewwwwing", that liquid is cleaned up, filtered, evaporated and the evaporated vapors are liquified and collected and filtered again.  The end result is a drink of water that is just a pure as can be made using todays systems.  No body has died from drinking it.
The solids from a number two goes straight into a bag and sealed like a "seal a meal" and stored into a tank where someone on the ground has to deal with it later.
So, Sophia, they don't poop in their suits.
Just sayin!
Bears Butt
December 16, 2014