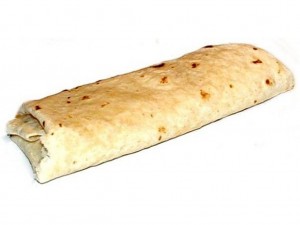 Always experimenting!  This morning I decided to try a new (to me) burrito.  I have been thinking about this one for awhile now and today was the day to put it to the test.  Bacon is always a good thing to put in food and this is the main ingredient.
So, this is what I put together.  Two smallish hand fulls of hash browns.  I cooked them until they were fully done.  Then I put in two large spoon fulls of salsa and made sure it was all mixed up with the spuds really good.  Next came 4 eggs and of course those too were mixed really good and I kept stirring it and mixing it until the eggs were fully done.  Then came bacon.  I had put the bacon in the microwave until it was crispy and done to perfection.  About 1/4 pound of bacon.  That got crumbled into the egg/spud mix and when it was all mixed up, I added a large hand full of Mexican blend cheese.
The burrito breads were heated and the mix added….rolled up like the picture above and served piping hot.
Winemaker and I pretty much ate in silence as we both savored and "tore apart" the mixture in our minds.  We also listened to the million crows outside our door and watched as MaPa's tore after magpies getting peanuts from the feeder.  He is always a hoot to watch try and catch a magpie.
So, what is the verdict?
Even though the taste was "OK" the mix had too many spuds.  Half that amount would have been plenty.  There needed to be more salsa also, perhaps twice as much.
Another thing I found out and of course this is all your choice and flavor desires, but the bacon I have is some we purchased for $1.99/pound and has printed on the packaging "good for recipes".  These are also marked as ends and pieces and from what we have seen so far, maybe even some of the slabs had hit the floor a time or two before being sliced.  It is good flavorful bacon and cheap compared to the "big time bacon" that is being sold for $3.98 and more.  I don't mind $1.99 bacon.  Anyway, I put 1/4 pound of the bacon in this mix and it just wasn't quite enough.  Also, make sure it is crispy deluxe without being burnt.  Once crumbled into the mix and placed inside the burrito bread it got really soggy and reverted back to being "not crispy".  Maybe that can't be gotten around with bacon (I don't know).
So, give this one a try for yourself and let us all know your results.
Next, Kipper/Vienna burritos……………….NOT!
Bears Butt
December 16, 2014