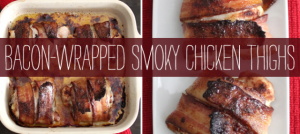 The name on this picture pretty much sums up this recipe.  I stumbled on this last night while trying to think of something different for our supper.  Winemaker has to work until 7 p.m. and so doesn't get home until about 7:45 or so.  Supper is late to say the least.
So, we had decided to have "chicken" for supper and when we decide on anything, it's up to me to make sure it's ready to eat when she walks in the door.  I went on line about 5 and found a recipe that called for wrapping up chicken legs with bacon and then tossing it in the oven.  That sounded really good to me, but we didn't have legs thawed out….we had boneless, skinless thighs….Bacon wrapped on almost anything is going to be good (except kipper/enchiladas).
Here is the "modified" (I never follow recipes exactly) version of what I found on line:
Preheat the oven to 400 degrees (I thought that was going to be way too hot, but proved perfectly)
Rinse the chicken parts off and let them drain off.  Once that is done, wrap bacon strips tightly around the chicken pieces.  I thought I would need toothpicks but ended up not needing them.
Place each wrapped chicken in a baking dish.  I had 5 pieces of chicken and so they didn't hardly touch each other in the dish.  I'm sure you could pack them tightly if you needed to.  But with mine loosely placed I had room for other stuff.
I cut up a couple of spuds and placed them in and around the chicken.
Now the fun part:  I shook some salt over the top of all of it, not a lot, but some.  Then grabbed up the pepper and did the same.  Garlic powder?  Oh Ya!  That too.  I looked for the chopped dried chives but couldn't find them else I would have sprinkled some of that on it too.  Hmmmm, what else?  Onion flakes!  A dash or two of them went on top.  I guess you could put pretty much anything that sounds good to you on top of them.  I saw a recipe that called for lemon, but that just doesn't sound right to my way of thinking.
So, once I was done sprinkling all the spices and stuff on it, I popped it in the oven and set the timer for one hour!
Several games of Candy Crush were had before the timer buzzer went off and when I opened up the oven door….YUMMY goodness came wafting my way!  The bacon had the burnt edge look just like the picture above and the spuds were done to perfection!  Even had some spuds sitting in the bacon grease, which is always a favorite of mine (Unless Edjukateer is cooking the breakfast meal and wants to dump the hashbrowns in a half full pan of pure bacon grease….there are limits).
A smallish pan of green peas and supper was ready!
Give this a try some time…you won't regret it!
Bears Butt
December 11, 2014