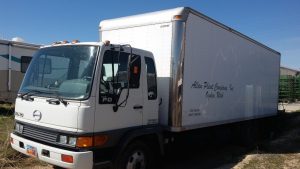 For what it's worth, I've been driving this truck for Allans Plants, delivering flowers and bedding plants to mostly the Salt Lake City area.  I can usually make two trips from Pleasant View to SLC and make a couple of stops in SLC at each delivery.  It takes about an hour each way and usually 15 to 30 minutes at each drop (nursery) to unload carts full of plants.  It's actually a pretty easy job, but does require some upper body strength to keep the tall carts from tipping over with the load of plants while pulling them off the loading ramp.  Other than that I get a lot of free time to think while driving both directions.
I have to say the Allan family works VERY hard at this and it's obviously their true love.  To plant, grow and nurture what every gardener loves…flowers and vegetables.  I call them "babies" and you might say I'm sort of a doctor who delivers babies….just saying.
Yesterday was a big day for the delivery service I'm in, because tomorrow, May 8 is Mothers Day, and what better for Mother than flowers!?!  I made 3 stops but had to make two runs into town.  My first two stops took me to about 3300 S. and 9th East and I dropped off eight full carts of plants.  Hanging baskets make wonderful Mothers Day gifts and this nursery got a few yesterday.  Then it was off to Tooele for my drop off there.  Mostly vegetables at this place and the rain was just beginning to fall when I got there.  The rain wasn't so bad, but the lightning was sort of scary.  I was on one end of the metal cart while a nursery worker was on the other.  He made a remark about lightning and how it was not a comfortable feeling holding onto a metal cart while it was hitting around us.  I reassured him he would not know it struck if it did in fact hit the cart.  He was less than amused.
From Tooele is was back to the plant plant for another batch of carts full of Mothers Day fun!
This last run took me to 9000 South and then West to a fairly large nursery there.  This one probably does the bulk of nursery business in that neck of the Salt Lake Valley and they were busy as heck when I got there.  I was even being asked by customers if we had any "red flowered plants with green leaves"…..That is a joke among us….I had to even tell some shoppers they could not take the plants off the racks because they had not been inventoried yet.  People are funny.  One young lady even waited while I pulled a cart off the truck because she could see some pink flowers on them and wanted to see them up close.  She went off and bought something else, even though those pink flowered plants were very pretty and of course they had green leaves as well.  Have you ever seen and pink flowered plants with green leaves?  Everyone should have some of them.
OK, now for the reason for this posting.  Traffic!  My late afternoon trip began about 3 p.m. from the Ogden area and scooted me into the Salt Lake City rush hour traffic on Interstate 15, the major carrier of traffic North and South through the state.  For those of you familiar with the Interstate situation in SLC, it includes a major junction of Interstate 80 which runs East and West across the nation and carries millions of people from one end of the country to the other.  And of course this is Mothers Day weekend and more people want to get back to see Mom, which added somewhat to the traffic situation.  The SLC area also has a stretch of Interstate 215 in it (called the Belt Route), which skirts the town of SLC itself, but connects all the surrounding towns as it goes.  Each town needs an exit and entrance and that adds considerably to the traffic issues.  The locals call the junction of I-15 and I-80, the "Spaghetti Bowl"!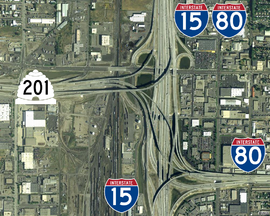 Photo courtesy of the internet.
I forgot to mention State Highway 201…That is a major highway that routes folks East and West out of and into downtown from the western part of the valley.  Sort of a quicker way to get to the Jazz games if you live out by the Bingham Copper mine area or Tooele area.
With all those lanes of highway, you would think the traffic would flow like water through a pipe.  Each driver picking their lane that would take them to their destination and off we go at just over the speed limit of 65 mph.  Zip, Zip, Zip!
As I travelled South through this spaghetti bowl, my exit was 9000 South, the split off for I-80 is about 2500 South, no problem because I still have a goodly distance to go before I have to insure my big old truck is in the far right lane and ready to exit when I get there.  But wait!  Around 3300 South, or is it 4500 South, there is a bottle neck that gets folks on and off the Belt Route.  If my travel takes me South toward Las Vegas and I need to go West on 215, I have to get over to the right lanes pretty quickly or I will miss my turn.  There are three exit lanes going that way.  Oh, yes and of course there are three lanes coming off 215 that will take that traffic to the South….hey that's the direction I'm trying to go!  Those guys are merging into my lane!
Well, everything was rather congested before I got to 4500 South and then it seemed like everyone wanted to be on the same road and in the same lane at the same time.  HOLD ON FOLKS!  I'm in this lane!  Around the 7000 South area I was able to take my phone out and snap a couple of pictures.  You can see "I'm not driving" at this point in time.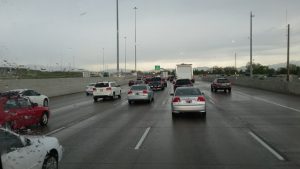 I see open space…close it up people!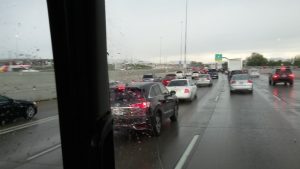 Add a little bit of rain to the mix and there you have it!  Wet spaghetti!
This is only part of the issue.  I'm still trying to get to my drop off point.  The busy little nursery that carries all the plants mom wants for mothers day.  Maybe all these people are trying to go where I'm trying to go…?!?  Well, I made it about 4:20 and was able to unload my 4 full carts of goodies.  I've already told you about the shoppers.  I didn't get away from there until nearly 5 p.m.  As most of you know I retired about 12 years ago and have not had to deal with traffic like this for that long and now I find myself back into it with a big old truck at my disposal.  When I look in the rear view mirrors of that truck, it looks like the back end of it has just left Willard, while the front is almost to the 9000 South exit.  I need to get over.  Make space people, I'm coming over!
Back on the freeway (freeway….sounds like a joke this time of day) and headed North….back to home!  The red and green lights are flashing at the end of the "on ramp" telling me when it is my turn to "go for it"….only two vehicles per light change and don't you move before the green is in your lane or the automatic ticket picture taker will get you!  ZOOM!  I'm off as quickly as a 40 foot truck can zoom!  I turn my left blinker on as soon as I clear the solid line, indicating I can change lanes as soon as someone will be kind enough to make a space big enough.  Nobody seems to want to move or give up their position in this congestion, but soon a smallish black car decides he is going to lose in the battle if he doesn't hit his brakes and let me over.  AHHH!  Now I'm in a lane that will take me all the way home.  As I sit there waiting for the millions of cars ahead of me to decide it is time to push on the gas a little, I check the time on my phone…5:05 p.m.  I should be home by 6!  Granted I'm still just a bit North of 9000 South.  Suddenly I realize I'm going almost 10 mph!  Hey folks we are beginning to move!  YEAHHHHaaaa!  At 6:10 my phone buzzes me that I'm getting a text….sitting in traffic, I see it is Sherry…"Are you OK"?…is the message, and since I'm not moving I hit the call button.  "Hi Hon, what time is it?  6:10; I should be home in an hour.  Ya, I'm just past Lagoon.  See ya, love ya"!   Just past Lagoon!!!  From 9000 South to just past Lagoon in an hours time.  I do recall getting the truck up to 35 mph in the Centerville area, that seemed like we were cruising pretty good.
Well, I made it home about 7:30, so that wasn't too far off my guess.  There is something magic about the West gate of Hill Air Force Base that is a magnet for slow moving traffic.  From that point to home it was 60 to 60 mph with the rain beating down so badly you could not see anything in front of you, but that did not matter to the traffic…gotta make up for the lost time back behind us!  ZOOOOOOOOMMMMMMM!!!!!!!!
OK, so I had a lot of thinking time and I decided we, the people, are our own worst enemy!  My observation was that over 90 percent of every car on that road, going North and South, East and West had ONE PERSON in it!  From Clearfield to 9000 South and I'm sure from Tooele to Park City had the same.  Talk about air pollution, wasted time, the few wrecked cars I saw (which was amazing in and of itself).  People!  WE have to do something about this!  I don't have the answer, but it's pretty bad when a little old Willardite can see what is causing the problem on our interstate system.  I'm certain the same issue takes place in the morning hours as people "try" to get to work….everyone is late (as usual), which causes road rage, overzealous driving habits and of course the major crashes that take place.  Going home, people are exhausted from there daily work routine, tired from lack of sleep (last night, which caused them to be late this morning) and because it is Friday night, there isn't any big hurry to get home anyway.
Puttzing along as I was I thought, people could car pool, but then everyone in the car pool would have to have the same work ethic.  The work place could promote car pooling and give extra money to those who do!  There is an enterprising tool….management….Green thinking, green palming!  Work places could alter their start and end times to miss the major commuting hours!  Here you go management folks!  I guess the bottom line is people need to give up "their freedom", in order to gain more time to themselves!
Happy Mothers Day all you mothers!
May 7, 2016
Bears Butt