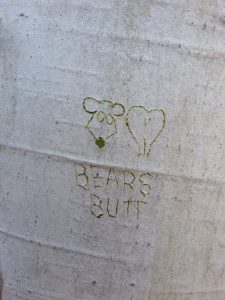 It's funny what and where you find things in the forest!
Last Saturday found Hunter, Mike Brailsford and I back in the mountains and camped at the head of Green Fork.  The weather before had been somewhat rainy and even some snow had fallen during the week, but was nice and dry and a bit brisk for our hunt at this time.   Mike and I had left town around 5:30 and met Hunter on the mountain.  We went up through the Johnson Ranch and Hunter came in across the road from Monte Cristo.  We were all in hopes of bumping into some cow elk and Hunter also had a spike elk tag he was hoping to fill as well.  My goal was to have all three astride my Trooper as we bounced our way down the road back to camp, with blood running down the windows and the sound of the hoofs banging against the vehicle as we rolled along.  Much similar to this from several years back: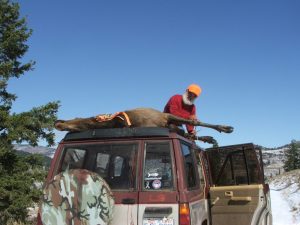 Well, as things went, the weather was perfect and so was the hunting, but the killing could have used some vast improvements….we saw ZERO elk.  Our daily jaunts took us high, low and in the middle of the altitudes around our camp.  We even found ourselves clear across the valley in the Crawford range…..I digress here to share a little light on something that has been happening during all these days of hunting…..
Randolph is a nice little community that shares a common thing with another community just 10 miles to the South, Woodruff.  These two towns have some very respectable citizens living there and they are very hard working, caring people.  Most own substantial spreads of land and almost all of them own a herd of cattle.  They work hard for what they have and they endure the coldest weather that Northern Utah has to offer.  The sign in Woodruff says something like….The coldest temps and the warmest hearts….I've heard the weatherman tell us that Randolph had the low temp for the state at minus 30….That is getting very close to Minot North Dakota cold.  Well, you no doubt read about a young man who told Weasel and I about some elk hunting area out near Big Creek.  We ventured that direction and found nothing much that held our attention and then while driving back toward town ran into another guy who said we should have turned off a ways further down the canyon and that it would take us into some very good elk habitat etc., etc., etc.  To my way of thinking I think those two guys were in "cahoots" to keep us from finding the elk we were after with our bows…just saying.  So, on this trip, we found ourselves enjoying some of Randolph's finest chicken strips and tator logs, when a lady pulled up along side our vehicle and she and her son got out to go into the local convenience store (just like we had).  The young man asked me  how the hunting was going and then asked if we were hunting elk…I told him yes but we were not seeing any.  He then proceeded to tell me that he had shot an elk over in the Crawford Mountains the day before and that there was at least one cow and a calf still over there.  I questioned him about where he had been when he shot his…he said the towers.  And then for some reason his mother told him to get back into the car and off they went…that was strange.  Well, we talked among the three of us and decided we would go over there and see if we could find those other two elk.  We had to finish our chicken fingers first, however.  About the time the last bite was being taken, here came mom and the young man back….Without looking at us they proceeded to head into the store….I stopped the young man and asked him a couple more questions about his elk hunt the day  before…he answered my questions but acted funny to me.  Talking in the vehicle later, I decided there was a secret "Cartel" in the town of Randolph.  One in which the locals pay these people to tell hunters like us big old stories to get us to go off and away from the best hunting areas and into areas that hold few or no animals that we are after.  I believe this last young man was about to be paid off with a Doctor Pepper for his efforts to get us to go over into the Crawfords in search of elk.  Back to the hunt…..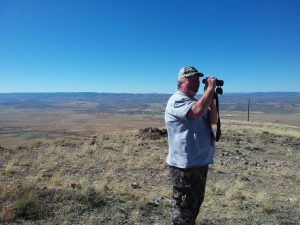 We took a hike down into Green Fork and we went quite a ways into there.  Scoured a clear cut and around a hill, down and up and over and out and then back to camp….nothing!   We hit an area that Crock said had lots of sign and not too far from the road….we hiked in, saw a couple of deer, no sign of elk….we hiked up, over and out then back to the vehicle…nothing!   We took a drive miles away to a little hidey hole.  There was a LOT of sign from about a day or so after the last rain/snow but little or no sign that was fresh…we hiked out, down, up, over and back…nothing!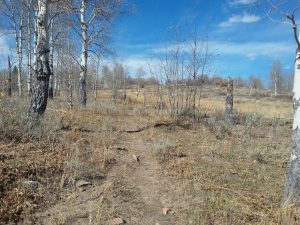 Mike even took a detour to push down through some very likely looking brush in hopes of kicking an elk to Hunter and I as we waited in ambush spots along the hillside…nothing!
We drove a long way out on a ridge, parked the vehicle and then hiked down into a spot where elk should have been running helter skelter all around us and when we got down into the deepest darkest spot, we began our slow ascent back toward the vehicle and in the bottom of all of this we found this: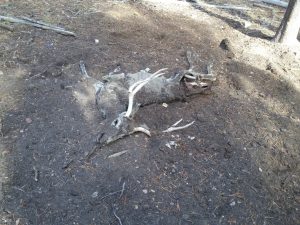 A very nice 4 point buck that had been shot during the archery hunt but not recovered.  The shot was a bit low but fatal none the less.  We are sure the hunter just lost track of the blood trail as there should have been a good one and this deer died while still running.  Velvet was still on the antler that was partially buried in the dirt.
We tried early morning ambush spots in areas we had seen elk sky lined before (years before).  We hunting late into the evening in some of those same places and arrived back at camp at nearly time for bed.  We bounced and jolted our way up and down some very rocky and rutted travel routes we had never been on before.  We had to cut our way through some very tight spots in order to get the vehicle into what looked like the perfect elk hiding spots and when we got there, we found no sign at all….nothing!
It was a very discouraging hunt as far as elk were concerned.  However we did have a good time laughing and cutting up as usual and we did see a lot of deer, mostly does and fawns but I saw more buck deer on this outing than I did during the muzz hunt the week before.  Of course, I wasn't quick enough with my camera to get them on film (digital).  This one little spike stuck around with his sisters for this picture.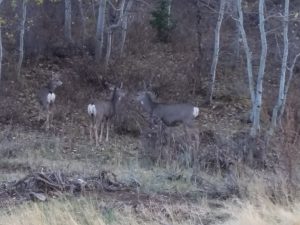 A whole lot fuzzy of a picture…sorry about that!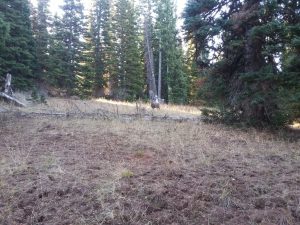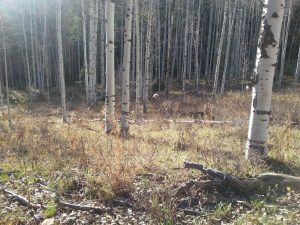 And just like the previous hunts, we saw more does with twins fawns than we did does with only one fawn.  This will be great if the winter isn't harsh and next years deer hunt should be a good one.
With this kind of country all around us, one would think there would be elk a-plenty to be seeing, even if they were two miles away.  But none were there to be seen.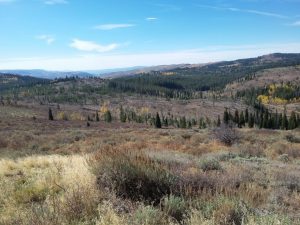 We spent plenty of time glassing and with each passing hour, each passing day…our frustration continued to grow.  On the last morning of this journey, we made it up to a place I had doubts the vehicle would make it.  We were on top of everything hoping that elk would cross over from one drainage into another and we would be there waiting when the morning light allowed us to take a shot.  Glassing out into the early morning light all we could see were deer and moose.  We stayed with the hope until all hope was washed away and then made our way back to camp and then home.
It was a fun four and a half days in the mountains even though frustrating as far as the elk killing was concerned.  We did see some country that I have only seen on Google Earth up until then.  There is some potential for future hunting especially for deer.  I learned that my Trooper can and will take you into places that perhaps you shouldn't be in and that a good sharp saw is a necessary evil in order to get you out of tight spots.  I found roads that can shorten an otherwise long drive to and from potential "good hunting" areas.  I drove down a road that had my pucker factor pretty much maxed out and if it wasn't for "one more beer", I probably would have turned around, but my cheering squad said, "it will be just fine"…..We made it without incident….I'll have another beer…was the key statement once we were down off that hill, even Hunter had a beer, which is something I have never seen before.
Well, there are still a few days left to find that elk and I'll take at least two more of them and head back to find my elk.  You can bet I WON'T be going back into the area we just hunted in AND I am not going to listen to the Cartel guys anymore.
October 13, 2016
Bears Butt