If we can talk about Bucket Lists for a minute, I can share a couple with you right now.  I have had a bucket list for awhile and time is starting to run out for me to get mine completed.  I accomplished one thing last year and that was to harvest a buck deer with a bow.  I managed that in late August of last year.  Now my bucket list has changed a little.  Now it reads, harvest a buck deer with a bow that I made.  Weasels list goes a bit farther.  He wants to harvest a buck deer with a bow he made, and use arrows he made that have fletchings (feathers) from turkeys he has killed.  He will be awhile on his.
With both of our lists containing the same one item, making our own bows, we got with our friend Lynn Hayes and gleaned a little information from him about wood selection and how to get started making our own bows.  He looked over some of the tree choices we have on the farm and decided for us that the black locust either wasn't worm free, or live enough or whatever and that the Osage Orange trees were not the best of choices for a first bow.  We have Hawthorn and wild plum to choose from as well, but the branches in the Hawthorn weren't too big.  After a short time looking into the wild plum bush(tree) he thought he could see a couple of branches that would work.  So, plum it will be.
Weasel and I took a ride down there yesterday while the weather was nice a favorable and after just a short look into the bush we could see the branches that Lynn saw a few days before.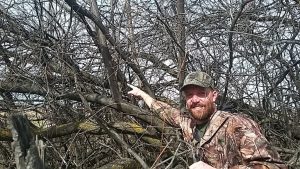 There were two branches about the same diameter (3 to 4 inches) that have been growing pretty straight up through all that tangle of other branches and both of them looked like they were straight as straight could be.  I grabbed the chain saw and hacked them down.  Only then could you see they weren't as straight as we had thought.  There is a lot hiding in that bush.
Back at the house we laid them out to see what our prizes were.
We figured we wanted bows that would be around 6 feet long.  Our goals are to end up with bows pulling around 50 pounds once they are finished.  So, step one is done…choosing our stick…what next?  Well, our what next answer is to call Lynn Hayes for advise!  The phone rang and Lynn was happy to hear we had began our adventure.  He came running from his home in Brigham to come and save us.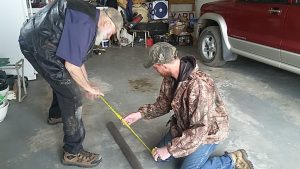 Lynn and Weasel measured the length of the bows and then marked the center of each.  It will be the center of the bow where the handles will be.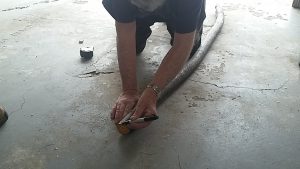 From the center point, Lynn measured 4 inches on each side of the center mark and drew circles completely around each of the limbs.  Then he marked down the center of the full length of the limbs.  Measuring was done using his instincts and I have to say he was pretty much right on line.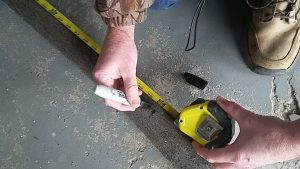 Then Lynn used his index and middle finger and said, two finger widths from each end of the handle will be the taper toward the ends of the limbs.  He made a mark and then drew a line about 45 degrees away from the circle he drew around the limb and down toward the end of the limbs on both sides.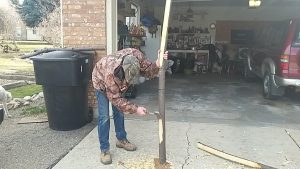 When all the reference marks were made, Lynn was funny when he told us "now the real work begins"…we needed hatchets to chop away the wood from the end of the handles down to the tip of the branches, without cutting past the half way mark on either side of center (down the length) and without cutting past the heartwood in the center of the limbs.
Well, neither Weasel nor I owned a hatchet and so we made the quick trip down to Smith and Edwards and picked up two Eastwing hatchets that are extremely sharp.  We started chopping away at the wood beginning at the slanting line and continuing down toward the tip of the branches on either side of the handle marks.  This being very foreign to each of us, we were cautious in our chopping and very critical of the job we were doing.  At one point we stopped and decided we needed Lynn's advise again.  We jumped in Weasels truck and went to Lynn's house for that advise.  We thought we had chopped to the heartwood, but Lynn took one look at the job we had done and said we still had 1/2 inch more chopping to get to the heartwood.  Back home we chopped some more…to the point of sore arm muscles and blister on the hands.  But soon we were certain we both had heartwood showing in the centers of our limbs.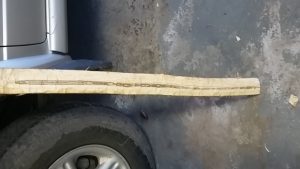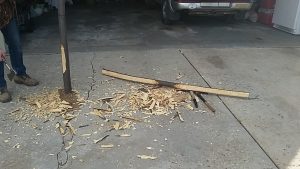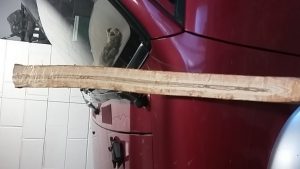 It isn't a clean job, but one that has to be done.
As you can imagine, the wood is very green and springy and will have to dry before we can make our bows.  Whittling down the thickness of the bow limbs is just the beginning of the process.  But our guide told us we needed to clamp our bow staves onto something solid in order for them to dry without twisting.  This is the jig we made up and fastened them to.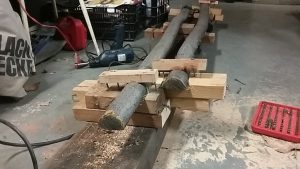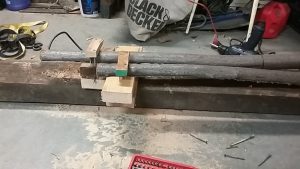 It might not look like much to a real bowyer (one who makes bows), but to these two wood hackers it is an adventure worthy of tackling.  Not knowing how long the drying process is going to take from this point forward, we figure with these wood staves being only about 1 to 2 inches thick, it shouldn't be more than a couple of weeks before  we can undo them from this anti-twist jig and take hold of the next phase of our bow build. I'm including a youtube video on what it is we are trying to do. Maybe it will help you see what we are up to.
Things you might learn from the next few posts on this site:  What is a Bowyer?  What is deflex?  What is reflex? What is firewood?  What is Tillering?   Have you heard the song, "Beer for the Tillerman"?
March 5, 2017, Bears Butt