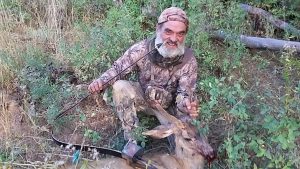 Hunting season!  Man O man, this year I think my mind has been on hunting season since I first applied for my tag back in February or so.  It was my first year to apply for the archery tag after over 40 years of muzzleloader hunting.  I was hunting with a muzzleloader long before Utah even had a season dedicated to that weapon.  So to apply for an archery tag was quite a deal.  After I pushed the send button on my application my mind went immediately into "practice, practice, practice" mode.
I wasn't so sure of myself shooting a bow.  My groups were all over the map but at least I was hitting the paper the target was printed on.  I had to tighten that group up and practice was the only way to get it done.  It was about mid year when I came across the "fixed crawl" method of shooting and from there the rest is history.  I set myself up with that and never looked back.  I shot about 60 to 100 arrows each day that I could and that amounted to about 5 of 7 days in the week…you do the math.  That was a lot of arrows.  But my practice made my groups tighten up and for me a 10 inch group was plenty good to kill a deer or elk….at no more than 30 yards…..using my recurve bow.
30 yards was my limit…31 yards and it was not for me to be taking the chance of wounding the animal.  I had night mares, trust me on that one.
So, when the hunt date finally came, I felt pretty dang good about my abilities to take an animal down with one shot.  Sure, I wasn't punching 10 X rings every shot, but I wasn't missing the target rings around the 10 ring too often either.  Weasel and I hit the hills and camped 15 days of the archery hunt!  That is a lot of days afield!  Sure we came home for a shower and to regroup on beer and supplies, but we just couldn't stay any longer when we did that.  Then it was back into the field for more hunting.
15 days!  WOW!  That's a lot of hunting days and a lot of time away from home.  Meanwhile the list of "you got to do this when you get back" grew and grew!
When the bow hunt was over came the muzz hunt.  Not that I had a tag, because I didn't.  My tag was filled during the bow hunt…see picture above….but in Utah you can only hunt one of the hunts…you choose…archery…muzz or any weapon…and you only get one buck deer per year.  I'd love it to be more, but we aren't Pennsylvania or New Jersey.  So, on the muzz hunt it was more of a camp out for me and Weasel.  We would help where we could to get the hunters onto a buck, but we were there more as a cheering section than anything else.  But we did spend another 6 days afield. It was a fun time!  Add six to the 15 already spent out there and now it's 21 days hunting.
After the muzz hunt came the elk hunt…..YES!  I had a cow elk tag!  I tried to fill it during the archery hunt, which is perfectly legal in Utah as long as you are hunting with the proper equipment and in the same area as your elk tag.  I saw elk.  I heard elk…I just didn't get a chance to draw back on one.  But when the elk hunt dates came around…there I was with Hunter and Mike.  We combed the mountains!  We sat on hillsides glassing!  We called!  We sat!  No elk.  No elk anywhere!  We talked to other hunters who had the same luck as us….nothing…..But then again, we were out in the mountains enjoying the out-of-doors!  And it was fun!  Up in the mountains on Friday and out on Wednesday….another 6 days of fun in the mountains!  Add 6 to 21….27!
27 days in the mountains!  Oh my heck!  I have NEVER spent that many days afield…EVER!  Well the hunt wasn't over just because we came off the mountain!  I went back!  Took a scenic trip around and up and over…this time with Tracker and Bones!  We saw elk…..Two very respectable bulls and a cow and calf.  No chance for a shot.  Then another day we hit another area where we had to hike in…over a mile just to get to the beginning of elk country.  It had snowed the night before and Bones wasn't quite dressed to handle the cold and wet.  We came out, but we saw elk….four cows, a couple calfs and 3 nice bulls.  Then a couple days later Tracker and I went back into that same place.  We hiked in using the moon light as our guiding light…we saw more elk but I didn't fill my cow tag.  Add 3 more days to the total…..30 days!
30 days of hunting this fall!  1/12th of the year I hunted deer and elk!
Can it get any better than that?  I saw some incredible sights…beautiful sunrises, sunsets, moon filled nights and stars that couldn't be beat.  I hiked miles and miles and miles.  Spent a lot of money on food, gas, beer and whatever else needed to be purchased.  I think I did my part to boost the local economies around my home and hunting grounds.
I'm not sure I will ever do this much hunting again in my life, but for this year it was a blast and I wouldn't change a thing….well, maybe filling my elk tag…but the deer I put in the freezer with my bow was a milestone I had on my bucket list for many years.  It wasn't a big deer, but it was my trophy and will always be my trophy.
October 24, 2016
Bears Butt