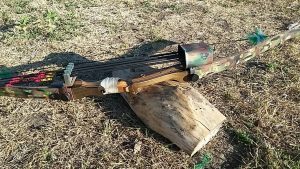 Well, I figured I best post up a story about my progress after my post of target panic.
My mind has been on fire lately, I wake up at 2 or 3 a.m. thinking about the hunt coming up….what do I need to make sure I have….what do I want to leave home…what will happen if…..and it goes on and on from there.  I finally get up and take a needed potty break and then back to bed.  But it doesn't end there.  I can't fall to sleep and so I hash over the area I'm going to be hunting in.  The hike into the spot where I know beyond all doubt a cow elk will walk through at daylight or just before it is too dark to shoot.  My mind can not help but race with a million unanswered questions about this hunt….my first bow hunt since I was in my teens, some 50 years ago.  A lot has changed since then.
I dream about being with my friend Dry Dog…long before he got that name…on a bow hunt where he and Weasel were the hunters and I was a meer cook (who didn't do too well at that I might add).  I was in the blind with Mr. Dog early, early, early in the morning…well before light and as things got light enough to see, the deer seemed to be everywhere!  Big bucks, little bucks, does and fawns.
There were close ones and far ones and all of them were unmistakably unaware of us being anywhere near their presence.  We were tucked away under the bows of a big old pine tree having a great time observing nature at its finest…and of course on a hunt in which the goal was to harvest one of these animals…buck OR doe…it did not matter at that time.  Both were legal game.  My guide and expert marksman, Mr. Dry Dog (then known as Steve), was at the helm of the hideout and insisted I watch the "backside" and inform him through touching that an animal was approaching.  I was a good student and observed quite well how Steve could handle most any situation in the blind.
We had good sized "windows" from which he could shoot and take the game as it walked by.  And he nearly used them all before the morning hunt was over.  When he had exhausted all his six or 10 arrows, we had to leave the blind and go out and try and find all those arrows sticking here and there in various parts of the surrounding shrubbery.  It was fun and we found most of them.  Now don't get me wrong, I was very pleased that Steve allowed me to join him on this morning hunt.  I learned A LOT!  One…don't talk while in the blind.  Two, don't piss off Steve.
You know what Steve said to me?  Well, first off I had been laughing at his ability (in-) at hitting a deer at 10 feet…he said…."Here!  You take the bow and see how good YOU are at it!!!"  I kindly declined and said back to him…."Sure!  You want me to get a ticket for poaching because I don't have a tag!"  At this point in time he wasn't really happy with me being in HIS blind with him.  But things settled down pretty good and we are still friends today.
My goal for this years hunt is "Not do what Steve did way back then"….If I can accomplish this, life will be good.
I practiced tonight in the garage at 20 and then 25 yards.  I killed a LOT of elk and deer tonight.  Every neighbor should have a freezer full of imaginary elk and deer steaks and assorted other meat.  No need to thank me now…life is still very good….Target panic?  Not now, I got this.
The memory of the hunt with Weasel and Steve (Dry Dog) is one I have cherished ever since I was invited to go.  I was an "old fart" back then and am an "older fart" now…some say "Jurassic Fart"….I can handle that, Old is, What Old does….whatever that means.   I hope to show Weasel how to quarter a cow elk and pack it back to camp…I'll even give him pointers on how to do it to HIS own elk and how to load his pack with all the meat (but he has quartered a moose by himself…I haven't done that).  I will even share my hydration pack water with him.
When it all boils down to hunting, bagging (or not) the game we pursue, studying maps or google earth for water holes, making lists of what to take, packing our stuff, talking to people about the hunt area, making all the plans that seem to always end up being the same from year to year…when it all boils down….it ends up being the friendships, camaraderie, memories stirred and all around good times enjoyed while we are out in and among nature that keeps us doing this year after year.  Ya, I'm 67 now, but I hope I can continue for another 67…not possible, but there is that hope.  For you youngsters…give 'er hell!
August 17, 2016
Bears Butt