Last night I took a few minutes and ran to the field to shoot my bow using my new found method called Fixed Crawl.  I didn't want to take too much time but I figured an hour would help me decide if my arrows liked the method.  I separated my arrows into common groups and quickly found out that some Easton 2213's would NOT work with my bow.  They flew random, wild and crazy.  I put them away after shooting them twice.  By the way, I am shooting at 25 yards with this method.
Next I tried my old Warrior arrows (with one Apocalypse mixed in).  They didn't do too badly, but I would have to work a bit more with them to get them to digest this new method: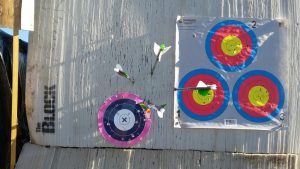 Then I pulled out my Easton 2117's, some that were in the "$5 Frank" purchase a couple of weeks ago.  I have recently fletched them and put new tips on them.  These have glued on nocks and so I could not turn them so that the cock feather was out, but the fletchings were ok, I just had to turn the arrow until I had one feather at 90 degrees to the left.  Not a problem.  Those arrows flew pretty good as well.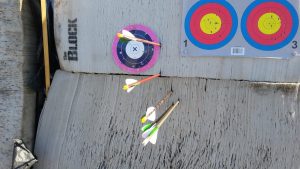 I decided to try them once again and the group came in like this (if you call this a group)!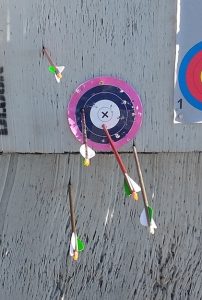 Well, I think these 2117's just might work out.    I don't know if Easton still makes these arrows or not, but I have 5 of them, 4 of which are cut to 26 1/2 inches and one that has not been cut yet.  It seems like the cut ones fly better than the uncut one.  They are 12 grains per inch in weight and spined at 400.  Easton rates them for a 61 to 70 pound bow weight.  With 125 grain tips the FOC is 14%.  I think because my bow is cut about 1/8 inch past center, it likes these arrows.
Well, with time running out, I decided to shoot my newest arrows, Carbon Express Thunderstorms.  These guys come ready to shoot out of the box and are considered youth arrows.  I don't care what they call them my bow likes them.  They come from the factory at 29 inches long and weigh 8.3 grains per inch.  I have 125 grain tips on them and a FOC of 13.79%.  After I shot my 6 arrows I was sort of amazed at the results: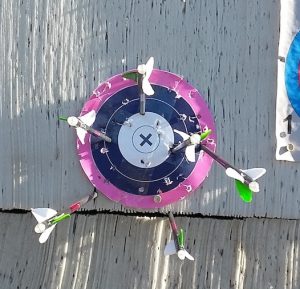 I'm not at all familiar with the speed my bow flings arrows, but it makes sense that the lighter the arrow the faster it will fly.  So, with the 2117's weighing at 464 grains total weight and the Thunderstorms at 386.7 grains, that means the Thunderstorms will reach the target faster, even if only by a portion of a second at 25 yards.
Now let's talk a little about kinetic energy.  From one source I found this:
KINETIC ENERGY
Hunting Usage
< 25 ft. lbs.
Small Game (rabbit, groundhog, etc.)
25-41 ft. lbs.
Medium Game (deer, antelope, etc.)
42-65 ft. lbs.
Large Game (elk, black bear, wild boar, etc.)
> 65 ft. lbs.
I don't know anything about this, but I have to figure it out for the hunt coming up in August…I drew a deer tag for archery this year, by the way, and I plan on buying an over the counter elk tag in case a spike bull or cow walks within my 20 yard range limit.
In order to figure out kinetic energy (KE) of my arrow I need to know the total arrow weight and the speed at which it is traveling.  I know the arrow weights, but don't know the speed.  But let's pretend my arrows will fly at different speeds and then let's figure the KE.  Easton 2117's = 2117, Carbon Express Thunderstorms = Thunder:
Arrows                 Speed            KE
2117                       200 fps         41.17 foot pounds
Thunder               200 fps         34.31 fp
2117                       210 fps          45.39 fp
Thunder               210 fps          37.8 fp
2117                       220 fps          49.817 fp
Thunder               220 fps          41.5 fp
2117                       250 fps           64.3 fp
Thunder                250 fps           53.6 fp
Now the big question for me!  Does my bow spit out arrows at over 220 feet per second?  That seems to be the magic speed at which I can take a big game animal like a deer, but not fast enough for elk.  AND, the next big question, at what distance are these numbers in effect?
There will be lots of discussion on this subject I'm sure.  Whatever the outcome, I like the way the Thunderstorms performed in this practice round and I'm not totally convinced the 2117's aren't going to be my hunting arrows!
May 18, 2016
Bears Butt