I came across a guy wanting to sell a box of old arrows for $5 and I put my bid in with the others.  Seems he lived too far away from the other guys and so I ended up making a deal with the seller.  We had a tough time getting together but this morning I went to his place and picked up the box of arrows.  I figured for $5 even if I only got 3 or 4 arrows out of the deal it would be worth the gas and cost and maybe some of the arrows could be made into flu-flu arrows to shoot at doves and such.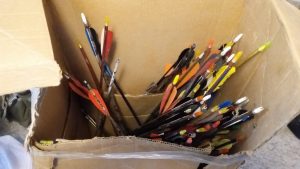 Well, I brought the arrows home and dumped them out on the floor.  Not knowing if this was really worth the $5 or not.  I immediately started seeing broken arrow pieces and jammed tips, bulging and bent arrow shafts….not sure about this "deal" of mine.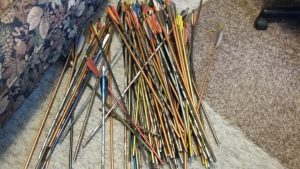 So, I went to sorting them by color, that seemed like a good idea at the time and then again by arrow manufacture and whether it was aluminum or carbon shafts.  Pretty soon I was sorting them by size as most all of them are Easton brand aluminum arrows.  Some had good tips inserted and some did not, but most have the tip inserts in which the tips are screwed.  Nearly all of them have plastic fletchings and/or vanes and so all of those will have to be replaced (enter the Bitzenburger)!
So, what did I end up with except a half a garbage barrel full of junk?  Here is the break down:
Arrow size:  2315 (.342 deflection/ 11.8 gpi)  4 each of them!
2216 (approx 400 spine/ 12 gpi)  11 each of them!
2213 (.458 deflection/9.9 gpi)  30 each of them!
2117 (400 spine/ 12 gpi)  5 each of them!
1914 (.658 deflection)   7 each of them!
And 7 others of assorted sizes and lengths.
A grand total of 64 arrows.  Also, I scrounged 2 points/1 blunt rubber tip cover and 1 nock!!!!
The arrows range in length from 30 inches to 21 inches, so there is something for just about everyone!  I might even find some of them suitable for hunting with.  The 400 spine ones will be my test arrows.  Next will be some of the .458 deflection arrows as one guy I know said I should cut 500 spine arrows down to 27 inches and they should fly perfect for my bow setup!  We will see.
May 6, 2016
Bears Butt