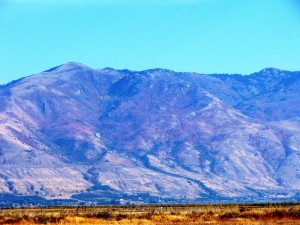 Today is planned to take another item off my bucket list.  Seems like a hundred years ago was the last time I was seriously hiking in the area shown in this picture.  Well, when I was a teenager I hiked the heck out of this place and got to know it pretty well.  I never saw anything but deer, coyotes and an occasional other critter pretty much usual to the area in there but since the DWR started entertaining us with elk, many, many years ago, I can't help but think there are some elk in this place by now.
So, today, Conner and I will be taking a hike down through there looking around and maybe I can show him some of the things I remember being there.
The last time in here I was about 25 and I took my bride of maybe two years up there and showed here what was left of an old cabin.  At the time it was just some jumbled up boards and an old cook stove (Monarch brand if I recall right).  Whoever took it in there worked their tails off because it isn't a flat climb or decent.  I marked the picture with about where it is according to my recall recollector.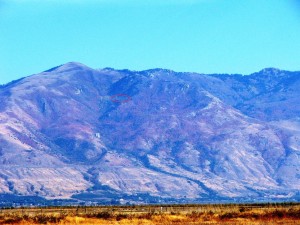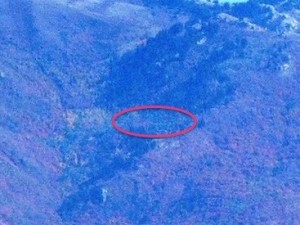 A flat spot just under the pines.  One might say it's "purdy".
Another favorite spot where I really think the elk might be hiding holds water, shade, cover, food and everything else a wary old elk would want in its life.  It is a flat zone surrounded by steep slopes above it and a very unforgiving steep hill below.  There is a seep of water against the far hill that feed a small oval pond near the end of the flat.  I'm hoping it holds water today and if it doesn't I hope to show Conner just where it is for future hunts in his life.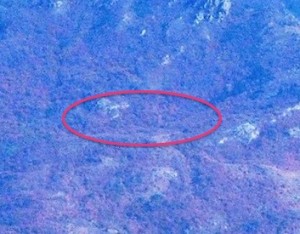 It's been a long time coming and I'm sure it will be my last time visiting this place, but as long as he is willing to entertain me today, we will visit both spots.
At the same time, he has his bow permit to be able to take a deer and if he waits until we have visited both spots before he shoots one that would suit me just fine.
So, we plan on being above this place just at first light and then make the hike down into it and spend the day.  His dad, Weasel will pick us up at the bottom and hopefully we will be dragging a big old buck!
Later!
Bears Butt
October 15, 2o15
Well, we made it back from the top of the mountain but I have to admit, my 66 years has caught up with me.  My feet are killing me, I have a blister on top of my second toe and my hips (both sides) won't let me straighten up when I try and stand.  Does that tell you something?
But enough about that, let's get on with the story!
Weasel and Conner were prompt to pick me up at 5:30 a.m. and off we went.  The road up to the basin is in very bad shape.  If you have half a mind to take a car up there you best rethink that idea.  You might get there and you might not but just trying will destroy the car.  We arrived at the basin sign at exactly daylight.  We had time to eat a hard boiled egg and then get our backpacks on before it was light enough to see to shoot.  There was a 4 wheeler parked there as well and it had two guys on it when it passed us half way up the mountain.  We had no idea which direction they may have gone.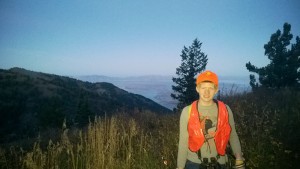 We said our goodbys to Weasel and headed down our trail.  Weasel continued on down the main road toward Inspiration Point.  Why not?  He was that close and might as well go have a look around.  As Conner and I walked down the trail we came across the two guys that were on the atv.  They were hunting the same place we were.  When we got to them I said, "What's the chance that on this whole mountain, two hunters decide to hunt the same area at the same time"?  They said they were just looking around at that point and for us to go on down the trail.  I assured them we would be off the mountain soon as we had plans to go down to White Rock.  A quick wave and off we went.
We hadn't gone more than 300 yards and here came one of the local guys on his ATV.  He is up there camping and is trying to spot a big buck before the opening day.  He was up early and scouting all day.  We chatted and then off he went down the road to his look out place.  Conner and I continued to trudge along at our pace.  Looking for deer, elk or whatever.  We spotted a Blue Grouse but left it alone as we were not in that mode to kill it.  Soon we found ourselves at the mine at the end of the road.
That mine has been closed for some time and the University of Utah has converted it to a Seismographic station.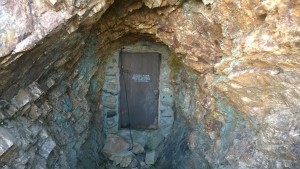 It gets its power through a cable running down from a solar collector.
After leaving the mine, we caught back up with the local spotter and stopped to chat a bit with him.  He had a few deer spotted and a cow and calf moose as well (actually Conner spotted the moose).  Nothing he would shoot however.  He is a horn hunter and nothing under a 4X4 will do for him and then it would have to be a BIG one at that.  As we chatted we spotted several deer below us and 3 of them were small bucks.  Luckily for them the terrain in nearly vertical and brushy, so we continued on our way around the mountain.
A bit of a sad story came to light just a few more hundred yards down the trail.  Seems that back in 2003 a young man was driving his truck down this same trail and as he drove the trail became more and more narrow until suddenly his truck rolled off the mountain and killed him.  We found this memorial marker alongside the trail.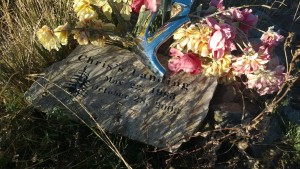 A sad thing to come across.  Looking down to where the truck would have come to rest were more pieces of it still down there, even though the main parts have been taken down by helicopters in the recent past.
Well, again we proceeded to head to where we wanted to go when Conner spotted a big bull moose below us.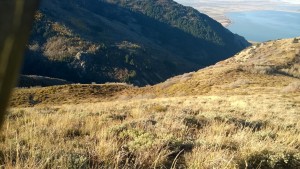 And later we were within about 50 yards of it.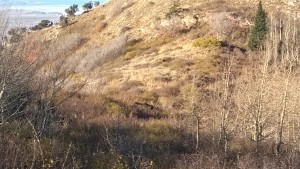 This big boy had 10 or 11 points on each palm and the width was well over 40 inches.  One very big moose.  But, he was going where we wanted to go!  So we had to alter our plans a bit.  No sense getting gored by a moose.  We stayed high and still managed to get into the area where I remember seeing a cabin 50 some years ago.
We were almost to the flat where the cabin is when I spotted what I thought was a VERY BIG BUCK!  I told Conner, GRAB AN ARROW!  Then I turned to range the distance.  It was a monster of a buck looking right at us.  I could see a bit of its right side but only the tips of a couple of the tines from its left side sticking out from the quakie it was standing behind.  Then I saw it turn its head and the distinct palm of a moose showed itself broadside.  Dang!  Had my heart pumping good.  Conner said he was just about to draw back as he had a very good open lane right to its vitals.  From the close distance it was to us he also saw it was a moose when it turned.
So, this was a different moose than the one we had seen just a few hundred yards further up the hill.  This one had a nice palm on the right side but the left side was two distinct long curving tines that came right from the antler base at his head.  The two points followed the curvature of the palm side perfectly and looking straight on it you would have thought it was a normal every day big bull moose.  But when it turned sideways there was not mistake it was a freak of nature.  I whispered to Conner that where that moose was standing is about where I expected to see the cabin remains.  And so we circled around the moose and I was hoping it would trot off when it winded us….no luck…we almost completely circled it (a good 100 yards away) and it stood right there and turned in a circle watching us.  So we gave up on trying to find any part of the cabin.  We were very close to it but didn't see anything even through the binocs.  Time to move on…Big boy might get mad.
Well, following the terrain of the hillside, we made our way out of the cabin flat area and started toward the bowl.  I looked to my right and there was something metal!  My words were "The cabin", while all the time I knew it wasn't any part of the cabin.  We made our way down to it and found the old remains of a mine near where this thing was.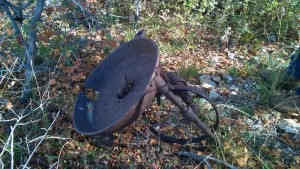 And the grown over remains of the mine entrance behind Conner.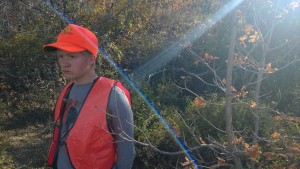 When we were satisfied at seeing this old treasure, we continued on our way to the upper end of the bowl.  I felt the best view of the bowl would be from near the South end of it and so we continued to traverse the hillside and worked our way over to a look over point.  The oak brush is so thick and tall we didn't have much of a view, but we needed to take a break and so we just picked this spot and took off our packs for a little kipper break!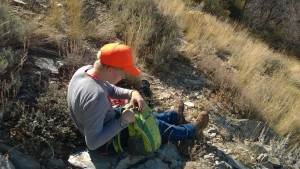 I took a 3 picture panoramic view of what we were seeing below us: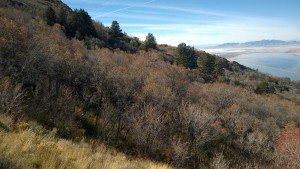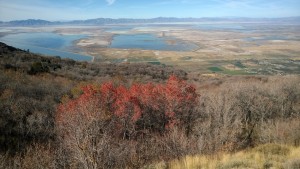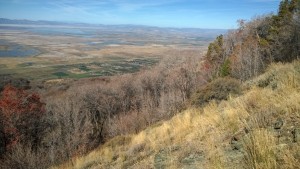 The middle picture shows clearly there is a ridge across it as it blocks the view of the valley below.  I was hoping we would find the water that I know is down there and with the water I was also hoping we would find some deer and elk.  Even tracks would be nice.
After our break we dropped into the bowl for a look around and to work our way down and out toward White Rock.  By this time my legs were beginning to hurt.  The hike had been all down hill to this point and going down hill really is hard on my knees.
In the oak trees this was the view.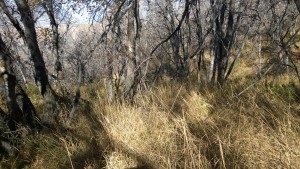 You can see about 50 yards in every direction and it really makes for an interesting hike.  Slow and easy, hoping we would see some critters.  We did find where the small pond had been back in the day, but it had filled and washed out its natural dike sometime way back when, but the water was still seeping down the hill side.  Not many tracks of critters however and that was surprising to me.  I expected to see an elk wallow and lots and lots of tracks….just a few deer tracks was all we saw.
Well, by now it is hot even in the shade and so we just started hiking out.  I'd seen what I came to see….well not the cabin exactly, but close….As we hiked out we came to a trail made by some 4 wheelers and found this hat stuck in a tree.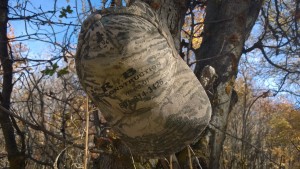 Are you missing this hat?  It's still there!
And as we got closer to White Rock, Conner was surprised at just how big it really is.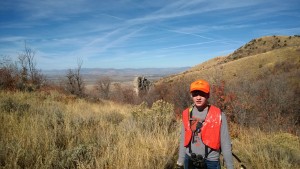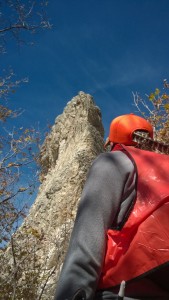 At White Rock I called Weasel and told him we were working our way down towards Hogs Back if he had time to pick us up.  By this time all I wanted to do was get on some flat ground.  This down hill hiking was really beating me up bad.  It seemed like forever before we hit the flat ground around Hogs Back and sat down in the shade waiting for our ride.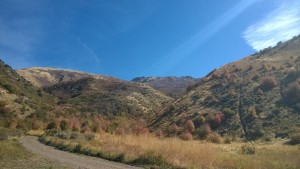 A very memorable hike and I hope Conner had as much fun as I did.  Too bad we didn't see anything to shoot, but maybe it was a good thing that didn't happen.  We did find 4 turkey feathers and heard one clucking off in the distance.  That was one of the things I was hoping we would come across.  Now I know there are turkeys in that area.
So, cross that one off the list!  I'm done!  And I think tonight is going to include some hot tub time!
Bears Butt