I guess it wouldn't be right to just let the hay season go by without saying something about it.  July is not necessarily a month we look forward too, but once the hay is in the barn we are all very glad.  It takes all of us to pull off the hay trick each year and as we age it gets harder and harder.  Not sure what the future is going to look like.  At least we are not still cutting it ourselves like we did when I was in my 20's, 30's and early 40's.  We used the 1948 John Deere tractor (that we still have and use once each year) and the sickle mower that came with it.   A 5 foot cutting swath!  It generally took 3 people to run the job.  One on the tractor, one pushing on the mower blade and one resting in the shade waiting for his turn at the blade job.
It took us at least a week of hard work daylight to dark to get it all cut.  Then Bob would run the power rake and rake it all up before a custom baler guy would come in and bale it.  We could count on about 3 weeks of intensive farm work to get the hay into the barn.  It kept us all together, taught us how to work hard and to complain was not an option….allergies?…no such thing.
As I sit here typing this my wrists are aching from picking up the bales I picked up.  My fingers are sore from the strings of the bales.  My back feels like it has a kink in it that needs to be popped back into place.  My eyes are puffy from the hay chaff, lungs filled with the same stuff and I think if I coughed hard enough I'd spit out a bale of hay.  I have lost 10 pounds just working the past 2 weeks.  And you know what?  I'm the second youngest of us dinosaurs that call this farm ours.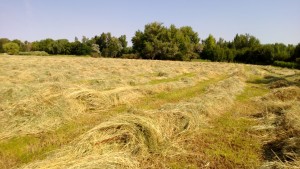 It always looks good as each phase of the job is done.  First cutting, then raking, then baled and finally hauled and the fields cleared and ready for irrigating!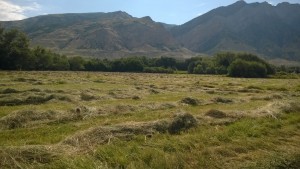 Each day we hope and pray nobody gets hurt or worse and I'm certain there have been some closer than we know calls on that one.  So far the worst accident we have had in about 40 years was when Tracker was stacking the wagon and stepped back and off the stack of hay breaking his hip.  That was a bad deal and took him months to heal.  I think he still walks with a slight limp to this day.
And yet the farm still looks good and we continue to do the same things year after year.  I'm not so sure our children want to consume there years with dealing with the farm their entire lives and we are trying to get it sold.  We know deep down in our soles that if we ever do sell it we will kick ourselves in the butts for selling so cheap.
But, as for now, we have a BIG meal planned for this afternoon and the ladies and others have been preparing it for days.  Roast Beef, Roast Pork, Mashed Potatoes with real drippin's gravy, salads, deserts and lots of beer!  That is the payment for a years worth of work beginning in the late winter with the ditches, fences and assorted stuff that "just happens" during the winter months.  There is always something on the farm that needs attention and always someone willing to step up and take care of it, perhaps reluctantly, but still when something needs to be done we get it done.
During the haying season we are ALWAYS glad to see the last load of hay leave the field…that means the hay season is over and this year that happened this morning.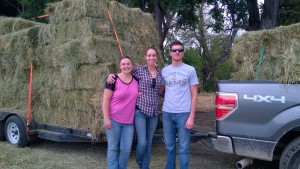 We tied it down the best we could and hope they made it back home with all the hay they left with and no accidents happened.  They had an hours drive down the freeway!
Thank you all for your help through out the year and I sure hope I see you at the "Farm Dinner" today!  A big thank you to the hay buyers who take advantage of a discount per bale by picking up their hay in the field!  It saves us from having to pick it up and then put it into the barn and then pick it up again in the winter to sell it out to someone who couldn't take advantage of the discount.
Thanks again!
Bears Butt
July 18, 2015