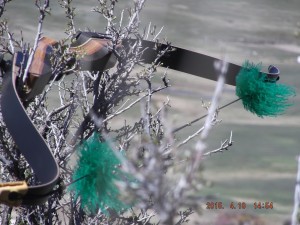 Came home from a wonderful field trip with Winemaker and our friend Beth and had time to hit the field for some range time!  The more I shoot my bow the more I want to shoot it.  I'm also thinking I'm ready to upgrade to heavier limbs.  I have noticed the last couple of days my draw length is longer now than it was even a couple of weeks ago.  It's funny how small changes occur slowly and you don't even notice them until something suddenly smacks you in the head.  I noticed a change in my Gap shooting the other night.  And studying the numbers I can see how a slight change in draw length makes the numbers climb.
For instance, at say 20 yards, my gap has averaged around 35 for several shooting times and now my average has creeped up to 42 inches.  I might as well post my gap information now, because until I get my form settled in I feel I'm wasting my time "gapping" myself.  It is changing and at some point it will settle in.  At that time I'll do my gap stuff over.  So, prepare to see the gap information and my analysis in a future post soon.
This post is like the previous one…my targets from last nights shooting!  I'll call these targets Ends 1 through 4, but in reality I only took pictures of the groups I was most proud of.  Talking with Weasel about "goals", he and I differ on how I should proceed.  In his mind and if he were me, he would shoot from 20 yards my 6 good arrows and one bent one and if 4 out of the 7 hit within the blue rings, he would step back one step and shoot again.  He would continue to shoot in this fashion until he was back to 40 yards consistently shooting 4 out of 7 within the blue circle of the target.  Then he would start again with the red circle as his goal, 4 of 7 within that etc. etc.  In 50 years he would probably be doing it with 4 of 7 in the X.
He also has this "thing" about me shooting "instinctively"….my shooting stinks as it is without it being "In-Stink-tive".  I'll continue to shoot my way and try to improve in my way.  20 yards, inside the black for now!  And I won't settle for 4 of 7, all 7 have to go there.  AND, when (and it will happen), I can put all 7 inside the yellow, I'll move back 5 yards.
OK, so here are my targets from last nights shooting.  Given that you only get to see the ones I took pictures of, trust me with this fact, I never missed the block behind the target, not even once last night.  Remember back in January, my goal was to hit the block and not necessarily the target pinned to it?  I'm improving!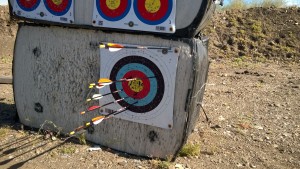 There is that "ONE" arrow!
There is that ONE arrow again!
ONE again, but at least closer!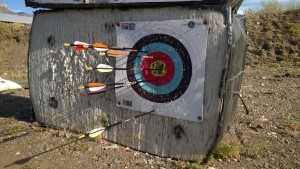 And there that little sucker is again!
When I'm shooting I'm always "trying" (cuz I don't always do it) to make it a conscientious effort to think about all the steps that go into the shot….Smooth draw back to my anchor point(s), Riser at an elevation I think will cause the arrow to fly to the yellow center, Smooth release and follow through until the arrow hits the target (or the dirt or where ever it ends up going).
Like I said in yesterdays posting, I've noticed a change in my anchor point and it is back about 1/2 inch from what it has been.  Still the string touches my nose, it's just to the side of it not on the end.  My thumb is still parallel to my jaw bone and anchored behind where the jaw bone connects.  It's comfortable and solid and about 3 times a night, the string takes a tuft of beard hair with it when it goes.  Talk about "plucking"….OUCH!  That's OK, occasionally the string will pinch my left breast nipple a bit too.  I'm thinking that is what those shoulder braces or breast protectors are for I see for sale in the archery wish books.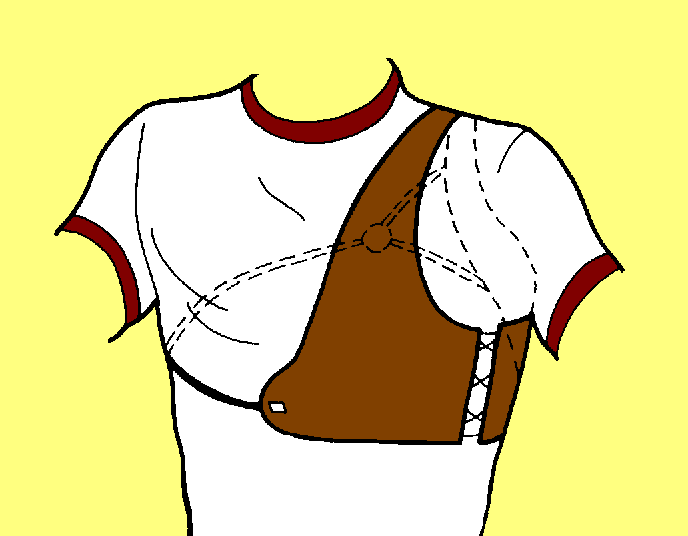 So, if you notice me with no hair on the right side of my face and an enlarged nipple on my left side, you will know I'm getting my 60 arrows a day training in.  Like they say, "60 arrows a day, keeps the zero's away"!
Bears Butt
June 18, 2015