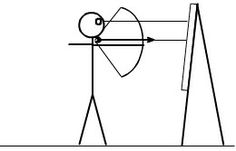 This stick man is my idol and I need to be just about this close in order to hit my target!  BUT, I'm getting better.
Last night I took the time to hit the field for some more abuse.  I shot my Gap and am just about ready to post up the results of my shooting that.  Stand by for it to come out soon!  I probably shot over 100 arrows last night at 20 yards and was feeling pretty good about the results.  Again, keep in mind my target is the whole target and not just the rings that are on it.  I had to take a picture of this end to show you.
And you are asking yourself:  WHAT?  Why on earth would he want to show us such a sloppy end?  Let's take a close look at this grouping.  First off, I'm proud that all 8 arrows found their mark inside the target.  Second reason is that all 8 arrows found themselves inside the rings on the target (bonus).  Thirdly, 4 out of 8 are inside the black ring, but most of all I want to let you know that 7 out of 8 are in pretty much a straight line with the yellow (up and down).  That tells me I'm not far off with my left/right adjustment and I'll take shooting like this all day long.
Another end I want to show you: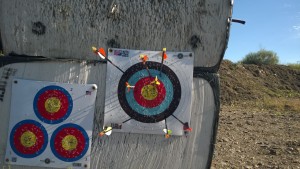 Look closer: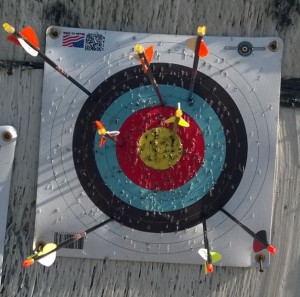 My camera makes the arrows look like they are coming into the target from all directions toward the middle, that is called "parallax", please don't get disturbed over that.  Just look at the picture for what it is.  One in the yellow, two in the red, one in the blue and 4 in the black!  This is giving me another thought.  Maybe I need to tighten my expectations and instead of accepting just hitting the whole white square, I should expect to hit within the black circle!  If I can do it once (this time) I can do it again!  Inside the black ring will be my acceptable shooting from now on!
Well, there was a storm brewing out to the NW of town and I wanted to be home before the expected winds hit.  I kept shooting until my shots began to be more outside the target than inside it.  That always tells an archer it's time to quit for the day or at least take a break for awhile.  Besides MaPa's was ready to go home.
As I was packing up, here came Weasel down to shoot his normal routine.  Well I stuck around for a couple of ends and then decided it was time to go, besides the storm was looking like it was about to hit with the wind.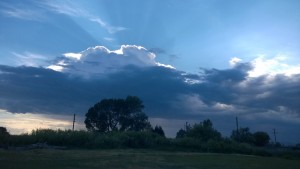 On my way out, I have to stop and open a gate.  Well, there was a horse on the other side of the fence and MaPa's likes to bark at them.  He began is normal barking routine and then suddenly came across my lap and tangled up with me with his leash.  It was all crazy as heck for about 2 seconds, but enough that he forced my gas peddle leg down onto the gas and I crashed into the gate!  BLAM!  It is bent up pretty good and the car has some reddish paint on it from the gate, but everything is alright.  The gate still closes but would not hold a Shetland pony in.  We might have to replace it soon.
Bears Butt
June 11, 2015